Mimobot's DC Comics Flash Drives a Super Addition to Your Desk [Review]
Our initial impressions of Mimoco's Batman and Green Lantern Mimobot flash drives was pretty positive. After all, what's not to like about practical office supplies that double as cute desk toys? After being sent two of their 2 GB flash drives to try out at here at my corner of ComicsAlliance HQ, I'm pleased to say those impressions were correct. Check out my adventures in Mimobottery after the jump.

Standing a little less than 2.5" tall when capped, my Batman and Kilowog drives look legit on display. Their caps fit snuggly and the character designs provide plenty of room for the seams to go largely unnoticed, avoiding any ugly art-splitting.
Somewhat amusingly, the flash drives are positioned with their rears facing upward (at least on my MacBook Pro). That's legit since that's where the drives' indicator lights are located, but it's still kind of funny to see your little USB dude laying face-down. I keep imagining Kilowog collapsing after a day off spent noshing cases of Oreo Cakesters, cursing the lonely life of a GL Corps drill sergeant. "I'm tough because I care!" he says in affirmation, a single tear rolling down his craggy Bolovax Vikian cheek. Batman, on the other hand, just looks like he's taking a Batnap.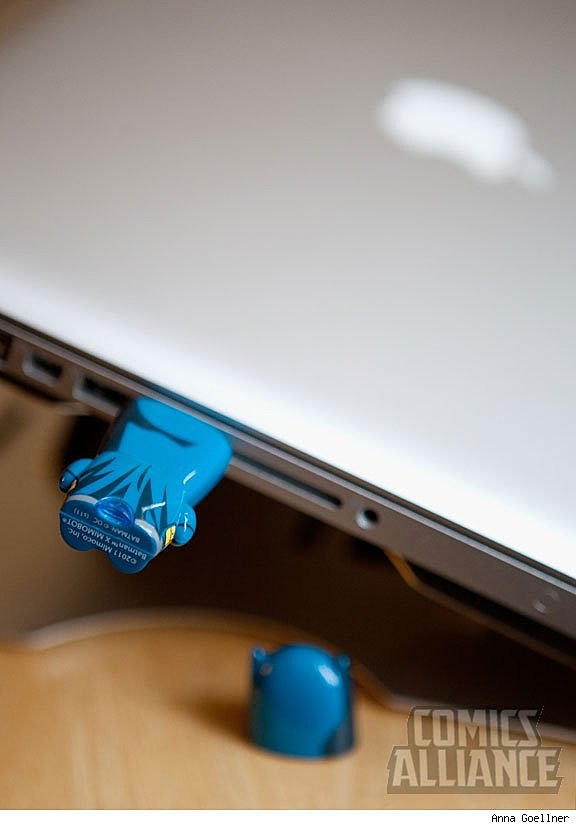 Overall, for the retail price of around $25-$60sih for 2, 4, 8 and 16 GB models, the DC Mimobots are a pretty solid deal. If you combine the cost of a more generic flash drive with a basic action figure, it's not too hard to justify taking the plunge if you're already in the market for more portable storage. Mimoco's currently running a sale at its official website offering the drives for a few bucks less than retail, which means you designer flash drive collectors have some serious thinking to do.