The Latest From 'DC Fifty-Too', the Indie Take on the DC Relaunch [Art]
We told you last week about DC Fifty-Too, a website dedicated to showcasing the DC Comics superheroes as interpreted by talents from the world of indie comics and the Web. Specifically, creators were asked to imagine their version of the #1 issue of any DC title. Managed by Jon Morris, the site was inspired by the impending debut of "The New 52," a bold and controversial initiative whereby DC is retooling, redesigning and in some cases wholly rebooting many of its classic titles and characters in an effort to aggressively engage new readers, the DC Fifty-Too blog has been generating excellent work. You can see some of the latest additions after the cut, including work from Amy Mebberson, Mike Maihack, Nathan Fox, Mike Norton and more.

Joel Priddy teaches comics and illustration at the Memphis College of Art and has lost a couple Eisners.

Joel says (with help from Benito Cerino): As the creeping hand of totalitarianism stretches its covetous grasp across Europe, one peerless woman dares toll the resounding, clarion peal of freedom! With the oppressive forces of darkness encroaching around her, Liberty Belle lives only to fight and to let her message ring: let us live to make men free! His website is http://www.joelpriddy.com/.

PLUS: Back on the home front, matchless Ma Hunkel cleans up the mean streets like an unstoppable cyclone of blue-collar justice!

Liberty Belle was created by Don Cameron and Chuck Winter.

Ma Hunkel (a.k.a. The Red Tornado) was created by Sheldon Mayer.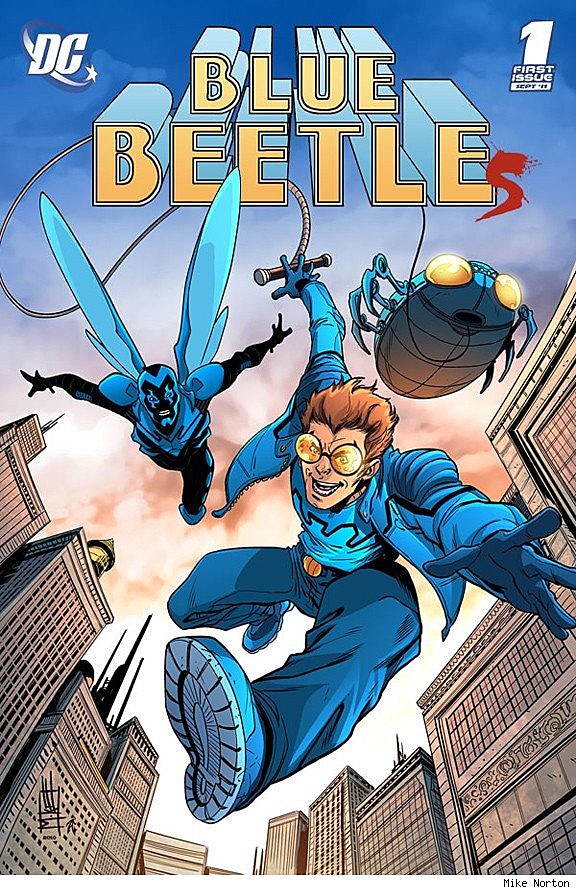 Mike Norton has been working in comics for over 10 years now, gaining recognition for projects such as The Waiting Place and Jason and the Argobots. In 2001, he became Art Director for Devil's Due Publishing where he drew the first Voltron mini-series. In 2005, he went freelance and has since made a name for himself working on books like Queen and Country, Gravity, Runaways, All-New Atom and Green Arrow/Black Canary, Billy Batson & The Magic of Shazam, and Young Justice. He is currently drawing Marvel's Fear Itself: Youth in Revolt, and his own weekly webcomic, Battlepug. He is also very, very tall (Editor's Note - It's true, I've seen satellite photos). See more of Mike's work at http://www.ihatemike.com/.

Mike says: Blue Beetle is my favorite DC character. Probably my favorite comic book character in general. I had a Ted Kord: Year One mini in development for like a week a few years ago and the cover concept for my Fifty Two cover comes from an pitch I had in with J. Torres around 2004 or so. The idea being that Dan Garrett's long lost grandson would claim the Blue Beetle legacy. The original pitch called for him to be trained by Booster and Beetle in a "My Two Dads" situation. Since then, Ted died and Booster became a full on time traveller. Jaime Reyes was also introduced and I loved him. So I just retooled the idea to make for a team-up type story. The talented Zac Atkinson (www.evilbyme.com) colored it for me. I hope you like it!

Blue Beetle I (Dan Garrett) was created by Charles Nicholas Wojtkoski and, later, reimagined by Joe Gill and Tony Tallarico. Blue Beetle II (Ted Kord) was created by Steve Ditko. Blue Beetle III (Jaime Reyes) was created by Keith Giffen, John Rogers and Cully Hamner.
Matt Kaufenberg is a freelance illustrator currently living in Minnesota. He's inspired by the illustration styles of the 60's and 70's and always tries to imbue his work with a sense of humor.

See more of his work at www.illustrationaday.com, and follow him on Twitter at yaksquatch

The Martian Manhunter was created by Joseph Samachson and Joe Certa.
Scott Godlewski is a freelance illustrator based in Gilbert, AZ, having most recently worked for BOOM! Studios as artist on Codebreakers and Dracula: The Company of Monsters. He is also co-creator of both the action anthology, Mysterious Adventure Magazine; and the live comic art blog, Comic Improv. His website is http://www.scottgodlewski.com/.

Scott says: The detonation of the hydrogen bombs at Hiroshima and Nagasaki signaled both the end of the second World War and the beginning of the Atomic Age. Secrets man was not meant to know and a power man was not meant to wield have been loosed on the world. Now the greatest aces of World War II will unite and wage a new war against the unbelievable and the impossible, aided by the very science that has birthed their horrifying adversaries. These brave men are all that stand between humanity and the unimaginable madness of the atom's power. They are the BLACKHAWKS.

The Blackhawks were created by Will Eisner, Chuck Cuidera and Bob Powell.
Anthony Vukojevich majored in Illustration at Long Beach State. He self-published a comic book called Chick Magnet. He also did a comic called Envelope Licker for Robot Publishing. Anthony then got a job drawing Animation Backgrounds for Wild Thornberrys and As Told By Ginger. He has spent the last 5 years working on Phineas and Ferb for Disney. He draws props and does the character clean-up and color for posters and merchandise. Anthony has attended San Diego Comic-Con since 1981. Oh yeah, he also started a blog called Repaneled in which artists redraw comic book panels.

Anthony Vukojevich's blog is here: http://vukojevich.blogspot.com/

Lois Lane was created by Jerry Siegel and Joe Shuster.
The Birds of Prey was created by Chuck Dixon, Jordan B Gorfinkel and Gary Frank
Mike Maihack lives in Tampa, FL and draws a popular webcomic called Cleopatra in Space with the help of his two Siamese cats. He draws a bunch of other stuff too, but his cats don't help much with those things. In fact, they don't help much on Cleopatra either now that he thinks about it... Let's start over: Mike lives in Tampa, FL with two very lazy and useless cats. Also with a loving wife and soon-to-be newborn son (who will hopefully wind up being a much better assistant). More of his work can be found at cowshell.com

Mike says: Can the same blonde-haired, wonder teen from Metropolis who helped Barbara Gordon finally put an end to Killer Moth's week-long crime spree also be the new popular transfer student at Gotham High? Good thing they have superheroics in common because Babs' and Kara Zor-El's student lives are about to clash."

That's a rough tagline for a book that shouldn't come as any big surprise for those who have followed me online for longer than a week. I would take a more all-ages approach to the series, placing Babs and Kara in high school who, despite some social differences, eventually become best friends. That's when I would introduce an idolizing fourteen-year-old Mary Marvel to annoy the heck out of them.

Batgirl was created by Gardner Fox and Carmine Infantino.

Supergirl was created by Otto Binder and Al Plastino.
Nathan says: As for the concept behind it, I wanted to at least try and pay homage to what has come before and what has yet to be seen in one way or another. Decades have passed and the slate, by number at least, is about to be swiped clean and rebooted for "a new generation of readers".

As a father of two daughters, one of which idolizes Wonder Woman - even before she can independently read a comic book - it is my hope that whomever picks up the torch from her on out, will give due justice and respect to the women characters in comics as well as the female readers of comics. "Men", for lack of a better term, will always be "served", but when strong female characters take the lead among men and carry the torch, as a father AND artist, it is something truly remarkable to behold. When you witness that kind of iconic inspiration on paper reflected in an anxious and impressionable girls eyes (guys too...). Anything becomes possible at that age and as long as "she" (The hero and the reader) is in the right and not wrong, she never has to take "no" for an answer, be backed into a corner or be ashamed of who she is, where she comes from or what she can become. Wonder Woman is an american icon as much as she is a role model, a beautiful amazon woman and kicker of much evil ass. I hope she never fades - as much as I hope she will continue to evolve and inspire millions.

Sometimes and with certain characters, it could be said for some readers, that, "comics" can truly play a role in ones life.

Sappy, I know. Fatherhood does a lot to a man... - but crazier things have happened, like... invisible planes, frogs falling from the sky or a man on the moon.

Wonder Woman is arguably one of those iconic, life altering characters, and for very reason she will always be - a marvel to behold and a woman empowered to inspire.

Good luck comics and happy reading, readers...

cheers,

n

Much, much more at DC Fifty-Too.
Wonder Woman was created by William Moulton Marston and H.G.Peters