'Detective Comics' 871, 'Batman and Robin' 17, 'Batwoman' 0: Still Have Room for More Batman? This week marks the continued roll-out of the new Batman line at DC with Paul Cornell and Scott McDaniel's Batman and Robin, Scott Snyder and Jock's Detective Comics with a Commissioner Gordon backup drawn by Francesco Francavilla, and the zero issue of Batwoman by J.H. Williams III, W. Haden Blackman and Amy Reeder. The fact that these books are hitting the week of Thanksgiving invites me to make a connection with the holiday, and it's clearly this: Thanksgiving is a day of celebrating the fact that I have the ability to continue to stuff myself full of things in enormous quantities long after I should be full of them. Much in the way that despite the fact that I read multiple excellent Batman comics last week, I'm still happy to be given more a week later even when I realize on some level there's no way I should be able to resist getting sick of this by now.I realize that some readers may not be from the United States, so I'll begin with a quick refresher: Thanksgiving is a traditional celebration of the anniversary of America's housewarming party. We'd just moved into the place, not so much in the "connected with the present roommate on Craigslist" sort of way but more in the "you didn't seem to be using this room so I'm going to be squatting in it for the foreseeable future" way, and to celebrate the fact that not quite every settler had died in the first year we decided to have a big party with all the roommates, who hadn't known us long enough to get totally annoyed with our violations of their personal space.
And to this day we continue to celebrate that memory of those more innocent times in the form of Peanuts animated specials, giant balloon characters we ritually sacrifice against the side of buildings, and meals so big that leftovers are still being doused in gravy and consumed a week later. Iwn much the same way that I'll still be happy to eat a turkey, stuffing and cranberry sauce sandwich next week, I have absolutely no problems reading another three bat-books cover to cover this week after a thoroughly satisfying double serving of Grant Morrison last week.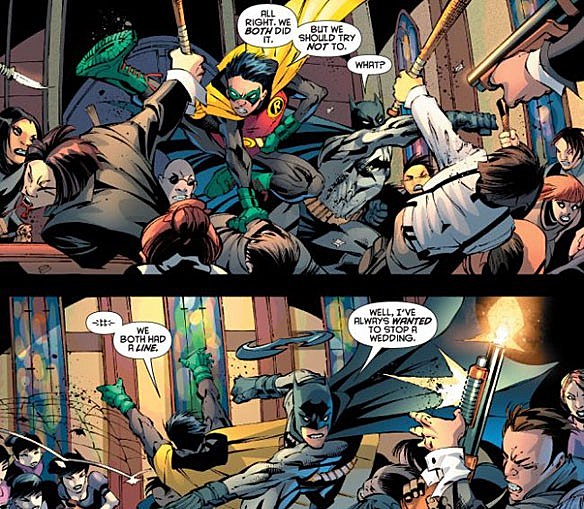 Partly it's because each of these books is a wonderful side dish to Morrison's main course, each providing a complementary flavor that adds to the feast of capes and batarangs. Cornell and McDaniel's book, for example, has the biggest sense of fun, and deals with the dynamic duo of Dick Grayson and Damian Wayne. Right from the start, the new creative team signals that they'll be taking a lighter tone to this book as Dick and Damian banter their way through the breakup of a sinister wedding ceremony that spirals into a mid-fisticuffs debate over whether they're not addressing their situation with the proper level of austerity.
Although Bruce doesn't make an appearance, his return puts a new twist on the team dynamic, as Dick seems less tightly wound now that he no longer bears the responsibility of being the senior Batman in the world, and Damian seems to be stepping more clearly into his father's role, taking the lead in scientific investigations and adding a quip or two in combat.

Scott Snyder, Jock and Francesco Francavilla's work on the Commissioner Gordon backup in Detective Comics is a more traditional detective story, as Grayson and Gordon try to figure out who's been helping supervillain technology disappear from police evidence lockers and turn up on the black market. Snyder's handling of the interaction between the two, both as Police Commissioner and Batman and as Jim Gordon and Dick Grayson, is well done, and Jock's art is a no-brainer choice to depict Gotham city and all of its denizens. This book is a great take on Batman as the world's greatest detective, even if this is a different world's greatest detective we're talking about.

Finally, there's Batwoman #0. There's a long credits list on this one, but it's worth looking at them all to note how the book's changed since its first creative team. J.H. Williams III, artist on the last run, is acting as both artist and writer this time around. W. Haden Blackman joins him as co-writer. Amy Reeder handles the art for part of the book in which Bruce Wayne tracks Kate Kane out of costume with inks by Richard Friend, and Dave Stewart takes on colorist duties for all of the book.
I'll admit, I was worried about this one. Williams' art had been a major draw in the Detective run featuring Batwoman, but Greg Rucka's writing was also a huge contribution. While many fans, including me, were concerned about his absence, I came away cautiously optimistic for the rest of the series. Issue zero follows Bruce Wayne as he attempts to authenticate his suspicion that Kate Kane really is Batwoman, and also trying to decide whether it's worth bringing her into his new, more team-oriented crime fighting operation.
Bruce tracks her both as Batwoman and Kate in separate stories that weave back and forth across the pages, with Williams handling the art for the former and Reeder for the later. While Williams' art is the highlight, Reeder does have a lot of fun with Bruce getting into the sort of ridiculous variety of plainclothes disguises he likes to use. Still, this style of blended work from two artists means it's much harder to execute the kind of spectacular splash pages Wiliams was known for on his the last runw with Batwoman, and there's no actual dialogue from Kate here, so it remains to be seen what it's like to read her when she's not being written by Rucka. Still, I enjoyed the book, I was happy to see Kate in action again and I'm looking forward to see her interacting with the rest of the Bat-folk.
And while I know there may be some out there who feel the market's a little flooded with Bat-books right now, I'd say get into the Thanksgiving spirit this week and overindulge a little. You're likely to find at least one book you'll get excited by.