 Don't Ask! Just Buy It! – March 14, 2012: I Was Happy When I Looked Like This
Reading Comics author Douglas Wolk runs down the hottest comics and graphic novels coming out this week.
KEY:

* The realm of the quotidian

% The realm of the fantastical
* SHOWCASE PRESENTS YOUNG LOVE VOL. 1

Holy wedding dresses, this looks great, even in a week as full of excellent new and old material as this one. This collection includes Young Love #39-56 (earlier issues were published by Prize Comics), featuring a lot of artists who are probably better known for their superhero work but arguably had their heart more in this stuff--Gene Colan, John Romita, Mike Sekowsky, Don Heck... I mean, check the very first cover, from 1963. Or this one! Or, omigod, this one! Or this one!! Anyway, nurse Mary Robin, R.N., was the cover star most of the time during this period. Where's her new series, anyway?* % THE ART OF MOLLY CRABAPPLE, VOL. 1: WEEK IN HELL

Not quite comics: this is a whole bunch of photos, documenting the week Crabapple spent locked in a hotel room, covering 270 square feet of (paper on) its walls with her artwork. And it coincides with the Kickstarter Crabapple is currently running for her next big art project, "Shell Game."
% AVENGERS ASSEMBLE #1

Brian Michael Bendis launches his third simultaneous ongoing Avengers series, this one drawn by his Brilliant partner Mark Bagley and intended as an entry-level series for potential readers interested in the movie. Also this week: Avengers #24, written by Bendis and drawn as solicited by Daniel Acuña (despite the last few issues' fill-ins), which apparently wraps up the Norman Osborn plotline, and addresses the question of "Which Avengers will take their relationship to the next level?" Or, rather, "Which Avengers Will Take Their Relationship To The Next Level?" Oh, Marvel, you don't get to charge more if you capitalize more letters.
% BATWOMAN #7

Last month's issue of this J.H. Williams III/W. Haden Blackman-written series--the first to be drawn by alternating-arc artist Amy Reeder--was "so different from the first five issues it seemed like a whole different comic," a friend of mine told me. It's still pretty terrific, although the "creative differences" that resulted in Reeder leaving after #9 have me wondering where this might be going.
* CORTO MALTESE, VOL. 1: THE BALLAD OF THE SALT SEA

People keep telling me how great this Hugo Pratt series is. This first volume was originally published in 1967.
* CRIME DOES NOT PAY ARCHIVES, VOL. 1

Pre-Comics Code extreme nastiness in this $50 hardcover from Dark Horse, following last fall's sampler paperback. Matt Fraction writes the introduction.
% DC UNIVERSE BY ALAN MOORE

Reissue! Repackage! Repackage! Re-evaluate the comics! This $40 hardcover is not to be confused with its earlier iterations, DC Universe: The Stories of Alan Moore and Across the Universe: The DC Universe Stories of Alan Moore. It apparently still contains both "Whatever Happened to the Man of Tomorrow?" and The Killing Joke--I hope this time someone will have fixed the production errors that mangled an earlier edition's version of the former. The new collection is the longest variation on this project yet, now incorporating the miniseries Voodoo and Deathblow: Byblows, since those characters have recently been gerrymandered into the DCU.
* HEROIC: A WOMANTHOLOGY

$50 is the cover price for this oddly limited anthology, whose finances are a little head-scratchable. The creators list, though, includes Ann Nocenti, Colleen Doran, Gail Simone, Trina Robbins, etc. Worth a look, anyway.
% JOURNEY INTO MYSTERY #635

The Kieron Gillen/Mitch Breitweiser riff on mythology continues with Nightmare, Son of Satan, and serpents that look a lot like the cover of the Vince Clarke/Martin Gore album. Also this week: Journey Into Mystery: Fear Itself: Fallout, a hardcover collecting #626.1 and #627-631.
* NANCY IS HAPPY: COMPLETE DAILIES 1943-1945

A big fat square brick of Ernie Bushmiller's poker-faced masterwork. Fantagraphics has had this on the schedule for eons; good to see it finally coming out!
* % SAGA #1

The first issue of Brian K. Vaughan and Fiona Staples' new ongoing sci-fi/fantasy series from Image offers 44 pages of story for $3. From what I've seen of it, it's page-turner-y in the familiar Vaughan manner, although it has one odd tic that sometimes turns up in SF/F and dings the mood for me: presenting particular cultural artifacts of the writer's culture and its present moment in different-era-and-galaxy situations, as if they're simply universals of existence.
% SAMMY THE MOUSE

Zak Sally's three-issue Ignatz project, collected at a smaller size and printed on Sally's own offset press.
* % SAUCER COUNTRY #1

Paul Cornell and Ryan Kelly launch a new Vertigo ongoing series about Presidential electoral politics and alien abduction.
* SECRETS BEHIND THE COMICS

A $20 reprint (from Pure Imagination) of a $1 book (from 1947) by Stan Lee--part how-to, part biographical information on cartoonists of the time.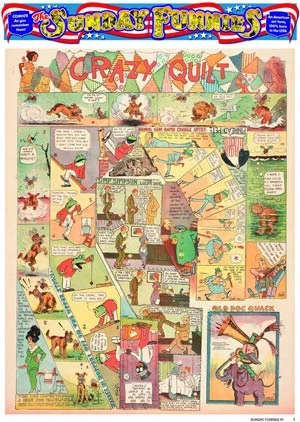 * % THE SUNDAY FUNNIES COLLECTED, VOL. 1

In which Russ Cochran keeps his hand in comics reprints. This is $30 for three issues totaling 96 pages, which is a little spendy, even though it's color printing the size of old tabloids--22 x 16 inches, folded over. The lineup looks impressive, though: Sunday strips from 1895 through 1934, including Frank King's "Gasoline Alley," Hal Foster's "Tarzan," various Lyonel Feininger things, George Herriman represented by both "Krazy Kat" and "Stumble Inn," etc., scanned from the Bill Blackbeard collection at Ohio State.
% UNWRITTEN #35

I confess I'm behind on this Mike Carey-et-al. series, but good Lord (choke), that is one gorgeous cover (by Yuko Shimizu). This wraps up the "Tommy Taylor and the War of Words" storyline.