ComicsAlliance Readers Make Amazing Superhero Art With 'Draw Something'
When I put together a gallery of Matt Digges' awesome Batman-themed Draw Something entries last week, I asked ComicsAlliance readers to send in their own comics-related drawings. They did, and we got some pretty awesome pieces. So today, we're offering up a gallery of reader art created in the Internet's favorite new finger-painting simulator with our Reader-Submitted Draw Something Drawings! Todd Johnson goes a little depressing with his:
Javey Villones sent in a ton of amazing drawings that I honestly can't believe were done on an iPad screen: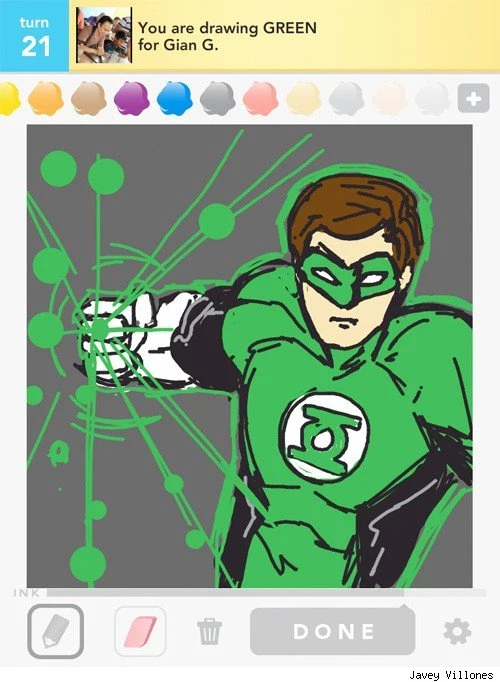 You can find even more at Javey's tumblr!
Not to be outdone, the erstwhile Matt Digges has a few more Bat-Drawings to share:

I do want to point out that Pretzels are traditionally one of Superman's favorite foods, not Batman's, so I think I'll have to consider that last one non-canon.
Tyler Shepard knows his audience, especially when his audience is me:
Ziah Grace goes pretty obscure with his offering:
Earl Yi slips his opponent the (alien symbiote) tongue:

Even the CA Staff is getting in on the action. Here's War Rocket Ajax co-host Matt Wilson illustrating everyone's favorite battle cry:

Laura Hudson gets a little inside baseball with a nod to The Competition while playing Glory writer Joe Keatinge and controls the winds with her mutant powers in a bout with Comic Foundry co-founder Tim Leong:
And finally, just to be fair, here are a few of my own to prove that I am basically exactly as good at drawing as John Buscema.

We're not done yet, though! If you've got some comics-themed Draw Something drawings to share, keep sending them in to chris@comicsalliance.com, and we might put them into another gallery here on the site! And if you haven't played the game, check it out on your device of choice!