 'Ghost' #0: A Step-by-Step Look at the Creation of Jenny Frison's Cover [Art]
Artist Jenny Frison has become a favorite of readers and editors alike for her typically spooky and frequently alluring cover illustrations for such comic books as DC Comics' I, Vampire, Image's Hack/Slash and IDW Publishing's Angel. Such a repertoire makes Frison the (super)natural choice as the face of Ghost #0, coming this September from Dark Horse. The special issue collects material written by Kelly Sue DeConnick and drawn by Phil Noto that previously appeared in short installments across several issues Dark Horse Presents, making the #0 issue a helpful lead-in to the ongoing Ghost series which begins later in October.
Dark Horse has been killing it with the artwork lately, as demonstrated by the excellent work of Vasilis Lolos on Conan the Barbarian, Max Fiumara on B.P.R.D., Steve Rude on Nexus, Dean Motter on Mister X, and Gilbert Hernandez on Fatima: The Blood Spinners, and many more besides. We continue our art appreciation curriculum with a closer look at the Ghost #0 cover by Jenny Frison, who provides artist commentary on every step of the process.Created by "Team Comics Greatest World" -- the name given to the Dark Horse braintrust of Mike Richardson, Randy Stradley, Barbara Kessel, Jerry Prosser, Chris Warner, who together also created Barb Wire and X, among others -- Ghost is a 1990s property that many of us recognize instantly thanks to the artwork, covers and pin-ups by artists like Adam Hughes and Terry Dodson. But beyond her general visage, the nature of Ghost remains mysterious to many readers. In the hopes of reincarnating the enigmatic heroine for a new audience, Dark Horse recruited writer Kelly Sue DeConnick (Osborn, Captain Marvel) and artist Phil Noto (The Infinite Horizon, X-23) to start from scratch.
Here's the early solicitation text, courtesy of Dark Horse: "Former journalist Vaughn Barnes has been reduced to moonlighting as cameraman for the shoddy paranormal-investigation cable TV show Phantom Finders. When a curious device summons the specter of a beautiful, translucent woman, Vaughn is plunged into a mystery of criminal intrigue that spans two worlds!"

Jenny Frison: Here is my original concept sketch for the cover. I knew I wanted to do a really haunting image of Ghost and was inspired by Kelly Sue's script to draw a spooky, misty cemetery. I originally thought I would draw Ghost sort of melancholy and forlorn but [editor] Patrick [Thorpe] and I agreed that a tougher, angrier Ghost would be more fitting.
Layout (click to enlarge)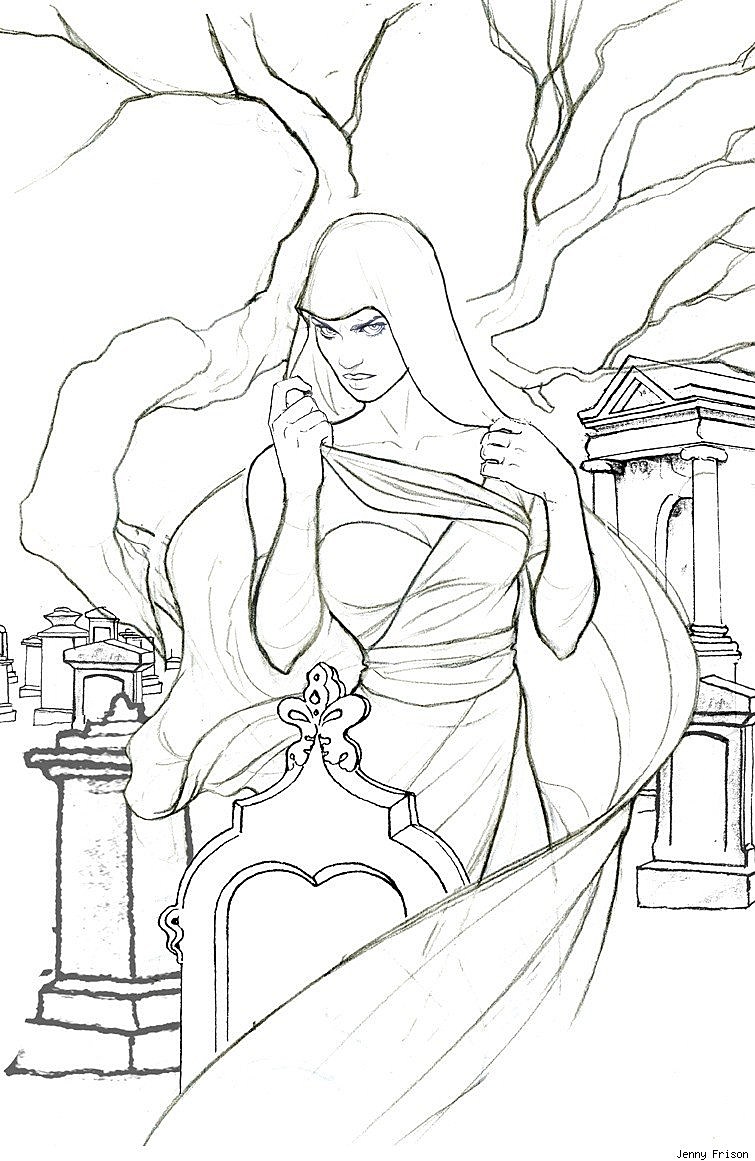 JF: Before I went to final pencils, I tightened up my sketch to make sure I knew how everything would look. You can see the revised face and tightened up cemetery.
Pencils (click to enlarge)

JF: Graphite on white bristol.

JF: Because I like to render traditionally but still have the flexibility of coloring digitally, I printed the pencils out on a piece of grey-toned paper and did this tonal drawing with marker and white chalk pastel. I could concentrate on getting all the aged headstones and water stains just how I wanted so the coloring stage I could focus on my color palette.

JF: When it came to colors, I knew I wanted the palette to stay pale and cool and I wanted to keep the mood very eerie and spooky and the background misty and covered in trees. The trees are all finished with sharp angular branches to keep the atmosphere a bit creepy. I also knew I wanted Ghost to be very spectral, steaming with wispy "smoke."