 Guido Crepax's 'Bianca' Fails As Bondage Porn, Succeeds As Sequential Art Classic
Guido Crepax is the name that first popped into my mind when I was told, "Hey, we wouldn't mind too terribly if you wrote a little bit about comics for us." Arguably the most important cartoonist whose work remains all but completely unavailable in English, the late Crepax is an artist whose work has enjoyed a bit of an uptick in critical response this year, with much of it oriented around his long-running erotic series Valentina. While terrific and career-defining (his own Corto Maltese, really), Valentina is not my favorite work of his, nor why Crepax is one of my favorite comic book artists.
Created between 1968 and 1973, Bianca is probably the most whimsical and psychedelic work in the Crepax canon. To summarize it as glibly as possible, I'd say Bianca's like 90 percent of Crepax's work in that it's constructed around the perspective of a central female character who's trapped in a series of sexual fantasies and adventures. Think Little Nemo but with bondage gear and masturbation. Is it erotic? Is it pornographic? Like Alan Moore and Melinda Gebbie's Lost Girls, Bianca is more obsessed with artistic execution than with sexually arousing its audience. In fact, I think that for the most part, Bianca fails as porn. Indeed, if it were more successful as porn, it would probably be in print in English. Bianca is in a way the polar opposite of what Milo Manara does, even though both artists deal with erotic elements situations -- which doesn't make Bianca better or less interesting solely on that basis, but the point is that this book's only purpose, particularly for a modern audience, is the head-splitting gymnastics Crepax pulls with the comics medium.
WARNING: Some of the following images may be considered not-safe-for-work.I knew that if given the opportunity, I would 1) write about Crepax and 2) not write about Valentina -- which includes portions that I really love, but with the decades-spanning Valentina the reader is almost more beholden to the era of Crepax's career in which those portions were created, while his other works are for the most part contained very much within the era of their original conception. Of the remaining Crepax works that are my favorite -- Bianca, Emmanuelle, The Turn of the Screw, and the Anita Live series -- Bianca is the one I chose to focus on for this article, but the other works are interesting in their own right, and a glance at them helps provide the new reader with some context not just for Bianca itself but with Crepax's work in general.

The Anita series is useful for seeing how Crepax plays with color, as most of his work was published in black and white. There are a few other Crepax works in color, but I think the Anita series was his strong point. In it, he uses color as more of a texture than as an expression of a particular palette. In fact, even though the series is in color, there's more blank white space in Anita than you typically see in most full-color comics. The emphasis is more on the technique of the application of the color than the actual color he's using, even though that color does express itself powerfully in much the same way that you see when Bilal busts out his reds or whites on an otherwise drab scene. There are some really amazing portions of Anita that take the form of an inky water-color-esque blue that's sort of ejaculated across the page.
However, I decided not to write about the Anita series because I think that although his color work is interesting, it's not indicative of the images that have made Crepax one of the all-time grand masters of the comics medium. That left me with Emmanuelle and Turn of the Screw, both of which are erotic adaptations of literature, and both of which are created in an extremely delicate manner, with soft curly hairs drawn out strand by strange without ever appearing the least bit heavy. I think both lack the confident blacks and shadows of Bianca and Valentina, which makes them interesting, but almost more as contrasts. They're more useful in demonstrating why something like The Story of O fits in stylistically with Bianca and Valentina.

So I went with Bianca. It's a very playful work, even with the bondage elements -- or, I guess, possibly even because of them. But Bianca is also significant because of the way it temporally encapsulates what was going on in comics around the world during the late 1960s and early 1970s and hyperlinks nicely with other giants of the era whose work you should also seek. The strong brush strokes that characterize this work open up a really interesting dialogue with Hugo Pratt, who was a contemporary of Crepax during this period. This ties Crepax back to someone like Pratt associate Alberto Breccia (which is doubly interesting given the way Crepax handles texture throughout his career, including here in Bianca). There's even stuff in Bianca that would seem to connect with some of Sergio Toppi's favorite techniques. And unlike Valentina, you're not looking at a 30-year Cerebus level of commitment in order to enjoy Bianca; it's very chronologically specific, by comparison.
The narrative highlight of Bianca occurs in a section with the titular heroine trapped in her shower with a clogged drain. Water rises rapidly and threatens to drown her before she grabs some scuba gear and suddenly finds herself in an ocean. There she runs into a zombie Blackbeard who shoots her out of a cannon. From there, Bianca's captured by talking fish who are definitely not of the Finding Nemo variety, who in turn feed her to Moby Dick. Now inside the whale (think Pinocchio), Bianca meets Captain Ahab, who's almost immediately shot by Puss 'n Boots, who then abducts Bianca and sells her to a circus where she becomes part of a tigers-jumping-through-hoops act. All of that happens in fewer than 20 pages, which would be about ten years' worth of work in an Avengers comic today.
Here are some safe-for-work selections from the sequence, but you can read the whole not-safe-for-work thing at this collector's website.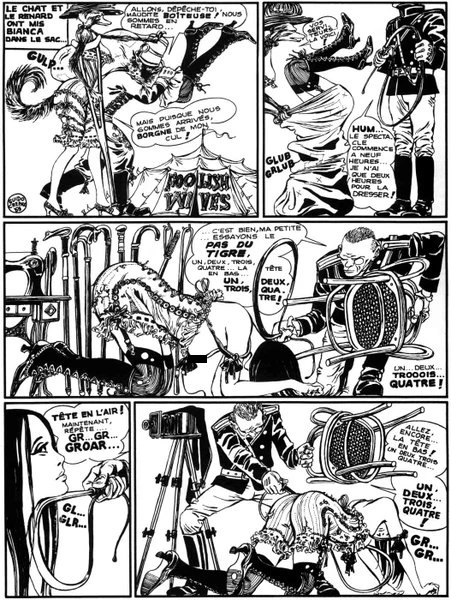 What's especially fascinating about the sequence is how seamlessly all the disparate events blend together. My edition of Bianca is in French, and even without knowing much of the language I always had a strong grasp of what was going on and how things were transitioning within the narrative. Truly, this section of Bianca is something to behold, like a great DJ set in which all kinds of disparate elements are remixed and reclaimed in order to create an experience that's distinctly original. This is one of the real gifts that Crepax had as a storyteller, and a core element in all of his work. He was nothing if not a literary mixologist, presaging in many ways what Alan Moore and Kevin O'Neil do now with their League of Extraordinary Gentlemen.

Other highlights of Bianca are the insane dream montages that occur within the narrative portions. These are where you can find a dialogue with creators and like Toppi and Breccia, and where Crepax lets loose with his brush, playing with texture and form in a way that is completely wild and uninhibited, even in comparison to other Crepax works. There aren't many comics artists who are interested in these kinds of elements today (Emma Rios is probably the most notable artist even attempting this kind of thing, and in Spider-Man comics, no less), but it's something you see in this era of the '60s and '70s. In particular, from Breccia-influenced Spanish artists or some of the Éric Losfield-produced French comics from the period, such as Saga De Xam by filmmaker Jean Rollin and Nicholas Devil (who no one really knows anything about, and this is the only thing really credited to him) and Kris Kool by Caza. It's interesting to see Crepax to do it and pull it off with such aplomb, especially given how a lot of the strengths in his work come from his skill with paneling. Panel or no panel, Crepax had a gifted eye for the time and space necessary to work the comics medium to its fullest. He created other montages in Emanuelle and Turn of the Screw and a few in Valentina, but none of them are as exciting as the ones in Bianca. They're almost un-Crepax when you look at his body of work, which is exactly what makes them so worth studying.

(Of course montage is an interesting concept in comic book form because comics are a medium ostensibly based around time and space as presented in sequence on a page. Usually that's expressed mainly through paneling, but it's remarkable when an artist expresses time through perspective and composition rather than solely through panels. I think it really opens up the possibilities of the page and shows the kind of wild liberation that's possible in the medium. It also invites a dialogue with some of what Gustav Klimt did in his paintings, which also operate on this time/perspective/composition tilt -- which loops us back into comics via Bill Sienkiewicz.)
Even in Bianca, there are pages where the paneling is so far out past what most creators today seem capable of conceiving for the page. Here, Crepax becomes almost like Gertrude Stein in the sense that his technique has moved so beyond the grid that it will be years before his influence really catches on, particularly because -- as with Stein -- some of his more straightforward, less experimental peers like Manara have received much more recognition from American audiences.
This brings us to the real tragedy of Crepax's work. As I mentioned, my copy of Bianca is in French. American audiences who wish to read Crepax are pretty much limited to chasing overpriced imports of out-of-print books, or performing Google searches and piecing the comics together from there. It's a pathetic and damning state of affairs for work that is this important and that could potentially shape the visions of so many young creators starting out today.

If you want to bemoan the current state of comics, I think the place to start is with the fact that most North American artists are in a kind of Dark Age with respect to exposure to the masters. Presently you can't buy work from guys like Crepax and Breccia, and until recently Pratt's Corto Maltese was out-of-print, as was Toppi's Sheraz-De (finally coming soon courtesy of Archaia). Even someone as famous as Moebius, who stands with Jack Kirby and Osamu Tezuka on the Mt. Rushmore of comics, is still relatively difficult given the expense and limited edition nature of most of his English-translated catalogue. Yet, these are the artists whose influence shaped an important chunk of the more transgressive 1980s comics for which so many readers are now nostalgic. Frank Miller earns millions for movies based upon Sin City comics he could not have created without artists like Muñoz, Crepax and Breccia. Artists who came up in the '70s and '80s had access to these masters, but if you got into comics in the '90s and beyond, you have very likely never read any of these men's comics, assuming you've even heard of them. We are essentially moving backwards the longer we keep these works away from North American shores.
As I said, one of the reasons I found Bianca the most compelling Crepax comic to write about is because of how many masters he appears to be having an artistic dialogue with on any given page. It is a shame that we can't have the same dialogue with him today.