Holiday Gift Guide: The Floyd Gottfriedson 'Mickey Mouse' Box Set Mickey Mouse v.1 and 2: Race to Death Valley and Trapped On Treasure Island

Available From: Fantagraphics

Price: $49.99
When this year's Holiday Gift Guide started, the very first thing I recommended was Fantagraphics' new collection of Donald Duck comics by Carl Barks, and with good reason. It's a beautiful collection of classic comics that are accessible to any reader -- and believe it or not, that's not the only book they've got that fits that description. Over the past few months, they've been putting out collections of Floyd Gottfredson's work on the Mickey Mouse newspaper strip, and they're some of the best comics ever put out.Even though they were published all the way back in 1932 -- six years before Superman would make his debut in Action Comics #1 -- Gottfredson's Mickey Mouse stories are still fresh and frequently pretty hilarious today. They've got everything anyone would want out of a comic: Adventure, romance, danger, lost pirate treasure, fighter jets battling against sinister zeppelins, and even a gang of mad scientists out to destroy the world with a ray-gun that makes you evil.
There's even an extended -- and actually pretty hilarious -- sequence with some pretty dark humor where Mickey contemplates killing himself, something that you just do not see too often from that guy: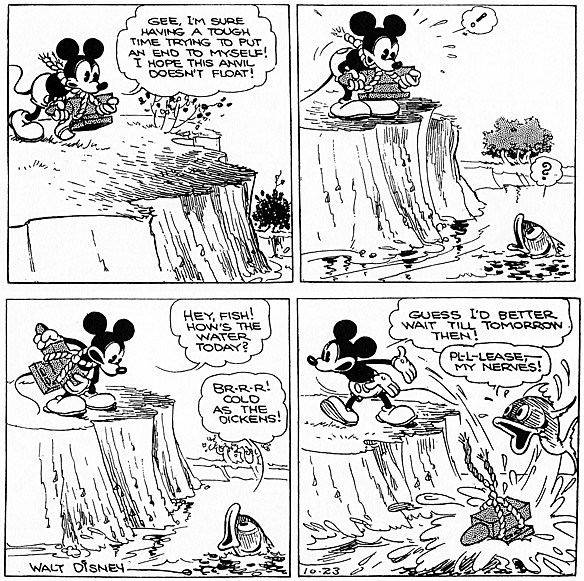 It's incredible stuff, and when you throw in the consistently beautiful design that Fantagraphics gives to their projects, it's something that makes a pretty great gift. It's even decked out in Christmas colors!
The first two volumes are out for $30 (and almost 300 pages) each, but much like they did with their Peanuts hardcovers -- also a fantastic gift -- there's a box set with both for a reduced price. Whether your shopping list has a kid who likes funny cartoons, a grown-up who wants to see an incredible use of comics as a storytelling medium or anyone in between, it makes for the perfect present. It might be a little late to have it shipped directly from Fantagraphics, but there's a good chance your local bookstore has one in stock just waiting to be wrapped up and stuck beneath a tree.