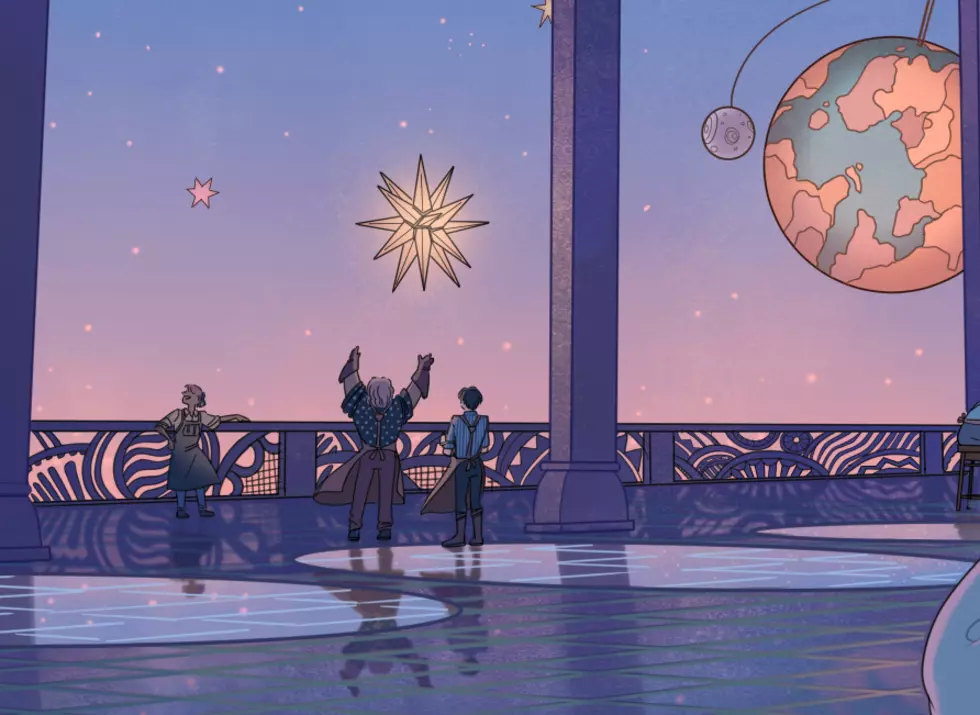 Show Your Cards With Queer Tarot Anthology 'Tabula Idem' [Back Pages]
Cover detail by KaiXJu / Fortuna Media
In Tabula Idem, editors Hye M. and Iris Jay take the conceit of tarot and use it as a conduit to tell stories about queer characters from queer creators. The project is running on Kickstarter now and looking for a funding target of $44,000, and every story features a card from the tarot deck, with the stories in some cases serving as a sort of "origin" for how the card gained its meaning and relevance, and found a place in the deck.
It's a fabulous-looking project from a team that only began work on the anthology at last year's Emerald City Comic-Con. One year later, and with the project heading to print, ComicsAlliance spoke to both editors about their vision for Tabula Idem, and what readers can expect from the completed collection.
ComicsAlliance: What's the basic premise of Tabula Idem?
Hye M: Tabula Idem is a queer comic anthology based around the 22 cards from tarot's Major Arcana, bringing traditional archetypes into modern, queer-focused imagery with a complimenting Majors tarot deck.
Iris Jay: Some of the stories in the anthology hew pretty close to what you'd expect from the cards, while others are intriguing new interpretations! Fun for newcomers and seasoned tarot sages alike.
CA: What inspired you to use tarot as the basis for a comics anthology, and when did you realize this was something you wanted to make a reality?
HM: The idea initially came as I was dipping more and more into the comics sphere and how, in my own love and research of tarot, I realized it was its own dynamic, comic-like form of a story (even encapsulated in the Major Arcana, starting at The Fool and ending with The World).
After working on another 78-card tarot project based around an already-established canon, I was enthralled at the prospect of seeing original stories behind cards being more fleshed out and relatable, and even on a divination level. Tarot is its own divinely personal art, and so are our identities, especially when other decks have entire volumes dedicated to explaining their context.
IJ: I've been doing these weird little satirical fake New Age-y zines called Chessmaster Guides since 2013, and the most recent one in 2015 was about the tarot, so that's kind of how I got into it: the most bass-ackwards way possible. I really like doing big group projects that showcase cool comics artists who might otherwise get lost in the noise of the internet, so I leapt at the chance to collaborate with Hye on such a unique and awesome concept!
CA: How did you first meet one another? Have you worked together before, or is Tabula Idem your first project as co-editors?
HM: We initially met at a convention in February 2016, after I had seen Iris' advertisements for their tarot zine and became enamored with their stuff! I had just finished a large tarot project myself, and was itching to delve back into it somehow, but we started the rudimentary process when we met again at ECCC in 2016 and got the creative ball rolling. Iris has an incredible editorial eye for story construction, both writing and art-wise, and our different strengths were able to really compliment each other as Tabula Idem continued to develop.
IJ: Likewise, Hye has been an incredible project coordinator. Putting together an anthology of this size and complexity is no easy feat, but Hye has a preternatural talent for making everything run smoothly. I feel like I'm learning something every time I work with them...
CA: Structurally, it's really interesting that each comic will end up with an illustration of the tarot card in question --- it's almost like reading origin stories for each one. What kind of challenges does that create as a storyteller, knowing your story needs to end in a particular image?
IJ: I think one of my favorite things about the book is how easily the stories flow in sequence, since they're based on a set of cards that follow a symbolic cycle. That's a really hard thing to accomplish in anthologies, and sometimes you get books that are full of awesome work but feel kind of disjointed to read as a result. We really tried to build Tabula Idem like a well-edited DJ mix, where each story and illustration naturally complements the next one in sequence, and I think our artists managed to translate that idea into their work fantastically while still making each story their own.
HM: The fun part of it is that some of the cards aren't even strictly the "curtain call" of the comic, and can rather be a surmise of the story itself! While I can't speak for the contributors themselves, I think the biggest challenge might have been what to focus on highlighting in the card from the story, versus including background elements as more symbolism and complimenting composition. It's very similar to a tarot card's own mysterious workings --- on The Fool, do you focus on the cliff they're about to fall off of? Or on the figure themselves? Maybe the sun or the bag they're carrying?
CA: How important was it for you both that the anthology explicitly be queer-centric --- offering stories by queer creators, about queer characters?
HM: It's the core of the project, honestly! So many tarot decks offer their takes on these archetypes from a hetero/cisnormative perspective, and it's an opportunity for the contributors to reflect a part of themselves in their cards' stories and how other queer people can see/identify that. These were their own "tabula rasas" on which they would create our pantheon of figures, and that sort of relation to their story and their characters, their identity, is what makes so many stories in Tabula Idem knock it out of the park and link it together as a journey of queer Major Arcana.
IJ: I actually tweeted about this the other day! It isn't easy out there for queer folks right now, but I firmly believe that together we can build a better future. As much as I want readers nowadays to find strength and solace in these comics, I also want readers twenty, forty, eighty years from now to read Tabula Idem and remember we were here. We're not just a fad, not an anomaly or an aberration. Every day we're building up our own destinies in a zillion different ways, and Tabula Idem is a document of that process, a work-in-progress reflected through fiction.
CA: How did you find people to take part in the anthology? What were you looking for from contributors?
HM: We drew pitches from a public submission base that were open for a month, and also emailed a general advertisement to artists whose art was familiar with tarot! While there were elements like storytelling capability and artistic style that were considered, our biggest point was looking for pitches that kept a core understanding of what the card and its subject were about, but who also could spin the message into a really unique, memorable, and sincerely queer story.
IJ: There were so many good entries! Editing the list down was super hard! We were almost tempted to make it a full 78-card deck, but then the comic anthology would've cost a ludicrous amount of money to print and would be the size of a cinderblock. Next time, maybe...
CA: What made you want to bring the project to Kickstarter? What made this the right route for you?
IJ: There are so many amazing comics projects that have gotten funded through Kickstarter that probably wouldn't have gotten off the ground otherwise. I can't think of a major publisher who would hear a pitch like ours and think, "Oh yeah, that sounds like something we want to spend time on." With Kickstarter, we can go straight to the fans to get financial support for our passions.
HM: Kickstarter has been indispensable to the modern independent comics scene! From its collection of anthologies to the creator-owned books and stories, it's been a platform that Iris and I have both used to broadcast either our own work or been apart of to collect other people's artwork under a common theme. People from all over the world have come under under a banner of community, and a support-driven desire to fund more of the type of material you want to see and succeed in the world.
CA: What stage are your currently at with production of the comic? How much has already been completed?
HM: The deck artwork is completely finished, other Kickstarter reward pieces are complete, and so are all of the contributor comics for the book's internals! All that there's left to do is initial proofing, a few design touchups, and general production correspondence that always seems to love to take its sweet time.
IJ: Plus we're running the Kickstarter! So, everything exists except for the actual book itself at this point. Hopefully not for long! Fingers crossed!!
CA: Do you have any stretch goals planned for the comic?
HM: With our goal, we're honestly focusing on production budget (though book upgrades like spot gloss are a consideration if we break a certain stretch goal) and paying our contributors as much as we can! Our main funding challenge is due to the fact that we're looking to print both a book and a Majors deck, and print costs start to stack up.
IJ: I wanted our stretch goals to go towards giving our book a clear acetate dust jacket, glow in the dark cover ink, die-cut rhombus-shaped pages, and a treasure map hidden inside the binding. But Hye was like "noooooo".
CA: What's your estimated delivery on the final product?
HM: While we're giving ourselves a generous timeframe to allow for printing errors and general shipment times, we expect late June to early July for rewards to begin shipping out!
IJ: Backers can expect steady updates on our progress until then. Peace!