'Iron Man 2′ Media Kit From Hasbro is Like a Birthday Party in a Box
Getting back from a long weekend out of town is always challenging, but thanks to a righteous UPS delivery from Hasbro, returning home from C2E2 was joyous rather than stressful and rekindled the kind of radness I could only have mustered for a Chuck E. Cheese birthday party circa '93.
A giant box stamped with "Iron Man 2" and "Hasbro" logos was a very welcome package indeed, but rather than containing a standard media kit, it packed in some serious hardware in terms of toys, gadgets, and other assorted Iron Man goodness from Hasbro. Check out its contents after the jump.

Kaboom!
The IM2 contents conquered my humble kitchen table.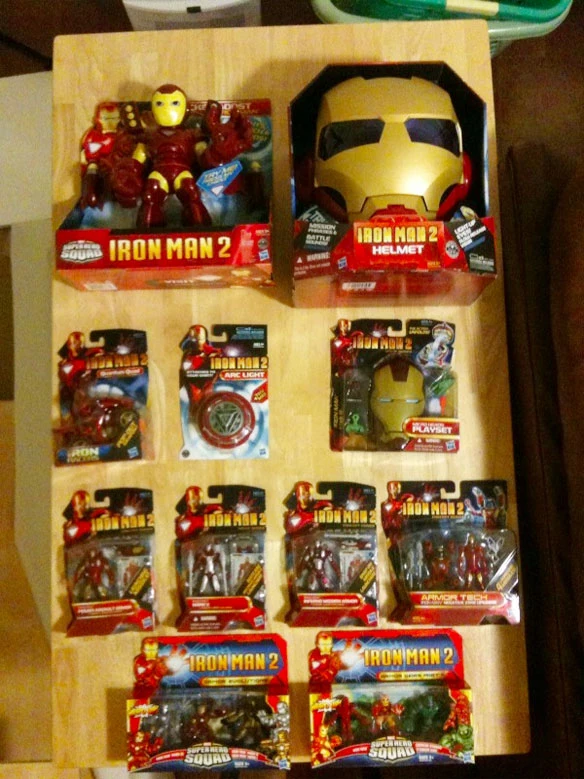 I've been picking up Hasbro's IM2 action figures since their release in March, but I was stoked to see a box full of items I'd yet to slap down cash for - most notably the radness that is the IM2 helmet.
I confess, with my huge dome I was unable to successfully don the helm without it looking like some kind of hat, but my wife looks pretty stylin' in it, especially with its sound and lighting effects and retractable faceplate. It's like an Iron disco for your ever-lovin' head.
All in all, it was an awesome surprise...I just hope that Hasbro eventually designs a helmet for plus-sized noggins so that mutants like me can one day command some Stark tech.