Jamie McKelvie's Art Brut Album Cover with Exclusive Kieron Gillen Commentary
British punk outfit Art Brut have a new album coming out in May that's called Brilliant! Tragic! Frequently hilarious frontman Eddie Argos is a known comic book sympathizer, having provided a cover quote for the collected edition of Phonogram: The Singles Club, a favorite of hopelessly obsessive music fans and ComicsAlliance staffers alike. As such, it only made sense that Argos commission Phonogram drawer Jamie McKelvie to create the artwork for Brilliant! Tragic!, which McKelvie did with his typical excellence.
Given McKelvie and Phonogram's special role in the relationship between pop music and indie comics, we pulled him away from the drawing board for a moment to give us some behind-the-scenes secrets of the Art Brut artwork (one secret: there is no drawing board). To make things a little more awesome, Phonogram writer Kieron Gillen (also of Generation Hope, Journey Into Mystery and Uncanny X-Men) has given us an exclusive micro-essay on Art Brut in the style of those seen in the beloved back-matter pop glossaries of his and McKelvie's comics.

ART BRUT: After first seeing a Art Brut live, I handed in a review which solely consisted of the the whole lyrics to their "Top Of The Pops" - "Art Brut! Top Of The Pops!" - repeated, until I hit the word-count. To the magazine's credit, they didn't just print it, but also cut someone else's review to make sure they could fit it all in. Art Brut inspired that sort of action. The closest I've come to forming a band in my adult life was after debut single - "Formed A Band" - made it sound like the single most life-affirming thing anyone could devote their entire existence to, capturing that moment when a group of humans come together and start making noise, and it's all just possibility. Surely only Immortality and glory can lie before you? You could be anything. With god knows how many side-projects emerging from them, like a monologuing art-rock hydra, they've done a fine job of sifting through the extremes of the universe. They've made great albums since, but their first - Bang Bang Rock And Roll - would be where to start exploring their monologuing angular-rock literate philistinism. And while singer Eddie Argos only likes DC Superheroes, I refuse to hold that against him.

- Kieron Gillen for ComicsAlliance

ComicsAlliance: Jamie, how did this come to be, your creating the artwork for Art Brut's new album?
Jamie McKelvie: Eddie Argos asked me if I wanted to do the art for the new album. We've known each other for a while - he provided a back cover quote for Singles Club - and is a big comics fan. I'm a fan of the band as it is, so of course I said yes.
ComicsAlliance: What sort of art direction were you given?
Jamie McKelvie: We (Eddie, [guitarist] Jasper [Future] and I) knocked a few ideas around together, but they let me have a lot of control and input on the process, which was really cool. We ended up with this concept, that you only see half of in the front cover, which uses different interpretations of brilliance and tragedy through a diptych. The idea of someone acting and dressing totally inappropriately for a funeral ties kinda in with the name of the band, too.
ComicsAlliance: There are loads of professional and aspiring artists reading this, so please talk some shop about the creation of this great piece.
Jamie McKelvie: I'm working 100% digitally now, beyond the first few concept sketches in a sketchbook. Pencils and inks in Manga Studio, colors in Photoshop, then - luckily for me - my girlfriend is well-versed in InDesign, so is doing all the text/page layout/etc. to create the final product that is going to be printed. One of the benefits of digital is that it's so much easier to make changes and adapt to requests from the client, show a few different versions easily, and so on. I worked pretty big - 1200dpi, when most printing is between 300 and 600dpi - because I figured that the images would be used on posters and so on. That way we avoid any scaling issues or blurriness on larger areas.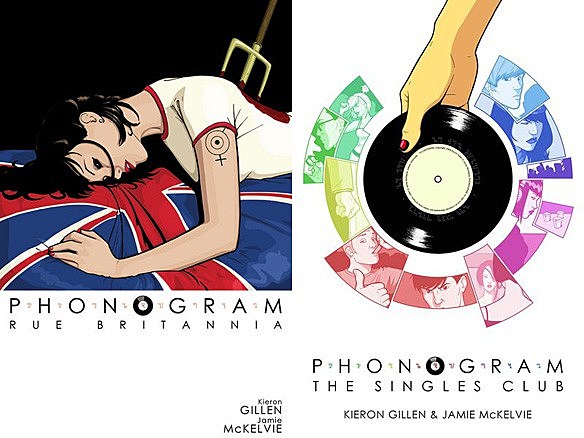 Featuring even more Jamie McKelvie artwork not seen here, Art Brut's Brilliant! Tragic! goes on sale May 23 from Cooking Vinyl. The record is produced by Black Francis.
McKelvie and Kieron Gillen have created two volumes of Phonogram - the Britpop opus Rue Britannia and the full-color dance party The Singles Club -- both of which are available now.