 Jim Rugg's 'Notebook Nerd' Makes Amazing Art From School Supplies

The fact that Jim Rugg is a pretty incredible artist isn't exactly news to anyone who's ever read Street Angel or Afrodisiac, but his latest project has blown away even a long-time fan like me. In Notebook Nerd, an art show at the IAm8Bit Gallery in Los Angeles, Rugg will be showing off a series of 50 incredible drawings done with ballpoint pens and notebook paper.
Rugg took inspiration everywhere from comics to video games to recreating his junior high book covers, and they are amazing. Check out a few of my favorites after the cut!The first of Rugg's ballpoint pen drawings that I saw was his version of a relaunched Gen13, a book that I would read every issue of -- especially if it was spiral-bound in a notebook for that added "reading comics in class" feeling:

The '90s-inspired parody of How To Draw Comics the Marvel Way is far and away the funniest piece he's done, if only because it casts a cybernetic arm as a necessary piece of anatomy:

Rugg's version of the NES classic Contra casts it as the greatest '80s action movie ever made, with the added bonus of a hand-drawn Konami logo:
For another video game-inspired piece, Rugg mashed up Mario Kart's Yoshi with Ed "Big Daddy" Roth:

And speaking of mash-ups, here's Divine as Wonder Woman:

The cover recreation of Marvel's Shogun Warriors was originally done for a HeroesCon art show:

All of these pieces are pretty amazing, but it's almost impossible to believe that the cover art for Pood #3 was done with ballpoint pens:
While they're some of the few pieces in the set not done on notebook paper, the series of Aquaman drawings make up for it with some incredible detail:

I'm going to go ahead and guess that this one had at least a little computer assistance. Either that, or Jim Rugg is the greatest artist the world has ever known, and may in fact be a wizard:
My single favorite piece of the set, though, is Rugg's recreation of one of those brown paper book covers from his junior high days, covered in metal-inspired doodles, bikini babes, and even a few leering ninjas. This was the math book I wanted to have: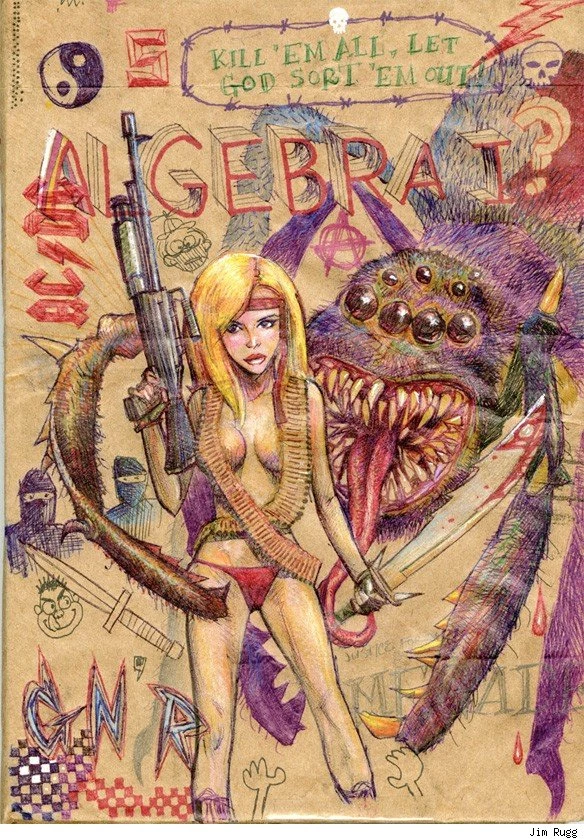 The gallery showing of Notebook Nerd opens on May 25 with free admission, and if you're in the Los Angeles area, it's definitely worth checking out. If you're not, though, don't worry: AdHouse is collecting the pieces in a book that's designed as a reproduction of Rugg's original notebooks, set to make its debut next month at HeroesCon in Charlotte, North Carolina.