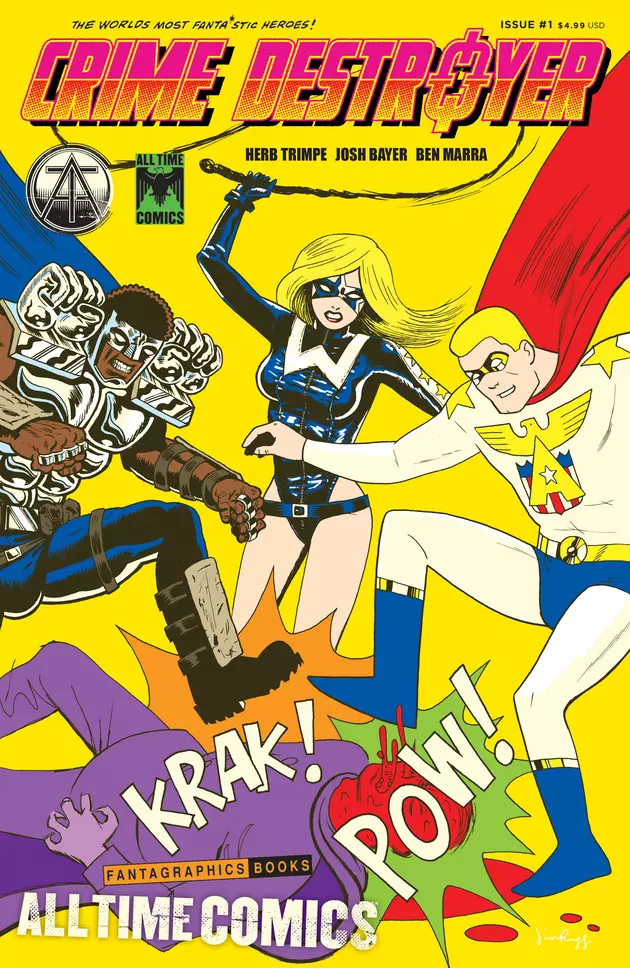 Fantagraphics Launches Superhero Universe With Josh Bayer and Herb Trimpe's 'Crime Destroyer'
Cover by Jim Rugg
If you listed every comics publisher based on how much you associate them with superhero comics, Fantagraphics would be somewhere near the bottom. The prestigious indie publisher has been around since 1976, publishing underground comics as well as beautiful collections of classic comic strips. But in spring 2017, Fantagraphics is getting in the superhero game with All Time Comics, a line of shared-universe books spearheaded by brothers Josh and Samuel Bayer.
The first All Time Comics book, Crime Destroyer, features the last work by legendary Marvel artist Herb Trimpe, who died in 2015. It's written by Josh Bayer with inks by Ben Marra, who then takes over for art duties entirely with the second issue. The line also includes the titles Bullwhip, Atlas, and Blind Justice.
Crime Destroyer is a former special forces operative who fights crime with high-tech weapons and shoulder pads with giant fists on them. There's a deliberately over the top quality on display here that's very much what you'd expect from indie creators at an indie publisher diving headfirst into the superhero genre.
Trimpe is not the only Marvel veteran the Bayers recruited for this project. Blind Justice #1 features pencils by Rich Buckler, and that book and Bullwhip both have inks by Al Milgrom. The line also features covers by acclaimed indie artists like Jim Rugg, Johnny Ryan, and Tony Millionaire.
The whole project looks pretty interesting, although it's hard not to notice that the line launches with a violent black hero in Crime Destroyer and a whip-wielding woman in Bullwhip, while all the creators appear to be white men, and in fact Josh Bayer is writing every book. There's certainly a unity to letting one creator's vision shape a superhero universe, but if the line is going to continue and expand, the organizers really need to recruit some more diverse contributors.
In the press release from Fantagraphics, Josh Bayer mentions a character named "the Misogynist," and a storyline based on Bill Mantlo's life after his brain injury, so it sounds like he's walking on a lot of delicate ground in these books. Here's hoping he doesn't fall.
Here's the complete slate of All Time Comics through August 2017:
ALL TIME COMICS: CRIME DESTROYER #1

Josh Bayer (story); Herb Trimpe (pencils); Ben Marra (inks); Jim Rugg (cover) + Johnny Ryan (cover); MARCH 2017

ALL TIME COMICS: BULLWHIP #1

Josh Bayer (story); Ben Marra (pencils); Al Milgrom (inks); Das Pastoras (cover) + Tony Millionaire (cover); APRIL 2017

ALL TIME COMICS: ATLAS #1

Josh Bayer (story); Ben Marra (story, pencils, inks); Das Pastoras (cover); MAY 2017

ALL TIME COMICS: BLIND JUSTICE #1

Josh Bayer (story and pencils); Rick Buckler (pencils); Al Milgrom (inks); Victor Martinez (cover); JUNE 2017

ALL TIME COMICS: CRIME DESTROYER #2

Josh Bayer (story); Ben Marra (story, pencils, inks); Das Pastoras (cover); JULY 2017

ALL TIME COMICS: BLIND JUSTICE #2

Josh Bayer (story); Ben Marra (story); Noah Van Sciver (pencils); Al Milgrom (inks); Das Pastoras (cover); AUGUST 2017
From the Fantagraphics press release:
ALL TIME COMICS is the joint venture of the Bayer brothers: Josh Bayer, an underground comics artist and teacher, and acclaimed mainstream director Samuel Bayer, who launched his career 25 years ago with Nirvana's "Smells Like Teen Spirit" video.

"There's an alchemy to the Bayers' editorial vision that is undeniably exciting, and I've gotten a genuine charge out of their enthusiasm for ALL TIME COMICS," said Fantagraphics Associate Publisher Eric Reynolds. "In a market flooded with crass attempts to cash in on Hollywood's interest in superheroes, ALL TIME COMICS is that rare project motivated by a sincere appreciation and affection for the creators behind the creations."

"ALL TIME COMICS is both an expression of affection for the books that shaped our lives, and a link to a pre-internet time when comic book culture was more precious and rarefied. It originates from a lifetime of research and our devotion to the comics medium," says Josh Bayer. "This project is a chance to work with not only acclaimed independent figures like Noah Van Sciver and Ben Marra, but to spotlight superstars of the field like Al Milgrom and Herb Trimpe. I see ALL TIME COMICS like an Obelisk: something that can be admired but with a greater significance beyond itself. It stands for all comics."

"I am so excited by the combination of writers and artists that we have working on ALL TIME COMICS," says Sam Bayer. "We're bridging generations of creators -- veterans from the 70's with contemporary creators -- to make comics that are retro cool."

In addition to featuring the last art by Wolverine co-creator Herb Trimpe, ALL TIME COMICS features the first work of veteran artist and industry legend Al Milgrom since 2014. "It's exciting to be a part of this new publishing venture, All Time Comics," says Milgrom, "Independent comics have a raw energy and enthusiasm that pushes the comics envelope. I've really enjoyed inking BULLWHIP and BLIND JUSTICE and I'm looking forward to this old dog learning some new tricks!"

ALL TIME COMICS is a shared superhero universe featuring four heroes: Atlas, Blind Justice, Bullwhip, and Crime Destroyer.

"Working with Sam and Josh on ATC was about as close to a dream comic-book project as I could ever hope to be a part," says artist Ben Marra. "Since I was young I've been a fan of superhero comics. I've always wanted to draw superhero comics. Working on the character designs from the ground up, then being able to collaborate with comic book legends, artists I've looked up to since I was a kid, Herb Trimpe and Al Milgrom, was an incredible experience."

"Sam came to me with the foundation of the characters already laid out," says Josh Bayer. "I was able to start coming up with details like Atlas' origin and backstory, Bullwhip's villains and supporting cast, and a lot of Blind Justice's story, which I'm maybe the proudest of. I was inspired by details of Bill Mantlo's life after I read that that he lived in a head trauma center for years after his comics career was ended by a hit and run driver in 1992, I made up the Optic City Center for Cranial trauma Victims as a base of operations for Blind Justice. I also brought in a lot of stuff that fascinated me about the 1980s into some of the stories, basing supporting characters The Misogynist and Candy Chryssalium on figures from 1980s culture, since the whole concept of ATC is about folding time back on itself, trying to go back to right some wrongs, and do things over the way I think comics should be done."