The All-Star Cast of 'Justice League XXX': They Sure Are Dressed as Super-Heroes
If you've been paying any attention to the adult film industry -- and since you're reading this on the Internet, I'm just going to go ahead and assume that you have -- then you've no doubt noticed that over the past year, the hottest trend has been in hardcore parodies of comic book heroes. Even more than parodies of properties like Glee (a thing that actually exists), in which the stars actually sang and danced in musical numbers between sex scenes, the world of erotica has been deluged with super-heroes ever since the actually-pretty-awesome Batman XXX became a hit. And next month, the most ambitious one yet will be released: Justice League XXX.
Which is how we here at ComicsAlliance found this in our inbox:

Yes, in order to promote the film, Extreme Comixxx has put out a set of cast photos that are hilariously photoshopped. Clearly, this requires commentary.

Evan Stone and Scott Lyons as Batman & Robin

Hey look, it's the Batman and Robin, the Boy Teen Clearly 31-Year-Old Wonder! I mean, I ain't studio founder Benedict Q. Vividvideo or anything, but one would think that if you're trying to create the illusion that an actor is a teen sidekick, you'd maybe go with a dude that did not definitely have a receding hairline. Just a thought.
Evan Stone as Batman, however? Now that is a solid choice. Just look at that dude! Fists up, knees bent, ready for action! He is clearly more into this than anyone else you are about to see. And he's experienced: Not only did he play the Riddler in Batman XXX, but as revealed in the Special Features on that DVD -- and really, why wouldn't you watch 'em? -- he was also the fight choreographer. I'm willing to bet that makes him one of the top three fight choreographers in the entire adult film industry, because really, how many can there possibly be?
Either way, it means he'll be bringing a certain physicality to the role. Aside from the obvious kind, I mean.
Bill Bailey as Aquaman

You know, if you told me a year ago -- heck, if you told me yesterday -- that there was going to be a pornographic film about Aquaman, I wouldn't just have not believed you, and I would've called my local authorities in an effort to get you the long-term psychiatric care that you deserve. And yet, here we are. In a world where a pornographic film about Aquaman is something that exists.
Anyway, I've got to admit that I was a little disappointed by this one. When I heard that Bill Bailey was playing Erotic Aquaman, I assumed that it was Bill Bailey the British comedian and costar of Channel 4's Black Books, and that they were going to go go in more of a Brave and the Bold direction: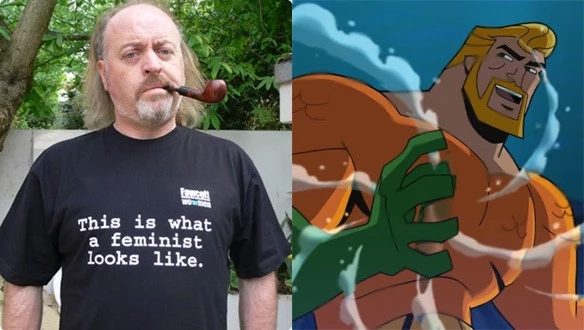 Admittedly, the British Bill Bailey might be a little old for the role, but c'mon: Having that dude punctuating each scene with a boisterous "Outrageous!" would be awesome.
Chanel Preston as Wonder Woman

Joining the cast as the only female Justice Leaguer is, of course, Wonder Woman as played by Chanel Preston, and... Look, I know this is going to sound weird, okay? I know. Believe me. But this picture totally reminds me of my grandmother.
Obviously Chanel Preston looks absolutely nothing like my grandmother and is, in fact, three years younger than me, but the old-fashioned high waist on the costume and the old-style rolled back hair are combining to... well, to make me really uncomfortable with this whole enterprise.
Sorry, everybody, but this is freaking me out. Let's... Let's just move on.
Talon as Green Lantern
Gah! This is even worse!
Seriously, there is nothing about this picture that is not absolutely terrifying. The stiff pose, the slightly oversized boots, the completely insane mask makeup that makes it look like he has huge eyes and tiny pupils, the flat line of the mouth -- it all combines to make this guy look more like a Mego figure that has come to life and is now trying to kill you.
That said, I still prefer Talon here to the CGI costume they're doing for Ryan Reynolds.
The Flash

It's difficult to figure out where to begin with this one, so I'll start with the positives: That logo, with the crossed lightning bolts making an X? No joke, that is pretty rad.
The rest of it, though, could use a little work. I mean, I don't want to be the guy who drops an "um, actually" on the makers of Justice League XXX or anything, but the Flash's headpiece has wings to represent the winged helmet of Mercury, not lightning bolts that make him look like a Communist bunny rabbit. Also, while I'm not an expert, I don't recall ever seeing the Flash in galoshes.
The best part, though, is that the guy playing the Flash could not look more bored, which makes me think that he's been preparing for his role by actually reading comics starring Barry Allen. And that's the kind of commitment to a role that gives me hope.
Kristina Rose as Zatanna

I just want to point out that there is absolutely nothing at all distinguishing Porn Zatanna from Regular Zatanna.
Roxanne Hall as Catwoman

Despite the fact that I don't think they're going to be getting up to much crime-fighting, the heroes of the Justice League wouldn't be much without their villains, and the movie's got a ton of them, too. The trailer even includes Harley Quinn and, inexplicably, Machete, from the Robert Rodriguez picture of the same name. No idea, folks.
Anyway, one of the more recognizable villains is, of course, Catwoman, and while I was all set to ripp on it for going with the truly atrocious costume from the equally atrocious 2004 film starring Academy Award winner Halle Berry -- seriously, guys, you're making a film here. Don't just get what's on clearance at the costume shop and call it a day, have some self-respect -- but that was before I noticed the amazingly bad photoshopped cats at the bottom.
Take a look at this little guy:
That is the graphic design equivalent of a kindergartener's drawing that you hang on the fridge even though you don't know what it is because it's just so darn cute. Fan. Tastic.
Andy San Dimas as The Boss

There are a few other "name" villains in the movie, including Lex Luthor and Poison Ivy, but for a couple of them, it just doesn't look like they made a whole lot of effort. For instance, there's a character labeled as The General, but I'm starting to have my doubts that he's actually General Wade Eiling, who took over the indestructible body of the Shaggy Man in order to fight the JLA back in the late '90s. If he is, though, this has a good shot at being the most thoroughly researched pornographic film of all time.
The same thing goes for the Boss, as played by Andy San Dimas, who appears to be a pretty generic gangsteress. It's a shame, too, because it's not like DC Comics doesn't have its fair share of mobsters. I mean, just imagine how much more awesome this thing would be if she was playing a lady verison of Intergang honcho Bruno Mannheim, Brunette Mannheim.
I mean, I'm not saying I'd pay whatever price I needed to for a movie where Andy San Dimas shouts like a Jack Kirby character for an hour, but... Actually, that's totally what I'm saying. Get on that.
Ron Jeremy as The Penguin

And finally, we have adult film icon Ron Jeremy as the Penguin, looking like he, too, has no idea how all this happened. Once again, the producers have decided to go back to a movie for their inspiration, reviving the heavy makeup from the grotesquerie that was Tim Burton's Batman Returns.
Personally, if you're going to go for something from the media, I would've gone for the Burgess Meredith version -- three words, y'all: Purple Top Hat -- but I've got to admit that casting Ron Jeremy as Danny DeVito is a pretty smart move. I just hope that it's the start of a trend that leads to the XXX version of It's Always Sunny In Philadelphia, which I'm pretty sure has a good shot at being the first porn parody written by the guys who actually write the source material.