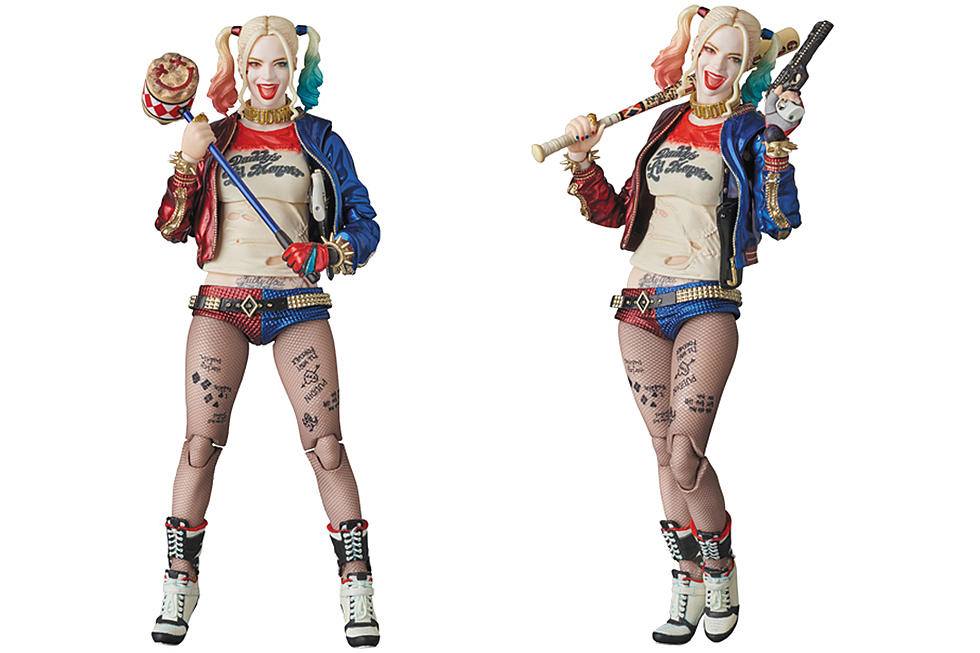 Medicom's MAFEX Suicide Squad Harley Quinn is All Smiles
Medicom
With the Suicide Squad movie just a few months away, we're starting to see more and more collectibles popping up to tie into the film. Now that Batman V Superman's merchandising deluge has mostly subsided, it's on to the next big DC/WB event film. While we've seen a smattering of DC Collectibles and Mattel pieces set to tie into the upcoming action flick, there's been very little featuring one of the premiere squaddies, Harley Quinn. To this point, even DC is one of the only companies to even have shown off a Harley figure, save for Medicom, which finally unveiled its version of the character this week.
Previously, Medicom announced a Suicide Squad Joker, but the rest of the film's actual major players were left to the sidelines. I understand that the Joker is a big mover and shaker, particularly when it comes to Medicom and its MAFEX line, but to make him the lead figure from that film strikes me as an odd decision given how much more prominent the likes of Harley Quinn, Deadshot or even Boomerang have been leading into the movie's release. We also know the Joker is but a mere guest in the larger scheme of that film, so putting him at the forefront just doesn't sit right with me. That's doubly true considering we'll have to wait until 2017 to see the second figure, Harley Quinn.
To make matters even worse, this is a damn fine Harley Quinn figure. The other releases we've seen teased also feature Harley in her fishnets and ringer t-shirt, but they all abandon the jacket. It's not hard to understand why. Jackets are notoriously hard to sculpt with articulation, particularly when they're satin jackets like hers. Medicom's sculpted it with a little movement to give Harley a bit more liveliness, but also to curtail any stiffness that would ordinarily arise. Just look at the Mattel Lex Luthor to see what a bad jacket looks like.
Strictly from the standpoint of this figure being a recreation of the on-screen Harley Quinn, you have to be impressed with what Medicom's done. The only real qualm I have at this point in the figure's development cycle is that her legs aren't quite the same tone as the rest of her body. Since she's only wearing fishnets in the film, they should still have that porcelain hue. I love the two head sculpts, and both provide a more than adequate likeness for Margot Robbie. There's just so much detail in the jewelery and the costuming, and Medicom really hits it all.
She'll also include the baseball bat we've seen her whipping around in trailers to this point, and that big, engraved gun (which will fit in her holster under her jacket) makes an appearance as well. Curiously, Harley will include a mallet, which is something her comic and cartoon incarnations have used in the past. We haven't seen the movie version with it at all to this point, so I'm wondering if it's a callback to the character's comic roots, or if we'll actually get to see her smash some faces in with her trademark weapon in the movie.
The Medicom MAFEX Suicide Squad Harley Quinn is due out in January 2017 for ~$50.