NBM October Solicitations
New from NBM

The Art of Bryan Talbot
By Bryan Talbot
Full color trade paperback
9" x 12"
96 pages
$19.95
ISBN 978-1-56163-512-2
Works by the best-selling artist of Luther Arkwright, The Tale of One Bad Rat, The Sandman, and, most recently, Alice in Sunderland. From illustrations to covers to comics, Talbot presents his best.
New from ComicsLit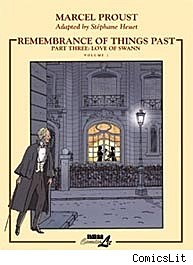 Remembrance of Things Past
Part Three: Love Of Swann, Vol.1
By Marcel Proust, adapted by Stephane Heuet
Full color jacketed hardcover
8 1/2" x 11"
48 pages
$16.95
ISBN 978-1-56163-513-9
The acclaimed adaptation continues. Swann is a frequent guest of high-society soirees at the end of the 19th century. When he first meets Odette de Crecy, he feels no attraction to the frivolous and superficial young woman-but soon, she becomes an obsession.
Some reviews of the previous three volumes:
"This Proust looks like the Classics Illustrated comics of our mid-century youth. Comic books as our tea and madeleine-there's the American version for you." - Malcolm Jones, Newsweek
"These clever editions are much more than comic Cliff Notes. They are original and engaging in their own right." - San Francisco Chronicle
Back in print!

A Treasury of Victorian Murder: Jack the Ripper
By Rick Geary
Black-and-white trade paperback
6" x 9"
64 pages
$9.95
ISBN 978-1-56163-308-1
Last week, at the San Diego Comic-Con, Rick Geary won his latest Eisner Award - the comics' Oscar. And now, NBM is bringing back Geary's infamous Jack the Ripper after more than a year out of print. In his meticulous yet foreboding style, Geary recounts the truth about the world's most famous serial killer. Jack the Ripper is full of well-researched facts and presents all theories without opinion, but reveals with tongue firmly in cheek the society that spawned the monster. The perennially popular Jack the Ripper has sold more than 15,000 copies and is going back to press for its fourth printing.
From Eurotica
Kristina, Queen of Vampires, Volume 2
By Frans Mensink
Full color trade paperback
8 1/2" x 11"
48 pages
$10.95
ISBN 978-1-56163-517-7
Resurrected from her last adventure with a weakened memory, all Kristina seeks is to capture slaves for complete sexual control! But a local band of vampires senses her presence, finds her, and informs her of her all-powerful past as a lustful Queen of vampires. She's not sure she wants that throne back; she just wants some good warm blood and a lot of very hot sex! Volume 1 is one of our very best sellers, and Volume 2 should be just as popular.