 New 'Beware The Batman' Images Tease Katana, Professor Pyg And Mr. Toad's Animated Looks
Everything is coming up Katana, as the former Outsider's look from next year's Beware The Batman animated series is teased by DC and she is also announced as the star of a new solo series launching from DC Comics next February.
Promo images from Beware The Batman have appeared in DC Nation, the mass-market kids' magazine to promote the (currently on-hiatus) Cartoon Network block of programming based around DC's characters and properties, with those images showing up online courtesy of DC Women Kicking Ass. Alongside Katana -- described as a "former member of the CIA and the League of Assassins" that the producers describe as "someone who has lost her way and needs some guidance to find the right path" -- there's also a surprisingly buff Alfred and versions of two Grant Morrison/Frank Quitely creations from their Batman and Robin run, Professor Pyg and Mr. Toad (Presumably, there'll be less talk of PCP and other illegal substances on this all-ages animated series when Pyg shows up).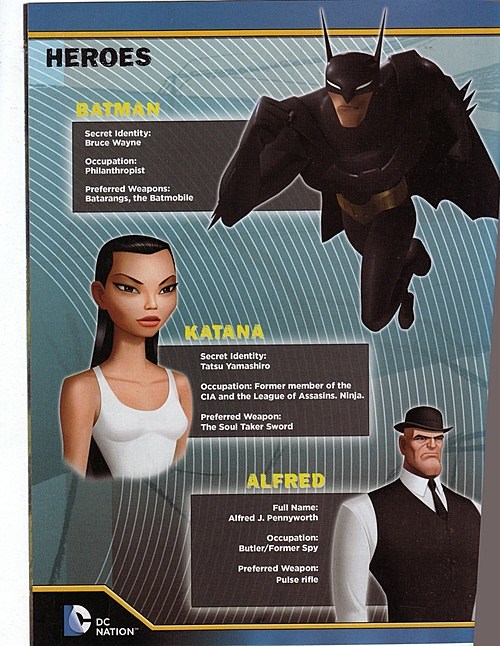 Katana is clearly having a renaissance at the moment; in addition to her latest animated incarnation, the character will also be receiving her own series in February by Ann Nocenti and Alex Sanchez that will tie in with Geoff Johns and David Finch's new Justice League of America series launching that same month. Much in the same way as Young Justice's Aqualad got promoted through Brightest Day and the ongoing Teen Titans title before he debuted on television, it seems that DC has decided to give Katana a similar push in time for her animated spotlight. Not bad for someone who once shared a team with characters called "Looker" and "Geo-Force."
Beware The Batman launches on Cartoon Network in the new year.