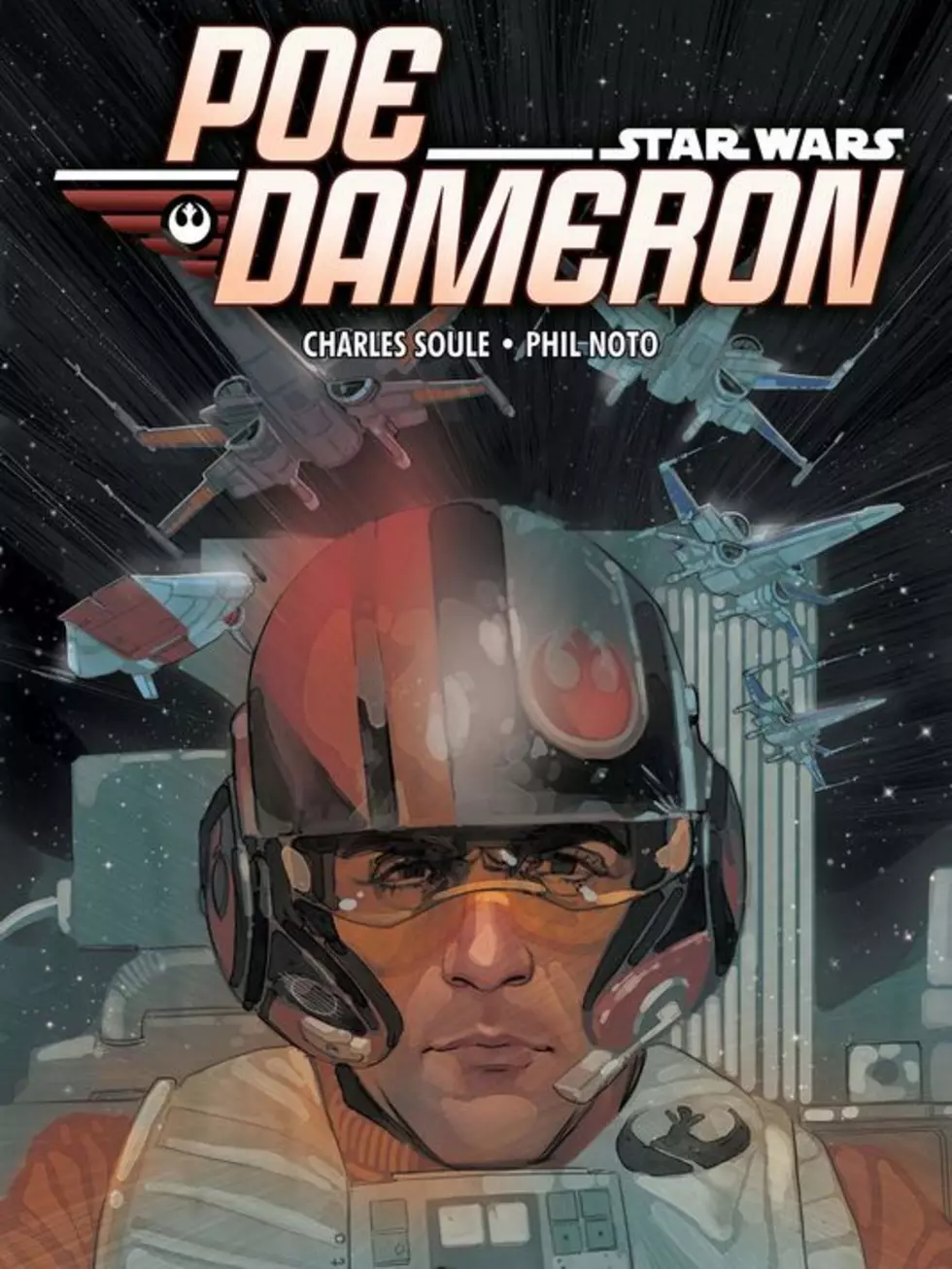 Poe Dameron, Our Gay Space Boyfriend, Gets Own Marvel Comic From Soule & Noto
Marvel
They almost killed him off in the first version of the script, but it looks like the decision to keep Poe Dameron around in Star Wars: The Force Awakens has paid off. The hunkiest hero ever named for a Teletubby, Poe Dameron is going to be make the leap from the screen (and fan's dreams) to the pages of a new comic from Charles Soule and Phil Noto this spring.
Announced by USA Today, Star Wars: Poe Dameron will launch in April as an ongoing, delivering tales of Poe's time with the Resistance before the events of Star Wars: The Force Awakens. While that might mean we won't be seeing any team-ups or (more than) friendly embraces with Finn, Soule promised that this new book will flesh out Poe's character as the hot-shot flyboy in the Resistance X-Wing squadron even more.
The first arc of the comic will explore Poe's search for Lor San Tekka, the man with last key to Luke Skywalker's location. Of course, the First Order is still looking for Luke at this point in the time period between Return of the Jedi and Force Awakens, too. We'll be introduced to a new villain from the evil organization built up from the ashes of the Empire.
"Sometimes it can feel like the Star Wars universe is so well trodden and so many stories have already been told," Soule told USA Today. "But the way the Episode VII galaxy is set up, there are opportunities for new archetypes almost, and the bad guy we're working with is going to feel fresh and cool."
This will be the third Star Wars comic for Soule, who previously helmed the Lando Calrissian mini-series and is currently working on Obi-Wan and Anakin. Noto has been working on Star Wars illustrations seemingly since Marvel acquired the license, with interiors for the Chewbacca limited series as well as spot illustrations for the Lucasfilm Press novellas. That includes Before the Force Awakens (written by Greg Rucka), which explored Poe's role in Operation: Sabre Strike.
Poe Dameron actor and current internet obsession Oscar Isaac will strongly influence Noto's depiction of the character, to the probable relief of fans of Isaac's face. "Seeing so much of him on screen, it's easier in a way to act that part out in my head while I'm drawing: How would Oscar Isaac act in this situation as Poe Dameron?"
While the Dameron family has appeared in Marvel comics before (Shattered Empire, also by Rucka, focused on Poe's parents before his birth), this is going to be the second Star Wars comic to take place in the new future established by the seventh film in the saga. Everything else to this point has conveniently fit in the time period of the original six films, but the upcoming, delayed C-3PO one-shot explaining his mysterious red arm will be the first to take place more than few weeks and months after Return of the Jedi.
Though action and excitement will no doubt be in order, one has to wonder if Poe's sexuality will be dealt with in any definitive fashion. Poe Dameron has built up a fast fan following since the release of The Force Awakens, especially among fans hoping that he could be the Star Wars universe's first onscreen gay hero --- and the first gay leading man in a major North Americana blockbuster franchise. The character's sexuality is not established in the movie, but Isaac's performance and his chemistry with co-star John Boyega have made it easy for fans to make up their own minds. Even Carrie Fisher, who plays General Leia Organa, and Star Wars Episode VIII director Rian Johnson have acknowledged fan passion for the idea on Twitter. (Fisher retweeted this tweet.)
Marvel has been notably reticent to showcase LGBTQ characters in its comics in recent months, and editor-in-chief Axel Alonso was quick to deny that one lead character, Hercules, was bisexual, while insisting that he was "not looking to put labels" on another lead character, Angela. Hopefully Marvel won't crush fan's dreams of a gay space boyfriend, but we'll always have our head canons.
Get a Load of This Force Awakens Fan Art