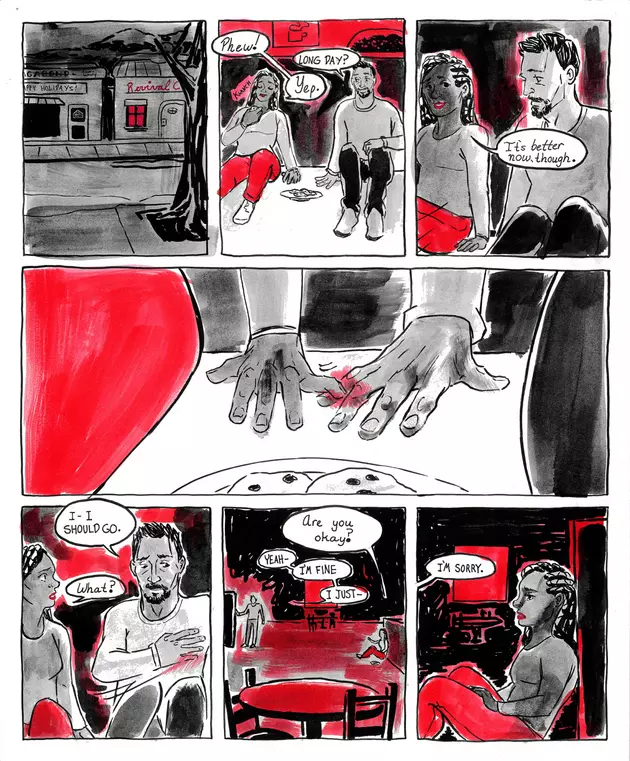 Close to You: Should You Be Reading 'Alone'?
Olivia Stephens
With Should I Be Reading… ?, ComicsAlliance hopes to offer you a guide to some of the best original ongoing comics being published today.
Have you ever met someone and felt like your world was changing around you? The sun shone brighter; birds suddenly started chirping; spring flowers sprung from the ground, even though it was only February? That's what Alone feels like.
Alone shares the story of Jack, a recently widowed restaurant owner, and Sarah, the former musician who opens a coffee shop next door. There's an instant attraction, but they each come with some serious baggage that makes their relationship a bit trickier to navigate.
Jack and Sarah's relationship is told through a series of vignettes, and the structure gives these characters room to breathe and grow. Rather than trying to get through a ton of plot, Alone invites the reader to simply sit in and watch as Jack and Sarah open up and get to know each other.
Alone is written and illustrated by Olivia Stephens, an illustrator and comic artist from Seattle. Stephens studies illustration at the Rhode Island School of Design.
Stephens uses color fantastically in Alone. It's primarily in grayscale, with touches of red or blue to emphasize emotion or character.
Sarah always has a touch of red to her --- her boots, the sign on her coffee shop, Jack's cell phone as he's talking to her --- and that red envelops Jack as becomes smitten with her. It's a wonderful visual hint about what the characters are thinking and feeling and a beautiful use of the medium.
The dialogue feels very natural. When Jack finally confesses his love, all, "Right. Yeah. Sorry…" Sarah tells him, "Use your words," just as my own partner has done innumerable times when I've struggled to put feelings into language. Their issues, their fights, the way things get resolved, that all feels natural too. It's a reflection of the world, but one in which things do work out if you're honest and open.
Anyone who's lost a love or a friend. Anyone who spends too much time daydreaming in coffee shops. Anyone who still hopes.
You can read Alone for free on Tapastic, or on its own website. Updates are sporadic but worth the wait.
Throughout Women's History Month we're putting the spotlight on some of the best comics by and about women. Check out more articles at our Women In Comics page.