 Paul Chadwick Reveals New 'Concrete' Series, Harlan Ellison Sci-Fi Comic Near Completion Creation and Creator, both hard at work. Concrete in the fields, left. Chadwick in the studio, right.

Paul Chadwick's Concrete debuted in 1986 in Dark Horse Presents #1, and quickly became a touchstone work in what might be called the "alternative mainstream" of comics, the non-superhero comics from publishers like Dark Horse and Comico that sought to emulate the aesthetic strengths of superhero comics while expanding their focus to other genres of stories. Though he hasn't published any comics for the last five years, Chadwick is still working hard on the stories he wants to tell, and in a new pleasantly forthcoming and plainspoken interview at Guerrilla Geek, he drops the news that he will be launching a new Concrete series called Stars Over Sand, which he says is about "how much we can lose and still be human." Also, he said that he is near completion of Seven Against Chaos, his science fiction comic with Harlan Ellison that is seven years in the making.Chadwick's Concrete was much-loved and influential for the way he pit his superhero-esque Man of Stone not against dastardly villains in tales of derring-do, but against thorny philosophical dilemmas, interpersonal relationships, and political and social issues. The off-beat, contemplative, and clever stories were breaths of fresh, quiet air in the bombastic world of comic books. The last new Concrete story was published in 2005 ("The Human Dilemma," available to read for free at Chadwick's website here), and while Chadwick has been more or less absent from comics since then, he hopes to be "a more frequent presence in the comics shops" once he gets his college-aged son out the door to pursue a degree in Physics.
excerpt from "The Human Dilemma," Dark Horse, 2005

Chadwick dishes tantalizing bits of news on his upcoming projects, and if everything mentioned comes out as planned, the man is working one heck of a comeback: a new Concrete mini-series titled Stars Over Sand, a children's comics series about "a little guy in a nightshirt and cap carrying a candle through a gloomy castle" who is rescued from strange dream adventures by an obnoxious dog. And in possibly the most appetite-whetting news, though he claims he's "actually not supposed to talk about it," he reveals that his long-gestating sci-fi adventure comic with Harlan Ellison, Seven Against Chaos, is nearly complete, seven years after it was first announced.
The book has been a long time gestating, and I'm actually not supposed to talk about it, but it is a pulpy, time-traveling adventure about a group of despised misfits (Harlan's favorite theme) who risk all to save a corrupt but all-we-have world. DC will announce it when it's scheduled. I recently finished the art - the last of four 48-page issues. Ken Steacy is lovingly coloring the book, using a great deal of purple.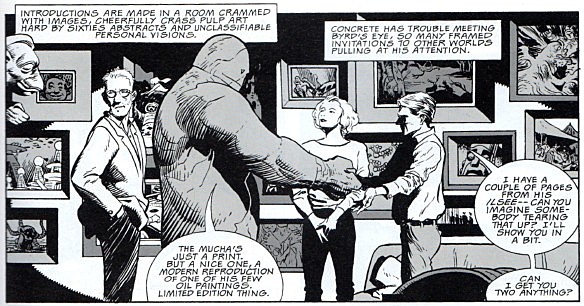 Concrete meets Harlan Ellison, in "Byrdland's Secret" from Dark Horse Presents #66, 1992

Chadwick has worked with Ellison in the past, supplying the art for a Jan Strnad adaptation of one of Ellison's short stories in the mid-90s anthology series Harlan Ellison's Dream Corridor, and Ellison actually made a guest appearance in a 1992 Concrete story, "Byrdland's Secret," in which Concrete meets writer Dwayne Byrd, a thinly-disguised analogue for Harlan, with the story a fictionalized account of Chadwick's visit to Ellison's home. Since first mentioned in a Chadwick interview from 2003, there have been few official updates on Seven Against Chaos, which once published will be the pair's first full collaboration, with Chadwick drawing directly from an Ellison script.
The Guerrilla Geek interview contains much more, including a discussion of Chadwick's creative process, with a look at one of his rough thumbnails side-by-side with the finished page. Below is a small version of the comparison -- click through to the full Guerrilla Geek interview to find larger images, and to read a worthwhile conversation with an always interesting creator.