Penguin Classics Tap Comic Artists for Book Covers of Famous Works
Judging a book by its cover is never totally fair, but I'll fully admit to my preference for killer images wrapped around my reading material. What can I say? Comics have conditioned me as such. Penguin Books seems to completely understand this kind of mindset, commissioning comics-inspired covers to numerous classics, making at least a few, in my humble forced-to-read-them-in-college opinion, exponentially more awesome. As pointed out by The Beat, Paul Buckley's Flickr page is loaded with the killer new images by artists including Richard Sala, Ted Stearn, Tara McPherson and more. Judging these books by their covers has never been so rad. Check them out after the jump.

Richard Sala on "Great Expectations"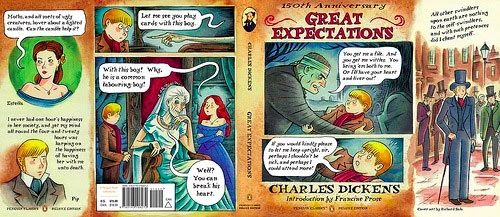 Ted Stearn on "The Canterbury Tales"

Killoffer on "The Communist Manifesto"

Tara McPherson on "Bridget Jones's Diary"

Jen Munford on "The Bloody Chamber"

Gonzalo on "The Tortilla Curtain"