Gillen & McKelvie Reunite for 'Phonogram: The Immaterial Girl' in 2012

Image Comics' Publisher Eric Stephenson confirmed tonight that Phonogram, the cult favorite series created by Kieron Gillen and Jamie McKelvie, is returning for a third installment in 2012. Featuring color work by Matt Wilson, Phonogram: The Immaterial Girl will take the form of a six-issue series that stars the Emily Aster character seen in previous Phonogram outings Rue Britannia and The Singles Club.
Also, ha ha ha, I was right.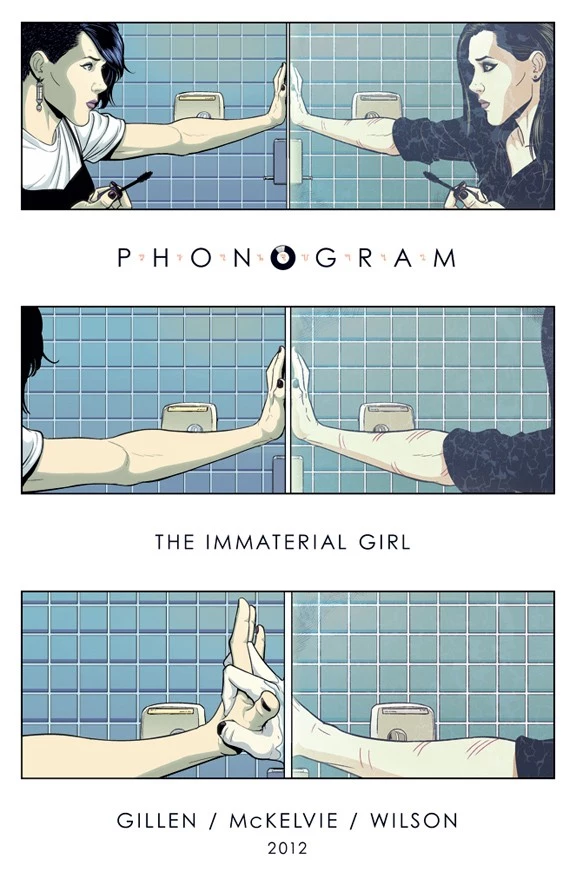 ... we said we couldn't do any further Phonogram. We're doing more Phonogram. What's changed? Circumstances have changed. Sorry to play enigmatic, but it's just financial stuff and the day when the most important thing about Phonogram are lines on a graph is the day the little Phonofairy dies.

The most important reason for our return? Phonogram felt like unfinished business. While each volume stands alone, knowing we were so close to giving a little closure to Emily, Kohl and the rest was more than we could bear.
In Phonogram, music is literally magic. A slogan that went around the last series was "last night this DJ ruined your life," and in this comics series that can actually happen. Practitioners are known to each other as Phonomancers, and they live their lives right alongside the rest of us: on the street, in the subway, in the cafe, in the club or in the queue. They have their own sects and rituals.
One of these people is Emily Aster, who we saw in the previous series. As promised long ago, Phonogram: The Immaterial Girl sees Emily take center stage. Gillen wrote:
We've talked a little about what a hypothetical third Phonogram would be about in interviews, and almost all of that is in here. It's primarily about the war between coven queen witch Emily Aster and the half of her personality she sold to whatever lies on the other side of the screen. It's about identity, eighties music videos and further explorations of Phonogram's core "Music = Magic" thesis. There is horror. There are jokes. There are emotions. There may even be a fight sequence. It also takes A-ha's Take On Me with far too much seriousness – which, for us, is the correct amount of seriousness.
Phonogram: The Singles Club initially took the form of seven 16-page issues with backup stories drawn by guest artists. Gillen said that serialization details for The Immaterial Girl may or may not be forthcoming, but added, "We hate to repeat ourselves."