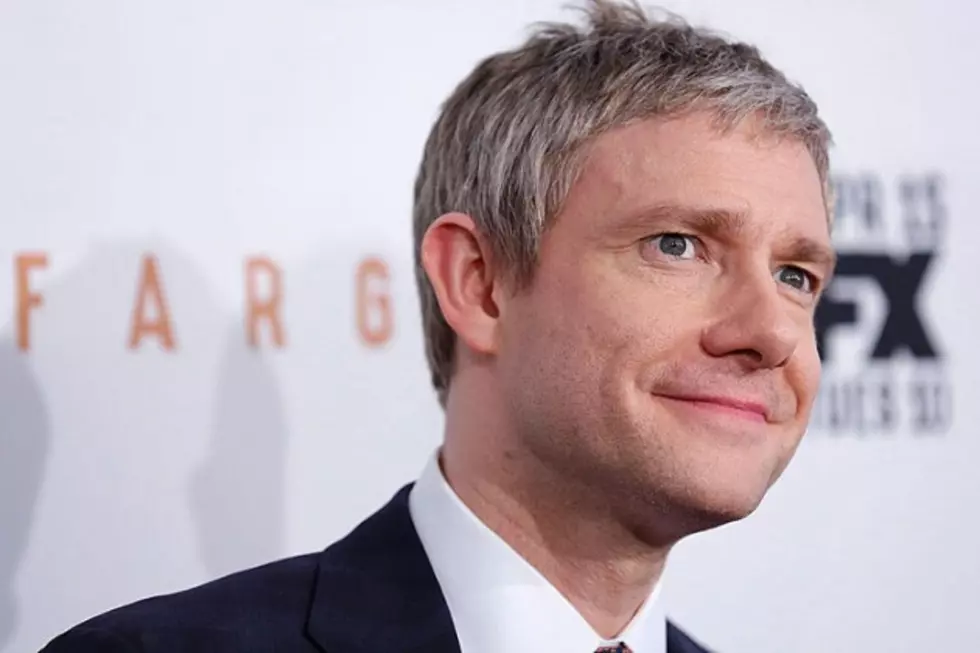 Who Should Martin Freeman Play in Captain America: Civil War? U Decide!
Getty Images
Marvel has announced that British actor Martin Freeman has been cast in next year's stealth Avengers movie, Captain America: Civil War, in an unspecified role. The actor is a fan-favorite thanks to his starring role opposite Benedict Cumberbatch in Sherlock, and his lead role as Bilbo Baggins in Peter Jackson's Hobbit trilogy, in which he was reunited with Cumberbatch playing the dragon Smaug. Last year Cumberbatch was cast as the Sorcerer Supreme in next year's other Marvel movie, Doctor Strange. Given how closely linked Marvel's movie universe has become, fans are excitedly speculating on the possibility of another Freeman/Cumberbatch reunion on the big screen.
Here's what Marvel Studios bigwig Kevin Feige said about the casting:
Martin's range from the dramatic to the comedic has consistently impressed us. We couldn't be more honored or excited to have such a talented actor join the Marvel Cinematic Universe.
Totally unhelpful. Thanks Kevin.
The cast for the Russo Brothers' Civil War is already crowded with returning stars Chris Evans, Sebastian Stan, Anthony Mackie, Scarlett Johansson, and Frank Grillo, plus Avengers actors Robert Downey Jr., Jeremy Renner, and Elizabeth Olson, and Chadwick Boseman as Black Panther, Daniel Bruhl as Baron Zemo, and whoever Sony chooses to cast as Spider-Man. So who might Freeman play? We have some ideas, and we're going to let you decide between them. Unfortunately your decision is not binding.
Like MODOK, created by Stan Lee and Jack Kirby, who is perhaps the best Marvel villain yet to be cast in a movie. Could Martin Freeman bring the necessary gravitas and nuance to playing a mad murderous scientist with a giant head and a flying chair? We say 'yes'.

One of Doctor Strange's buddies

Like Rintrah, created by Peter B. Gillis and Chris Warner; a green minotaur from another dimension. Casting Freeman as one of Doctor Strange's allies in the fight against dark forces will tap into that Sherlock/Watson chemistry, and Marvel hopefully isn't stupid enough to cast Freeman as Wong. (Even if it wasn't smart enough to cast Oded Fehr as Strange.)

Some fool who sets off the Civil War

Maybe Freeman has a minor but consequential role, like Jim Starlin's Nitro, the nuclear-powered baddie whose explosive lack of self-control was the trigger for the un-heroic showdown in the original Civil War comic. Is it time for Martin Freeman to blow up in a big way?

An inconsequential civilian

Maybe Freeman is just playing a regular person. You know, like Sally Floyd, the journalism performance artist created by Paul Jenkins and Ramon Bachs, whose crowning moment was grilling Captain America about his lack of knowledge of MySpace. (Ask your parents.) Could Freeman bring the magic of that Civil War moment to the screen?

Martin Freeman is British. Therefore, this.

Created by Stan Lee and Steve Ditko. Someone has to play the kid. At 43, Freeman is a little old to play Stan's greatest creation, but at least casting Freeman almost guarantees that Sony really isn't going to trot out the origin story again.

Marvel has a lot of henchmen that it isn't using in the movies. For example, Doughboy, a highly malleable artificial life-form created by Dr Arnim Zola (and Jack Kirby). Kids loved Baymax, right? He's fascism's own Baymax.