 Why You Should Be Reading Waid & Samnee's 'Rocketeer: Cargo of Doom'
One sale this week from IDW Publishing, The Rocketeer: Cargo of Doom #4 concludes the first Rocketeer serial created since the untimely death of creator Dave Stevens in 2008. Writer Mark Waid and artists Chris Samnee and Jordie Bellaire have created a story that fits right into the exquisitely pulp-meets-pin-up milieu Stevens innovated, where pre-war stunt pilot Cliff Secord "borrows" an experimental rocket pack to impress his beleaguered model/actress girlfriend Betty and accidentally becomes the brave but somewhat blundering adventure hero known as the Rocketeer.
Readers of Cargo of Doom will want to click below for a tantalizing first look at the concluding chapter of this acclaimed miniseries. For those of you who are new to the Rocketeer or just otherwise haven't yet checked it out, the pages below will give you an idea of why this work by Marvel's best-selling Daredevil team has been so particularly well received, and I'll tell you how you can catch up before the new book goes on sale this Wednesday.


Cargo of Doom builds upon Stevens' cult classic premise by introducing a romantic rival into Cliff and Betty's already tumultuous relationship with Sally, the plucky young niece of Cliff's best friend and mechanic, Peevy. Additionally, the story comes with a truly diabolical villain with violent intentions for the jet pack's enigmatic creator that take the form of the titular cargo of doom -- which rather unexpectedly turns out to be dinosaurs. It's as great a demonstration of Waid's singular ability to balance superhero bombast with great character stories (not to mention humor) as I can remember, and it's presented in high style by Samnee, whose excellent work here is at once distinct from and reverent of Stevens' unmatched talent.
IDW has made the first three issues of Rocketeer: Cargo of Doom available digitally from comiXology, where you can also find the remastered edition of Dave Stevens' original Rocketeer stories as well as the two Rocketeer Adventures anthologies, edited by Scott Dunbier and featuring a truly ridiculous creative roster -- John Cassaday, Michael Allred, Alex Ross, Michael Wm. Kaluta, Kurt Busiek, Mark Waid, Chris Weston, Gene Ha, Ryan Sook, Bruce Timm, David Lapham, Chris Sprouse, Karl Story, Kyle Baker, Matt Wagner, Eric Canete and Eric Powell, just to name a few. If you're like me and prefer a printed book, you can get Stevens' work in hardcover, softcover and in an oversized slipcase edition. Rocketeer Adventures volume 1 is available now in hardcover, with volume 2 to follow in January.
Rocketeer: Cargo of Doom #4 (of 4)

Mark Waid (w) • Chris Samnee (a & c)

Cliff Secord, AKA, the Rocketeer, finds himself flying high over the smog-drenched skies of Los Angeles, locked in mortal combat with an ancient and terrifying creature... and then it all starts to go to Hell! Plus, the ultimate truth about Peevy's niece is revealed! The final issue of Mark Waid and Chris Samnee's Rocketeer series is going full throttle and the thrills show no signs of slowing down-miss this comic at your own peril!

FC • 32 pages • $3.99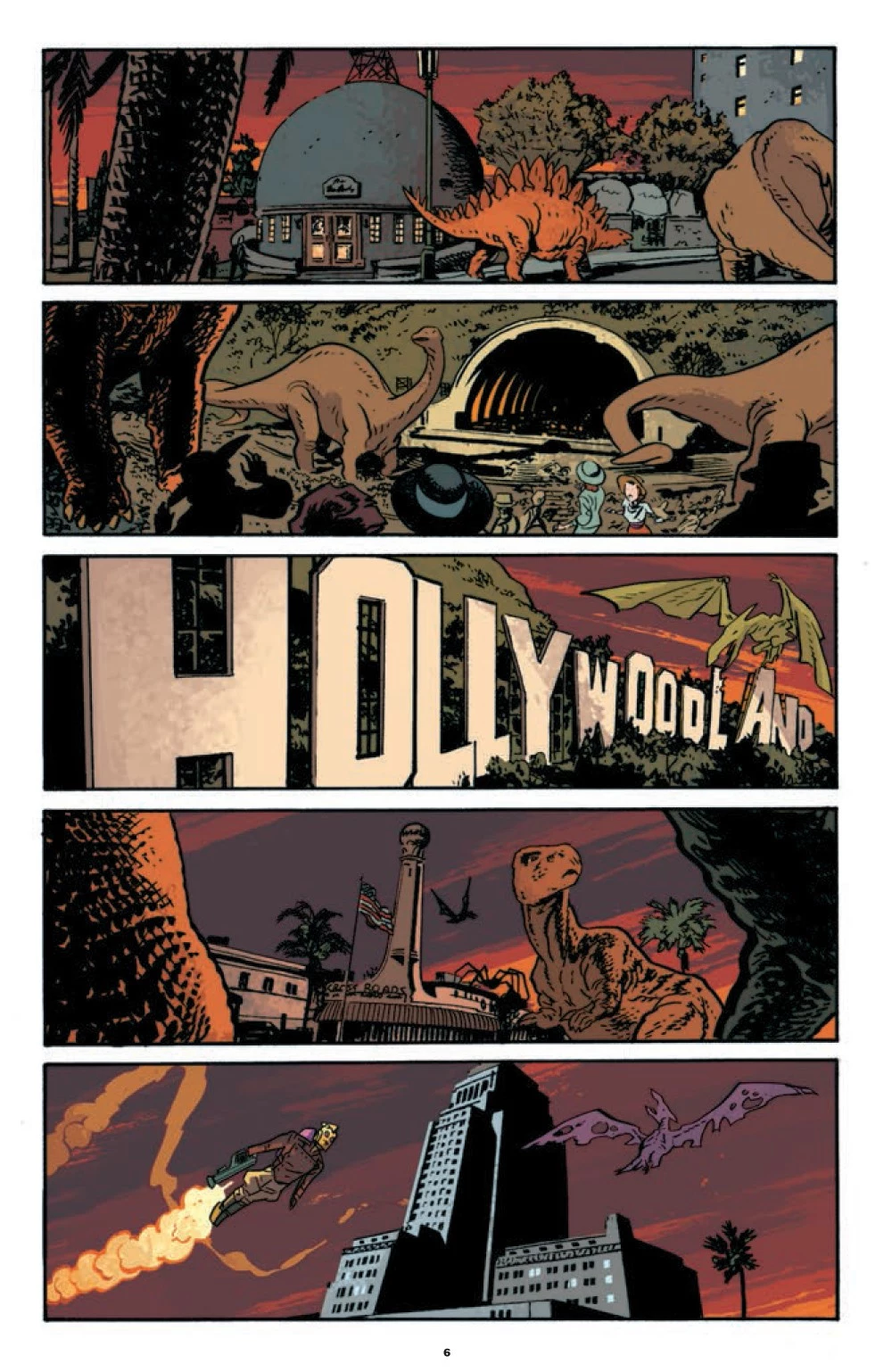 The Rocketeer: Cargo of Doom #4 goes on sale this Wednesday in finer comics shops and digitally from comiXology. For more Rocketeer, check out ComicsAlliance's exclusive interview with Roger Langridge and J. Bone, creators of the next Rocketeer serial, Hollywood Horror.