'Spread Eagle' Is the Hero Pornography Deserves, But Not the One It Needs [Review]

Ever since Axel Braun's Batman XXX became the surprise adult video hit of 2010, I've somehow found myself covering the pornography beat (if you'll pardon the expression) here at ComicsAlliance. And I'm not going to lie, when I found out that Vivid was branching out from doing super-hero parodies into creating their own super-hero, I was pretty intrigued.
And when I found out it was going to be a guy with bird powers named Spread Eagle, I knew I had to see it.Fortunately, I was able to score (if you'll pardon the expression) a review copy, but I have to admit that this thing left me with a whole lot of questions. And I say that as someone who's been been reading about super-heroes for 23 years, and who's become about as familiar with porn as you might expect from someone who makes his living entirely on the greatest naked lady delivery system that mankind has ever devised, the Internet.
Despite being released by Vivid's super-hero imprint, Spread Eagle is not directed by Axel Braun, the guy behind Batman XXX, Superman XXX, the recent Spider-Man XXX and a Saved By The Bell parody that I want to see for the sole reason that I really want to see how Jessie's caffeine pill freakout turns to sexy times, and there's no way that scene's not included. Instead, vivid went with B. Skow, a director that I'm not familiar with, but who I'm informed has previously directed Backdoor to Chyna, starring the former WWF Superstar. So there's that.
Considering that I think it's meant to be kind of a big deal for Vivid -- the box art even describes it as A XXX Motion Comic Event, though it thankfully doesn't have much to do with Marvel's Motion Comics and their horrifying uncanny valley -- you'd think that they would've gone with something in the same style that made Batman such a big hit. I mean, part of the fun on that one is the truly hilarious half-hour no-sex cut, which makes a comeback in Spider-Man XXX, even if I'm pretty sure we all know what's going to happen when Betty Brant and Robbie Robertson go off to "check on some files."
With Skow and Spread Eagle, though, that's not really much of an option.
The plot, such as it is, goes like this: Adult film star Tommy Gunn (not to be confused with the bad guy from Rocky V) stars as... well, as himself, I guess, because none of the characters are actually given names, except for Katie St. Ives, who plays "Katie," and Lee Stone, who plays "Big Lee." So right from the start, we have a story where none of the characters have names, and while that certainly works if you're Sergio Leone, B. Skow seems to have a little trouble pulling it off.
The lack of emphasis on the story is underscored even more in the opening scene, where B. Skow elects to just stone cold not introduce us to the characters at all. Instead, he opts to just have them introduce themselves to each other, repeatedly, for about a half hour.
Don't get me wrong; I realize that we're all here for one pretty specific reason, but if you're going to market your movie entirely on the premise that it's a super-hero story, you've got to throw your viewers a bone (if you'll pardon the expression). At least tell me who these folks are before they get to shtupping.
Fortunately, things pick up a little once Gunn and Asa Akira put their clothes back on and decide to take a walk down what I assume is the Thomas and Martha Wayne Memorial Dark Alley. You can pretty much guess how that ends.

Yes, Akira gets killed by the mugger (which is actually kind of shocking) and Gunn gets a bullet to the chest for his trouble. And this is where it starts to get nuts (if you'll pardon the expression).
Beacuse this is where it suddenly goes into a sequence with comic book style art, and it's worth mentioning that between the goatee and his chest wound, Gunn's comic book counterpart bears a striking resemblance to Tony Stark:

There's almost no time to process that bit of information, however, since we are about to get a look at what might be the most incomprehensible origin story of all time. That might sound like my usual exaggeration and hyperbole, but it's not: As Gunn lays dying in the alley, an eagle flies out of the sky, lands on Gunn's chest, and then drools red, white and blue globs into his bullet wound.

I don't know what that stuff's supposed to be, and to be quite honest with you, I don't want to. But I do know that those are America's colors. The colors that never run.
For reasons that are never explained, addressed or even brought up again at all, this resurrects Gunn from the dead. He then stumbles back to his apartment, and we learn that B. Skow is definitely a fan of the Pitof school of directing when Gunn knocks over a box of cereal and starts to peck it. And before you get any ideas, I mean with his mouth.

The best part of this scene, though, is that someone covered up the copyrighted faces of Snap, Crackle and Pop with electrical tape, which has the effect of making me think that Vivid's gearing up for Rice Krispies XXX, from their new line of erotic breakfast cereals.
He also grows wings and a beak, which have the effect of making him look like the cast of It's Always Sunny In Philadelphia in the episode where they dress as eagles to wrestle for the troops. But on the bright side, it's still a more convincing costume than Hawkman on Smallville.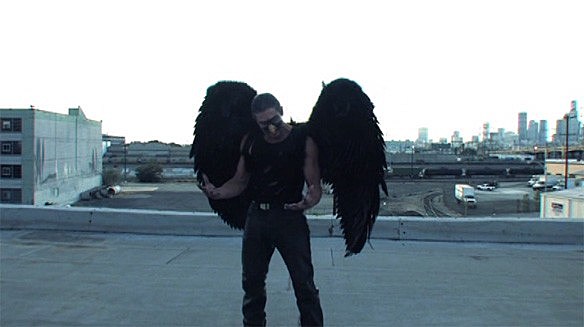 Thus was born this weird figure of the mid-afternoon!
He's also got a super-sonic cry, the power of flight and a set of talons, which he decides to put to fight crime. Sort of. It's all pretty vague. His first act is to rescue Lexi Belle (who plays a prostitute) from a pair of murderous johns, then he rescues Lily Labeau (who plays a prostitute) from an abusive pimp, and vows to rescue her sister, Katie St. Ives, from another pimp who kidnapped her and is holding her for ransom. Because Katie is also a prostitute.
I'm going to back that up for a second just so we're clear: Of the four women in this movie, one is shot and killed, and the other three are all prostitutes. I wasn't exactly expecting this thing to pass the Bechdel Test or anything, but c'mon, even Frank Miller would think that ratio was a little off.

This leads to a pretty uncomfortable scene where St. Ives has sex with the guy holding her hostage on a surprisingly ornate sofa in a parking lot, which I would think would be pretty awful experience for her character. The thing is, though, this is a porn movie, and so it's played like your standard porn scene where St. Ives is pretty enthusiastic about the whole thing and seems to enjoy herself, which doesn't make sense in the context of the movie.
It's awkward to say that, because trust me, the last thing I want to see is a terrifying rape scene (which, by the way, every female character in the movie is at least threatened with), so there's no really a good option for what happens here. The only way that it would make sense is if Katie turned out to be in on the kidnapping as a way to scam her sister out of the ransom, and while I was convinced that was what was going to happen, it turned out she was just putting on a black leather bustier for non-villainous reasons.
You might say that I'm overthinking this and that it's just a sex scene in a porn movie, but I'm not the one who said there was going to be a story here. That's on Vivid, and frankly, if I wanted to see an unnecessary, poorly thought out rape scene with super-heroes, I'd just read Identity Crisis.
Also, on a completely different scale of problematic scenes in this movie, there's a scene where Spread Eagle tells Lily Labeau that he'll be able to track her by her scent, and... is that something eagles can do? Toucan Sam excepted, are there any birds that are notable for their sense of smell? I thought their whole deal was having really good vision. Then again, if I'm actually sitting here trying to learn about ornithology from a porno movie, that's probably on me.
Anyway, back in the plot, Spread Eagle tries to track down Katie St. Ives by paying a visit to local bad guy Big Lee, who ends up beating him with a baseball bat while shirtless in a scene that would be pretty homoerotic if I hadn't just seen both of these dudes having actual sex with women. Then, in what you would think would be a key point of the movie, Spread Eagle sees one of his henchmen and realizes that it's the dude who shot him and killed his girlfriend.
In any other super-hero story -- in any other story -- this would lead to some kind of resolution, but here, that is not the case. It does give Spread Eagle the gumption to stop Big Lee from beating him with a baseball bat, but the murderer just straight up leaves. No kidding: He manages to escape completely because Spread Eagle is the only super-hero I have ever seen who cannot catch up to a Nissan Sentra.
Spread Eagle ends up going back to Lily Labeau's place, where they get better acquainted. Then, he tells her he's going to go rescue her sister, and as a way of saying goodbye, he cold reaches out and honks her boob for a long, silent four seconds.

And yes: That is his nest in the background.
With all his pre-combat groping sorted, Spread Eagle rescues Katie, then goes back to Big Lee's hideout, grabs him by the shoulders, and yells at him with his eagle cry, causing Lee Stone to make this face...

...until his head explodes.
That's pretty much how the movie ends, and I have to say, I'm pretty disappointed. Everyone involved in this thing could do way better, and if Vivid wanted to release a movie that was, as the box art promises "a dark tale of vengeance" full of rapists and head explosions, maybe they could've done without Gunn's eagle nose making a squeaky toy noise whenever anyone touched it.
But at the same time, I like the idea of the goofy porno super-hero -- and c'mon, the name is great -- so I actually hope that maybe they can get it together for a better production if and when they do a sequel. Hell, they've already got a plot point in the form of the murderer who got away, so at this point, it's inevitable. And just for the record?
I am totally available to write Spread Eagle 2: Spread Wider.