Steven Weissman Goes Comics Shopping with 'Love and Rockets' Co-Creator Mario Hernandez [Photo Essay] "It's a process of really digging, and I enjoy it."
Thirty years ago Mario, Jaime and Gilbert Hernandez created Love and Rockets. Known collectively as Los Bros Hernandez, their impact on the indie cartooning scene has been immeasurable, with their respective Love and Rockets serials, shorts and other work canonized by fans and critics as sacred texts. The reverence is well-earned, but Los Bros are also just like you and me -- they love comics.
During this 30th anniversary of Love and Rockets, I thought it might be fun for readers -- who might never have the chance, otherwise -- to get an idea of what it's like to go shopping for comics with Mario Hernandez. In July we asked longtime Love and Rockets publisher Gary Groth, head of Fantagraphics, for $50 and set to spending it at Comic-Con International in San Diego earlier this year. What follows is a photo essay of our comic book shopping spree.

I love experts; especially when their expertise dovetails with my own interests. Considering the narrow focus of those interests, I end up knowing a lot of people who know a lot about comics.
One of those people is Love and Rockets creator, Mario Hernandez. Mario shares my enthusiasm for titles published in the 1950s and '60s. These include, as brother Jaime says, "All of them..; Archie, Dennis the Menace, Marvel, DC, Harvey, Mad, Cracked, Gold Key, Dell, Tower, Warren, etc..."
Whenever I get the opportunity -- comic book conventions, mostly -- I like to tag along with Mario while he searches through the back-issue bins. I've been following him around for years now.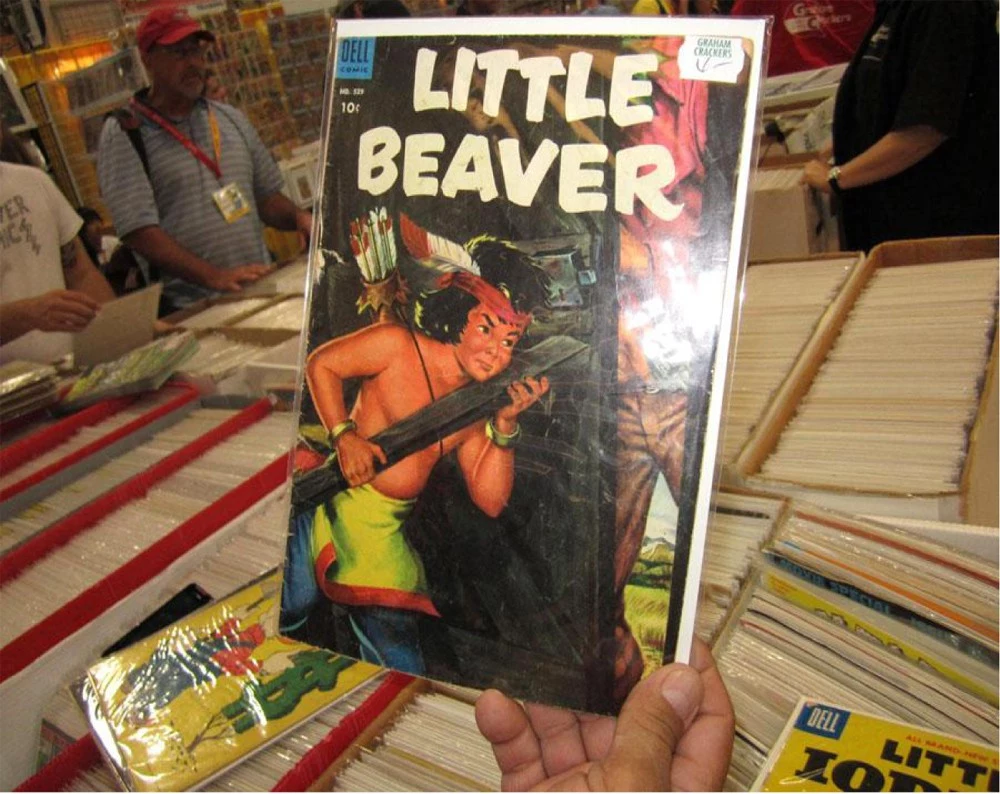 Dell Four Color No. 529 (1953)
1/2 price boxes in the $4 range are his hunting grounds today. Mario buys a lot of these comics just for the cover. "The insides might suck," he warns.
Mario's drawn my attention to many series I would have passed over and filled in many gaps in my knowledge of the great cartoonists who made them. He always seems to know which dealers to work with, and, of course, since Mario is so well-liked by everyone he always gets a bargain.

Finally, a good Tin Tin comic
Having had a peek at Jaime Hernandez's want-list before, I was anxious to read and photograph Mario's. He surprised me, though, by claiming to have no physical list. Instead, Mario claims to keep track of his collection mentally. Should he end up with doubles on an issue, it will be passed along to a friend or relation.

Classics Illustrated No. 146 (1958)
I know collectors can be pretty cagey about their lists, so it may be that Mario just didn't want to share his with us. It can be frustrating to see demand drive prices up on a collection you've been trying to complete. Of course, getting a look at a renowned collector's want-list can tell you what they want, but it doesn't tell you why.

TOPIX Vol. 09, No. 29 (1951)
"For three bucks, you're on a roll." - Mario Hernandez

Dell Four Color No. 1261 (1961), $2.00
One of the highlights of the day was finding this copy of Rawhide with Clint Eastwood's face carefully cut out. We were pretty excited and misidentified the art on page one as being Jesse Marsh (look at that cheekbone on that right-hand profile!). Marsh is best known for his Tarzan work, but also drew many westerns.
Afterwards, Mario sent this update: The art inside that book is Dan "The real freakin' man" Spiegle. Not Jesse Marsh but a great artist in his own right. He pretty much drew almost all the live-action Disney stuff for movies and TV.
HOT TIP: "They stick a lot old stuff in between the new stuff so I always look for the brown spines" - Mario Hernandez

My Romantic Adventures No. 134 (1963)
"They [romance cartoonists] would do them as jams. You could see a Mike Sekowsky panel, then inked by somebody else, and then the next panel's a Gil Kane panel so they used to pass these things around." - Mario Hernandez
"Since [Mario] was the comic book buyer in the house, whatever he brought home was looked at as something new if not always liked. The only kinds of comics we didn't read were romance comics, being five boys in the house for so many years and only later a little sister showing up." - Gilbert Hernandez

The Best of Dennis the Menace No. 21 (1964)
"I remember seeing one time... there was, in the next town, a used book store, and it would have a little ad in the newspaper that said 'old comics' -- or something like that -- '10 cents.' And I was like, 'I want to go to this place!'" - Mario Hernandez
Mario Hernandez and Lori Graham of Graham Crackers Comics, Chicago. "This lady is making me very happy today," said Mario. Graham Crackers has been exhibiting at San Diego's Comic-Con for over 20 years and plan to be back next summer.

Maybe next year I can follow collector Zack Carlson around for a while. This copy of Star-Studded Comics (1965) he found looks pretty good.

All of this and $14 change. I also got a copy of Classics Illustrated No. 85 (The Sea Wolf), but would trade it in a heartbeat for that issue of Lassie at left.
Digging through longboxes with one of the architects of alternative cartooning is a thrill every nerd should experience. If you ever get the chance, DON'T BLOW IT!
Steven Weissman is the author of several comics including Yikes, Mean and Don't Call Me Stupid. His latest work, Barack Hussein Obama, was profiled by ComicsAlliance earlier this year.