What The Flock: Stuart Immonen On The Story Behind That Deadpool Bird Cover [Interview]
Uncanny X-Men returns next week with a new #1 from Brian Michael Bendis and Chris Bachalo - and a very unusual variant cover from artist Stuart Immonen.
The "Deadpool 53 State Birds" cover is Marvel's tongue-in-cheek response to DC's 52 state flag variant covers for Justice League of America #1. It's a fun and funny image, but it's also beautifully composed and full of character. Immonen draws birds like a man who knows his birds. And it turns out, Stuart Immonen knows his birds.
ComicsAlliance talked to Immonen to find out how the cover came to be, and to learn a little about his passion for birding.


Comics Alliance: How did this extraordinary cover come to be?
Stuart Immonen: Like most good things in my working life, I found out about it in an email from editor Nick Lowe, this one with the subject line: BIZARRE COVER OFFER. Nick told me that Marvel wanted to use Deadpool to send up a certain variant cover program of the Distinguished Competition. Marvel had -- for reasons not passed on to me -- settled on the idea of Deadpool surrounded by all the state birds, and Nick, knowing that I had a hobby interest in birding, thought I might go for it and of course he was right.
It took a few days for me to get some other things out of the way before I could start; before I had sketched a line, the brief had changed; when it became evident that there were only 30 or so birds in the list, Nick asked if I would be up to adding enough species to get it up to 53, so as to out-do the competition by one. Still, I said yes.

CA: How was it trying to fit all those birds into one cover?
SI: I've had worse assignments. Usually, editors ask to see at least a couple of sketches for covers, since they play such an important role in the marketing of any title, but for this I gambled on just one pose since it took so much more time to plan out which birds were going to fit and where.
Once I got to the final stages, it was no trouble at all, and in fact, I enjoyed the challenge of shoehorning them into every corner. There are a couple of big ones, like Brown Pelican, which had to go to the back, like the tall kids in class photos. Small birds were easier to cram in, clinging to the underside of his arms or perched along his sword edge.
Perhaps the biggest hurdle for me was trying to get the comparative sizes at least close to correct. I can identify quite a few species by sight and I know big birds from small ones, but you don't usually see them in mixed flocks (not like this, anyway), so proportions were tricky in some cases, and there were a couple that in hindsight, I could have improved.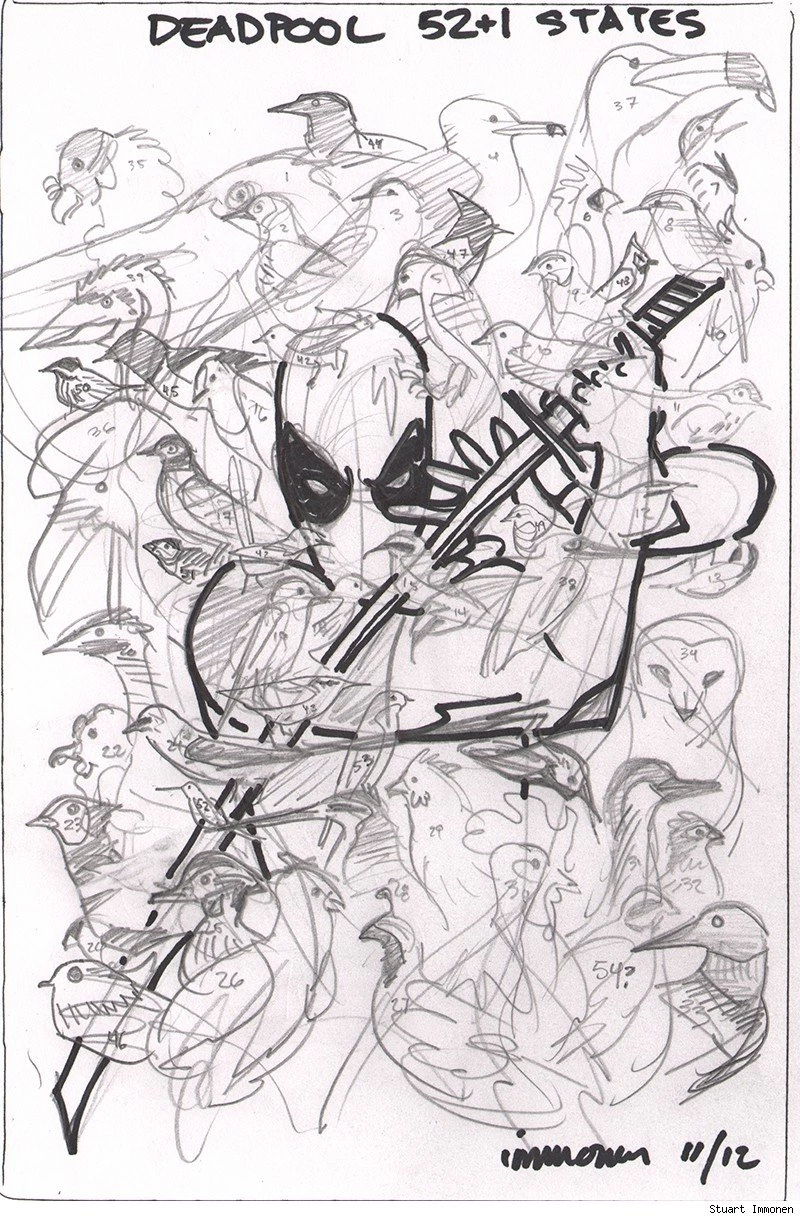 CA: As a Canadian, how much research did you have to do to familiarize yourself with American state birds?
SI: I'm pretty familiar with the pantheon of wild North American birds and for the most part, migratory species don't acknowledge political borders, but prior to this job, I couldn't have told you which bird had been designated Official State Bird for which state.
But if there's anything the internet is good for, it's lists of things. That being said, people are fallible, and you have to be diligent about weeding out inaccuracies. Also, as a pretty-up-to-date citizen scientist, species names that I know as current are not universally used. So for example, 50states.com lists Eastern Goldfinch as the state bird of Iowa and New Jersey and the Willow Goldfinch as the state bird of Washington. I had never heard of either of these birds, but quickly found out that they were both the same common species, American Goldfinch.

The same site also names Alabama's state bird as the Yellowhammer, a bird I only knew from Europe and Africa. Then I found out from Wikipedia that Yellowhammer is one of about 100 colloquial names (along with "Harry-wicket", "Heigh-ho" and "Yarrup") for Northern Flicker, a type of North American woodpecker.
I also ran into some frustrations with the couple of domesticated birds on the list. Birdwatching really doesn't include recording sightings of chickens, so there were obviously some gaps in my knowledge.
Some in the list are very similar to each other in appearance as well; the Wood Thrush and the Hermit Thrush are not readily differentiated by the casual observer. It really fell to colorist Morry Hollowell to separate the subtleties.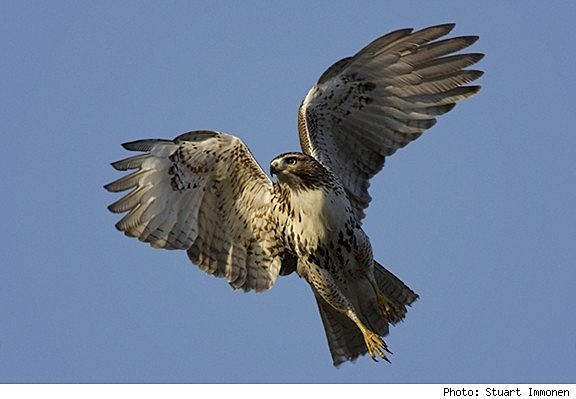 CA: Some states have two birds; some states share the same bird. How did you get to 53?
SI: We knew we'd come up short from the beginning, so the plan was to include a load of random birds, maybe even some extinct ones, plus the official birds of Puerto Rico, Washington DC and Guam. The problem turned out to be that a lot of the exotic birds Nick suggested were big, and there wasn't quite enough room, so I put in some smaller ones I liked instead.
And, yes, some states have a "game" state bird and a "wild" state bird and some are the same as others. The Northern Cardinal is the state bird for Illinois, Indiana, Kentucky, North Carolina, Ohio, Virginia and West Virginia, which I just don't get. There are more than 700 species found in North America... it's not like there's no choice.
SI: Sure, I like a Mountain Bluebird as much as the next person. They're a bit rare here in the East, so it's kind of an exotic species for me.
CA: Would you call yourself a bird fan? An enthusiast? A bird-watcher, birder, twitcher?
SI: Well, these terms have different meanings, not only from each other, but one person's interpretation is different from the next. Birder, I suppose, is the least problematic.

CA: What is it about birds that appeals to you?
SI: I got into birding for all the wrong reasons. I've always had a passing interest in nature, and could tell a Robin from a Blue Jay, but was never an enthusiast as such.
Then, about six years ago, we were moving from a house to an apartment and needed to downsize some non-essentials, like collections of toys and books and comics and CDs. At around the same time, I'd received a book by Dan Koeppel called To See Every Bird On Earth, which I found really compelling. I still had the collector mentality, but no longer had a place to put a collection. Keeping a list of seen species seemed to slot in just about perfectly.
There are other benefits, of course. I get to explore all kinds of unusual places when I travel for work, and there's a robust network of people I've met who are enthusiastic and knowledgeable and friendly (but not all, and that's interesting too). I get to learn something new all the time, not just about birds, but about weather and places and seasons, too. I log my observations with eBird.org, a database managed in part by the Cornell Lab of Ornithology and Audubon, so it feels like it's a worthwhile endeavor.
Finally, I get to explore a creative aspect by taking photographs of birds I see. It fires a completely different part of my brain than drawing and I enjoy the challenge of working with a subject I can't control.

CA: Do you have a proudest sighting?
SI: I haven't thought about it, honestly. But there was the time Kathryn and I were in Texas and we drove out to the Village Creek Drying Beds in Arlington early one morning. I had a list of birds I thought I might see and one by one, we found them all. They were all new sightings for me, birds that generally don't make it up to Canada. It was a really thrilling experience in a place I suspect most locals don't even know exists.
Unfortunately, I dropped the rental car keys while concentrating on birds, and even though we were surrounded by residential neighborhoods, when that Texas sun starts to come up and you're hunting for a dull thumb-sized object in tall grass, you start to get a little desperate. I found it, though -- probably my best sighting that day.
Uncanny X-Men #1 will be available February 13th at your local comic shop, and digitally via Comixology. Stuart Immonen's "Deadpool 53 State Birds" cover is a limited edition variant. Contact your local comics retailer for details.