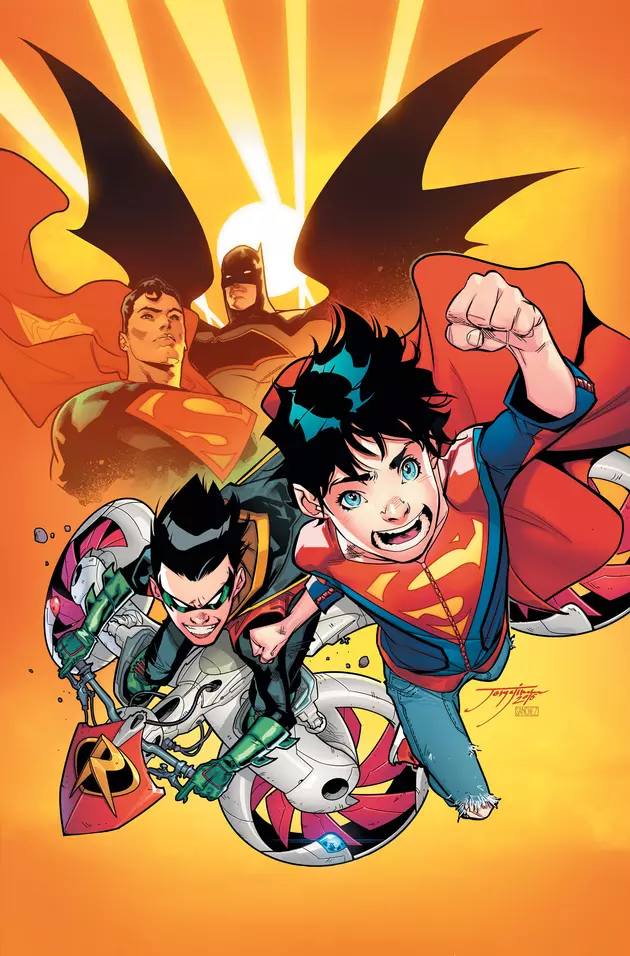 Superboy And Robin Become A Team Of Their Own In 'Super Sons' #1
Cover by Jorge Jimenez
When you're a kid, the children of your parents' co-workers are always kind of strange. Your parents expect you to be friends, because you're kids and you're near each other, but sometimes you just don't have anything in common with them. On the other hand, depending on what kind of job your parents have, sometimes they can understand things about your life that nobody else will. That's certainly the case for Damien Wayne and Jonathan Kent, the sons of Batman and Superman, respectively.
In Super Sons #1, for reasons we don't yet know, Jonathan finds Damien sneaking into his bedroom late at night. As we see in the unlettered preview, this comes after Jonathan has spent a fun evening with his parents, while Damien was upset that Batman left in the Batmobile without him. Maybe Damien is jealous, maybe he needs another superhero kid to vent to, or maybe he's trying to work a case that Batman doesn't know about, and needs an ally. In any case, this is the story that leads to Superboy and Robin having ongoing adventures as a duo, and it looks to be off to a fun start.
Here's the official word from DC:
"When I grow up" part one! The sons of Batman and Superman have graduated to their own monthly comic-but if they want to survive, they're going to have to share it! Writer Peter J. Tomasi (BATMAN & ROBIN, SUPERMAN) teams with rising-star artist Jorge Jimenez (EARTH 2) to bring you the adventures of the World's Smallest. This debut issue looks at the lives of Robin and Superboy and their destiny to follow in their fathers' footsteps, while we meet a new villain whose ascension parallels the boys' own understanding of their powers-except that he believes it's his right to rule over every being on the planet!