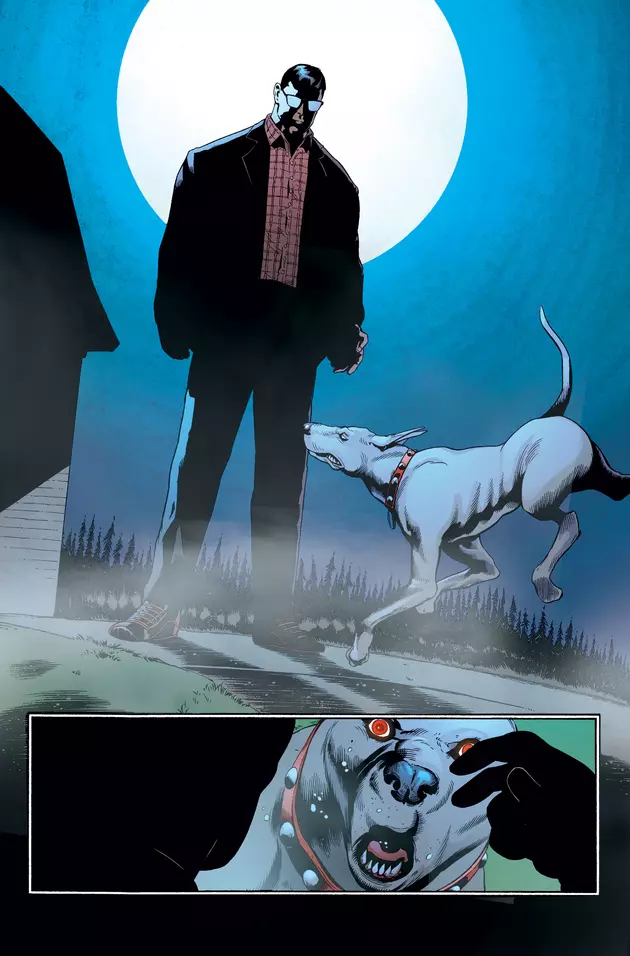 Superman Confronts Clark Kent (And Who Is Clark Kent?) As 'Superman Reborn' Kicks Off [Exclusive]
Superman #18, Art by Patrick Gleason (DC Comics)
The "Superman Reborn" arc that launches this Wednesday in Superman #18 is shaping up to be the culmination of a lot of plot threads that have been building since Rebirth, both in the Superman books and elsewhere. As we saw in an earlier preview, someone who appears to be obsessed with Superman has escaped from the mysterious Mr. Oz.
And now, in these new unlettered preview pages shared exclusively with ComicsAlliance by DC, we learn that the apparent antagonist of the story is none other than... Clark Kent. Specifically the non-Superman Clark Kent who mysteriously appeared after Rebirth.
"Up to now, he's been a mystery," offers Action Comics writer Dan Jurgens, "Something that neither Clark nor Lois can explain. In [recent] issues, Clark becomes something more… unsettling."
Just what Clark is, or what he becomes, is still a mystery, although we at ComicsAlliance have some ideas. Whoever he is, he certainly cuts a menacing figure in the page above, appearing outside the Kent family's house and facing a snarling Krypto under the full moon.
Another interesting mystery from Superman #18 is this double-page spread, which appears to depict Superman, Lois, and Jon looking at a photo album. The pictures they're seeing are clearly of the pre-Flashpoint DCU, as we can tell from Superman's costume and Lois and Clark looking very flirtatious. There's also an old-timey photo of a sheriff. Could that be a reference to the Ostrander/Truman The Kents miniseries? Either way, it seems that artifacts from the old timeline are turning up with increasing frequency.
Superman co-writer and artist Patrick Gleason doesn't mince words about the story's scale and its cosmic implications:
There's a threat…a BIG one out there…and if you thought our universe was the only one that noticed, well, you'd be wrong. We aren't slowing down—we're doubling down. We want to dive deeper to really get into the core of what it means for Clark to be Superman in this new world with his new family, and what he means to all of us.
Amid all this, it seems increasingly clear that the mysterious Clark Kent is more than just the normal human he's presented himself as. (And isn't that always the way with Clark Kents?) Further evidence for him having some amount of power are these pages from Action Comics #975, the second installment of "Superman Reborn," in which he and Superman appear to be having a physical confrontation. If he's not a Superman himself, Clark has to be someone who can hold his own against the Man of Steel. Just who that is, only time will tell.
Superman #18, by Peter J. Tomasi and Patrick Gleason, is out Wednesday March 1. Action Comics #975, by Dan Jurgens and Doug Mahnke, follows with the next part of the story a week later on March 8. Perhaps the escapee from Mr. Oz was the little reading-order triangle from '90s Superman covers? It may be time for its return.