IDW Announces 'Teenage Mutant Ninja Turtles' Creative Team [Exclusive]
What kind of gig could make a writer shout "Shell yeah!"? I think you know what kind. The all-new Teenage Mutant Ninja Turtles from IDW and Nickelodeon. Debuting in August, the new series by original Turtles co-creator Kevin Eastman, co-writer Tom Waltz and artist Dan Duncan sets out to reimagine the original TMNT in a contemporary setting. Rather than serve as a port for Nickelodeon's upcoming animated continuity, the 32-page, full-color comics will establish a fresh universe populated by both new and classic characters. What's more, in addition to co-writing, Eastman will contribute page layouts and variant covers alongside artists such as Sam Keith and Walt Simonson. We talked to Waltz to learn about the on the upcoming series. Read our full interview and see loads of new series art by Duncan and Eastman after the jump.


ComicsAlliance: Congrats on the new series, Tom. Can you tell us a little about how you came onboard Teenage Mutant Ninja Turtles and what it's been like co-writing with Kevin Eastman?
Tom Waltz: Thanks! Bribes-that's how I get all my gigs. That, and blackmail (never underestimate the benefits of knowing your Editor-in- Chief's dirty little secrets).
Seriously, this gig came about in a strange way. TMNT editor Scott Dunbier had been soliciting proposals from other writers and early on I wasn't really involved with TMNT at all, other than the fact that I kept poking my nose into things at the office because I'm a huge TMNT fan. But, honestly, beyond being excited about new TMNT comics as a fan, I didn't expect to be directly involved creatively. Then, in an editorial meeting one day, Scott announced that Kevin was ready to jump back into the TMNT saddle, both as an artist and story co-plotter, and wanted to work with a co-writer who would handle initial story scripts, etc. I was absolutely surprised (and flattered) when EiC Chris Ryall (who-along with IDW CEO Ted Adams and COO Greg Goldstein - has always been very supportive of my writing endeavors) asked me in that same meeting if I had any interest in working with Kevin. In true Turtle fashion, I said, "Shell yeah!"
As it turned out, I had been privately thinking of a way to re-launch the property, one I felt was true to Kevin and Peter's Laird's original spirit, but with some new and modern twists added to the mix. I put a proposal together immediately following the meeting and passed it along to Scott, who in turn forwarded it to Kevin. A few days later, Kevin came down to San Diego for a lunch meeting and, corny as it sounds, I knew right away that things were gonna happen in a good way. We've all been in tune from the start, and Kevin's been fantastic at letting me know what he likes, as well as providing kick-butt input into the plot (and he tells some great stories about the history of the franchise!). Thing is, I'm a huge Turtle fan, but the Turtles are in Kevin's blood (I'll bet it's green blood!), and it's both an honor and a thrill to be working alongside him on this-he's a cool dude who still cares immensely about the property he helped create with Peter. This comic book series will be getting plenty of TLC-turtle lovin' care-I guarantee!
CA: You've written for many iconic properties with enduring fanbases like Ghostbusters, The A-Team, Duke Nukem, Silent Hill and now the TMNT. What do you enjoy most about getting to put your own spin on -- and add something to the canon of -- these kind of cultural mainstays?
TW: Before I tell you what I enjoy, I'll be completely frank - it always terrifies me when I jump into something like this! When I dive into a beloved property like TMNT, as well as the others you listed in your question, the first thing I always ask myself is: Am I a masochistic glutton for fanboy and fangirl punishment? As it turns out, the answer is always, yes, yes I am. Then, I sit down and consider what the property means to me as a fan because that's really what I was before I ever thought about being a creator. I truly believe that if I always remember I'm a fan first, a creator second, then I'll be approaching the property with honesty and love and not with cold, calculated commercial intent.
Look, I know that not everyone is going to like what I do, but I'm at least confident that what I am doing is from my true fan's heart, and that I do it humbly and respectfully. As long as I can look at myself in the mirror and know I've done what I felt was best for the property and characters, then I can deal with the inevitable hate e-mails and forum flame wars to come.
Like I said, I'm positive what Kevin and I are doing-along with uber-talented artist Dan Duncan- will be something many old and new fans will embrace, just as I'm certain many other long-time fans will not. That's just how it goes and I can live with that because I know how important this is to me - and to Kevin and Dan and to all of IDW - and that we are all working our shells off to create new TMNT stories that are genuinely respectful of the stories that have come before, not to mention to the millions of loyal fans who have been a part of the TMNT family from the start.
As for what I enjoy most, I ain't gonna lie: it's an immeasurable rush to know I've been fortunate enough to have had the opportunity in my creative career to put words into the mouths of characters I've adored for so many years - or to inject scenarios and situations I've personally created into long-running canon. I feel it's a privilege to even have the chance to do it - whether it's TMNT or Silent Hill... or any of the awesome franchises I've worked on in the past or may be a part of in the future - and I never take the privilege for granted. I've been very lucky and I'm thankful for that... and I can't wait for my fellow TMNT fans to join me on this ride!
CA: IDW's Teenage Mutant Ninja Turtles has been billed as a kind of brand new take on the TMNT in the spirit of the original comics. What kind of research did you do to get in the vibe for this mix of new and more classic TMNT motifs?
TW: Really, I looked at all the variations of the Turtles throughout the years, focusing on the things I liked best about each version, while paying particular attention to the ideas and characters that have endured through each iteration. For the most part, we are building this latest version atop a solid foundation of all the best and beloved ingredients of TMNT lore, which includes the grittier Mirage run, as well components from the lighter-hearted TV shows and feature films (I'm a huge fan of the 2007 CGI movie). Fans are going to find a lot of things they recognize-but they will also be seeing and reading new additions and new twists along the way, though nothing that strays from the underlying spirit of what has made this such a beloved franchise for so many years.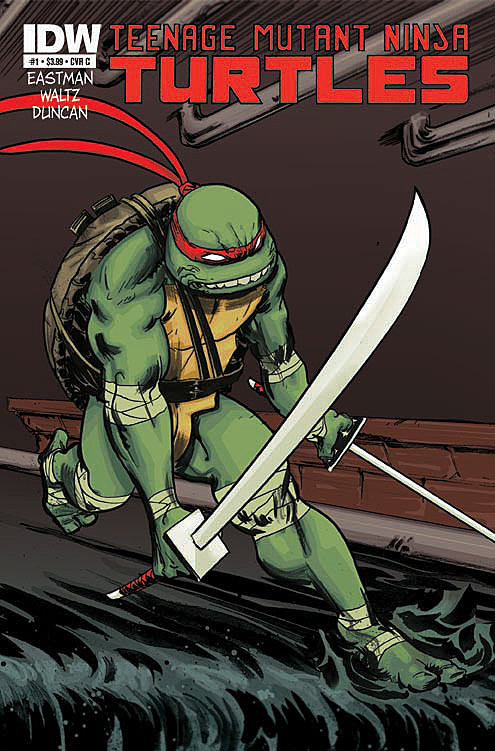 CA: How would you describe the upcoming comics series to fans who have sampled from all the various versions of the Turtles over the years? Are there any particular incarnations from TV, film, comics or games in particular that might serve as good touchstones for what this new series is about?
TW: Hmm... I guess if I were going to describe it, I'd say what we are doing with the Turtles is very similar to what Marvel did with the Avengers in the Ultimates. We are striving to tell beloved classic tales in new and exciting ways, while never losing sight of what's come before. I would never dare speak for Kevin, but I have to think that this is his opportunity to do what might be called a Director's Cut - a chance to go back and re-explore his creations from the start. As a fan, I'm excited as all get-out to watch him work because it doesn't get more authentic than having one of the original creators on board.
CA: What can you tell us about Dan Duncan's art? How do you think his style meshes with the kinds of stories you and Kevin will be telling?
TW: I was first introduced to Dan by Scott Lobdell, who was writing our Jennifer Love Hewitt's Music Box anthology series at the time. Scott suggested Dan as an artist for the fifth and final issue of the series, and Dan's art came into my email inbox shortly thereafter and I fell instantly in love with his understated, yet electrifying, stylistic pages. He did wonderful work for us on Music Box and, as an editor, I'd been looking for another project for him since. When the TMNT license came to IDW, I immediately asked Dan to send us samples-I really felt his style might be an interesting compliment to the early Eastman/Laird comics. I'm happy to say that I was right, because Dan turned in three or four pages of awesome samples, which all of us, including Nickelodeon, absolutely adored. It was an easy decision from there to bring Dan on as the artist, and we've since had the added bonus of having Kevin do the layouts that Dan is drawing from. C'mon... if that ain't about as authentic and exciting as it gets, I don't know what is.
Click to enlarge preliminary variant cover art by Kevin Eastman
CA: New villain Old Hob is said to be a mutant alley cat. Aside from a devilish name, what makes Old Hob a compelling antagonist for the Turtles?
TW: Although I picked Old Hob's name, all credit for the character's creation goes to IDW EiC Chris Ryall. When I first turned in my proposal, it was Chris who suggested we bring in a new baddy in the first arc- someone (or something) that Master Splinter and the boys are knocking heads with from the start. As for Hob's origin, it was also Chris who said something like, "What if an old alley cat..." WAIT! To tell you more would be too much of a spoiler. Suffice it to say, Old Hob is in the mix from the start and he's got a very personal grudge against our heroes, particularly Splinter. Fans can expect to see Hob up to plenty of bad boy hi-jinks from very early on in the series-as well as other evil doings from some far more recognizable villains, too.