Kevin Eastman to Auction First Ever Ninja Turtles Drawing, Other Amazing Things
Maybe it's just me, but the star of the Teenage Mutant Ninja Turtles seems to be rising lately. We're certainly writing about them a lot, anyway, with the new material from IDW Publishing and a Michael Bay film approaching ominously in the distance. In any case, there's a lot of mutant activity at the moment, and the franchise co-creator Kevin Eastman is taking part. In advance of a complete rededication to comics and cross-country relocation, the indie icon is preparing to auction off some startlingly sentimental items, at least for the dedicated TMNT fan, including the very first drawing of the enduringly popular characters.Writing on his DeviantArt journal, Eastman explained that the decision to auction off the original TMNT drawing and other similarly rare items is part of a cathartic rekindling of his love for working in comics.
... it is simply time to let these pieces go, and time for me to get back to the drawing board -- doing what I love most, comics. Getting back involved with the TMNTs via IDW almost a year ago has reminded me of two things. 1.) How much I love writing and drawing comics, and 2.) How much I love writing and drawing stories with the TMNTs.

So, with that path in front of us, my wife, kids, and I all decided to wrap-up our life here in Los Angeles, head back home to Florida --simplify-- and start digging into the stacks, and stacks, and stacks of story ideas in the notebooks and start telling stories again.

According to Eastman, the original drawing of the Teenage Mutant Ninja Turtles has been locked in a metal box since 1983. That piece, by Eastman and co-creator Peter Laird, will be auctioned on its own, but a vintage duplicate of the image is part of a separate lot that also includes a first printing of Teenage Mutant Ninja Turtles #1 from 1984, along with the voided $1,000 check Eastman's uncle wrote them to finance the project. Also up for auction will be the original Playmates Toys model for the classic action figures and a vast assortment of TMNT movie memorabilia, including original treatments, scripts and notes, all of which have been signed or doodled on by Eastman and Laird. Perhaps most intriguingly is the material pertaining to a fourth unmade live-action movie that would have introduced a fifth ninja turtle: Kirby, named after comic book pioneer Jack Kirby.
All of those items and more will be part of an auction administered by Heritage in May. Eastman's journal comes ahead of any official announcement, so we'll be sure to let you know when all of that begins in earnest.
In addition to the Heritage auction of vintage TMNT treasures, Eastman has teamed up with the Hero Initiative to sell four pages of original artwork to benefit comics creators in dire financial straits. The pages constitute a short story called "Ready, Set, Go!" that will be published laster this year by Hero Initiative and IDW, and is the first completely original and solo TMNT story Eastman has created in 15 years. Here's a couple of pages: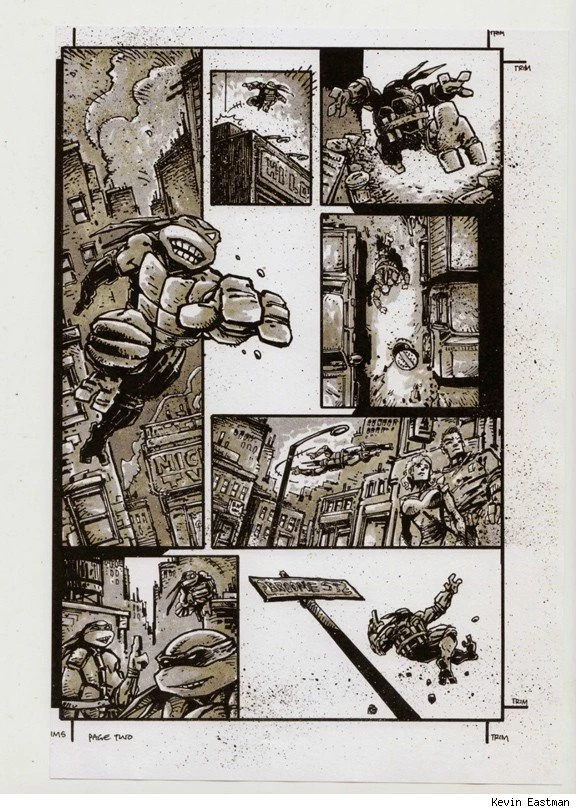 The set of four is currently bidding at almost $800. Head over to eBay if you're interested.
Finally, in Turtles movie news it seems that musician Kid Cudi may be involved with the forthcoming Michael Bay effort based on Eastman & Laird's creation. The Huffington Post observed that Cudi blogged an Eastman sketch he received as a gift from associates at Platinum Dunes, a production company co-owned by Bay. "Hint hint mane," Cudi wrote. Perhaps the musician, who's acted in HBO's How to Make it in America, has been cast in the TMNT film?