 Ultimate Comics: Nathan Edmondson Takes On Ultimate Iron Man, David Marquez Announced as Marvel-Exclusive [SDCC]
Ultimate Iron Man gets a third mini-series this October with Who Is Jake Ellis? co-creator Nathan Edmondson making his Marvel debut. Subtitled "Demon in the Armor," the mini is "a unique opportunity to do a character piece wrapped in some really fun action, a little bit of espionage," said Edmondson at Friday afternoon's Marvel Ultimate Comics panel at San Diego Comic-Con. Illustrated by Daken artist Matteo Buffagni, the series will introduce the Ultimate version of one of Iron Man's most famous nemesis, the Mandarin. The villain's yellow peril associations make him problematic, but Edmondson advised readers to "leave your preconceptions about this character at the door."


Edmondson was joined on the Ultimate panel by Marvel editor-in-chief Axel Alonso, line editor Sana Amanat, ever-present director of communications Arune Singh, Ultimates writer Sam Humphries, and new Ultimate Comics: Spider-Man artist David Marquez, who was announced at the panel as Marvel-exclusive. "I was first published less than two years ago, and it's been a rocket ride since," said Marquez. "I'm excited to be staying on Ultimate Spider-Man for the foreseeable future." The previous artist on the book, Sara Pichelli, is currently on the Peter Parker/Miles Morales crossover book Spider-Men, but Marquez noted, "I think the plan is for Sara and I to start rotating once she's done with Spider-Men."

As this is the first San Diego Comic-Con since the introduction of Miles Morales, the panel talked a little about the decision to kill off the Ultimate version of Peter Parker. "It was difficult for us to kill him," said Alonso, adding, "Peter Parker is not coming back. It's one of the rules of the Ultimates. People do not come back." Arune Singh emphasized the importance of Morales to the Ultimate line, stating that while the mainstream Marvel universe has a "big three" of Captain America, Iron Man and Thor, the "holy trinity" of the Ultimate universe is "Kitty Pryde, Miles Morales and Steve Rogers."
The Cap/Iron Man/Thor trinity still has a role to play in the Ultimate universe, however, with their reunion playing a big part in the forthcoming "Divided We Stand" event. Ultimate Cap went AWOL after the death of Peter Parker, but the forthcoming "Divided We Stand" event sees him return to tackle an unseen enemy who has coordinated a devastating attack on the nation. On a slide showing the covers for issues #14, #15 and #16, the cover for #15 was covered by a "Classified" label. Singh promised that the issue will be "one of the most talked about comics of the year," adding, "You are going to hear about this issue; it will be seismic."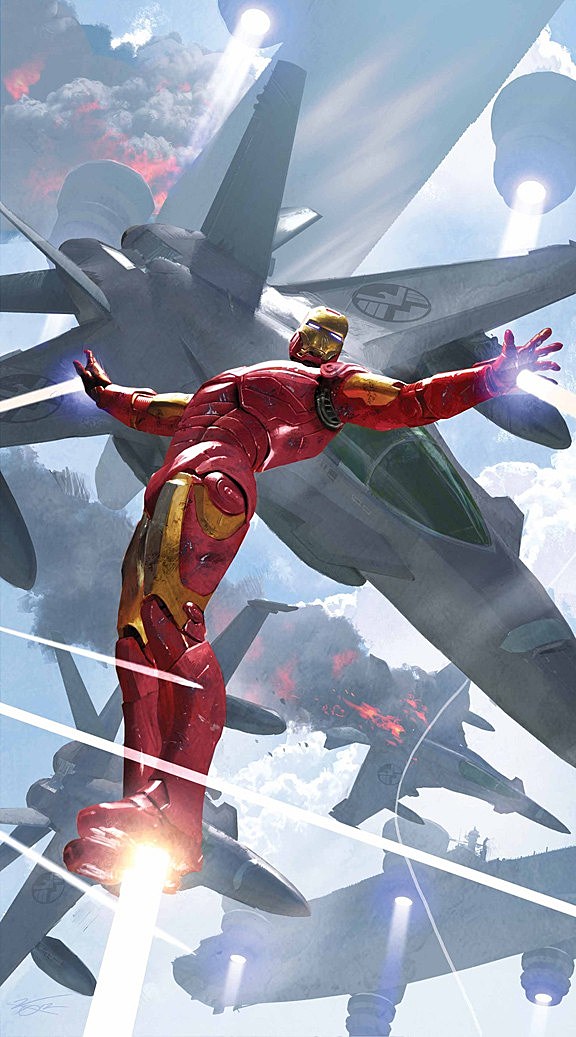 In the Q&A many of the questions focused on Miles Morales, with several audience members expressing thanks for the introduction of a young black Hispanic hero. Asked about the relative scarcity of Hispanic heroes in the main Marvel universe, Axel Alsono agreed, "Hispanics are underrepresented in comics. I'm part Mexican and I'm very interested in creating the next great Latino hero, but you can't force it, it has to happen organically."
On the subject of what might become of Peter Parker's supporting cast now that Miles Morales is Spider-Man, Amanat noted, "Peter Parker and Miles Morales are definitely linked. Miles was there when Peter died. Peter's family are obviously going to matter to Miles. Their relationship is something we want to maintain." Singh added, "Those characters are going to be part of [Miles'] universe whether he wants it or not."

On the subject of the Spider-Men crossover between Marvel's main universe and the Ultimate universe, one attendee asked it this would lead to further crossovers. "I can't give away whether this will have ramifications for 616, the Marvel universe," said Alonso. "What we have done is open a portal between the two universes. It's open, it's there, we can't ignore it." Asked how Spider-Men villain Quentin Beck came back from the dead, Amanat promised, "It will be explained."
Amanat said there are no plans to bring back the Ultimate Fantastic Four, but noted, "Sue Storm is out there and she is awesome." Sam Humphries added that Sue has not been claimed by any other writers and "that's all I'm going to say for now." Asked if any other characters would experience such a radical reworking as the Peter Parker-to-Miles Morales change for Spider-Man, Amanat said, "Absolutely. We will do it, but we're not going to do it just for the sake of doing it." Humphries added, "I'm excited for the ways we're changing the characters we already have."