Yo Vertigo: Resurrect This
Over the years, Vertigo Comics has accumulated a wealth of stories that were canceled, never published, or just left out of print and forgotten. That's the type of thing that happens when a publisher makes a commitment to produce risky material. Lots of the imprints output is like black licorice: you either love it or you hate it, so books are either embraced and remembered, or reviled and forgotten, even if they didn't deserve it.
That's why "Vertigo Resurrected" is such a fantastic idea. As announced at Comic-Con, Vertigo will explore its archives for a series of one-shots and specials aimed at bringing classic Vertigo stories into the light, whether for a second chance or the first time. The festivities begin this October with the publication of "Shoot," a Hellblazer story by Warren Ellis and Phil Jimenez that was once considered too controversial for publication. After that, they've already announced the reprinting of Peter Milligan and Ted McKeever's seriously overlooked miniseries "The Extremist."
Things are obviously already moving and shaking for "Vertigo Resurrected." But because fans ultimately know better (high five), let's just cut the drama and tell Vertigo what it is they need to bring back. See, just like it's perfectly acceptable to heckle a comedian, it's okay to presume to know better than comics professionals. We're helping.

After Alan Moore vacated the writer's seat, it was given to Rick Veitch, who had penciled the title intermittently during Moore's run, and gained a reputation as a gifted writer on his own. In other words, it was a perfect fit. Veitch maintained the tone of Moore's tenure without doing an impression of him, and did quite a few things he probably wouldn't have done. Like having a Saga of the Swamp Thing/New Testament crossover, perhaps? That's hard to say, since we never got to see it.
The DC suits decided that the story – in which Swamp Thing meets Jesus on the cross – was just too much of a potential controversy, even though it had previously been approved. Veitch promised to never work for DC again, unless they printed the story, "Morning of the Magician," and the writers preparing to follow him on the title – Jamie Delano and Neil Freaking Gaiman – walked away from the book. Around the early part of this decade, Veitch started working with Vertigo, on great books like "Can't Get No" and "Army@Love," but still no Swamp Thing 88.
Look, it's 2010. If Swamp Thing was having drug-sex with Muhammad, we could probably understand. But Swamp Thing meeting Jesus is nowhere near as controversial as it was in 1989, and even then it was wrong to censor it. If this isn't on the agenda for "Vertigo: Resurrected" then we seriously gotta have a talk.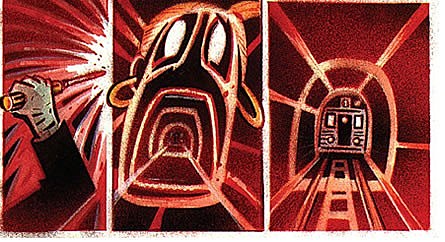 Peter Kuper might be one of the few genuine storytelling geniuses in comics today, and in no other work is the spectacle of his talent as brazenly obvious as in "The System." A wordless rampage through the chaos of city life, "The System" explores class warfare, crime, the brutality of cause and effect, and the connections that bind hopeless street hustlers to millionaire industrialists and sex workers to murderers. It's "The Wire" in painstaking stencils and careening layouts, delivered in an unsettling hush. One can still find copies of "The System" in finer comics shops, but it's been out of print for a few years and supplies are definitely dwindling. Take it away, "Vertigo: Resurrected."
Since the early 1980s, J.M. DeMatteis has written some of the smartest, funniest, and most captivating superhero stories on the planet. From the absurd mayhem of "Justice League International" to the psychological complexity of "Kraven's Last Hunt," DeMatteis provided a blueprint for an entire generation of creators to follow. And yet his name seems seldom-mentioned in discussions of writers and influence. Maybe that's because while he has writing superheroes, he was also writing self-contained stories like "Blood: A Tale," "Moonshadow," "Mercy," and others that have been out of print since forever.
And though they never sold that well, all of his non-superhero books are remarkably unique and forward-thinking, and deserve a chance at a new audience. Artist Paul Johnson's work on "Mercy" is simultaneously fragile and violent, and the emotional turmoil that he wrings out of DeMatteis's story of death and absolution makes this story the first candidate for a re-print-a-thon. Start with "Mercy," then go "Moonshadow," "Brooklyn Dreams," and what the hell, "The Last One." If you build it, they will come!

4. Yeah!

Ooh, too slow. Turns out that Fantagraphics is publishing a collection of "Yeah," an all-ages titles written by "Hate" creator Peter Bagge and drawn by Gilbert Hernandez about an intergalactic all-girl band called Yeah! whose members -- Krazy, Honey, and WooWoo -- are famous on every planet but their own, Earth.. And even though the new version oyanks a hundred words out of this story, no one could be happier than this guy. Bagge! Hernandez! Intergalactic all-girl band! Yeah!
5. Sebastian O
In many ways, "Sebastian O" feels like a philosophical precursor to "The Invisibles," writer Grant Morrison's longest-running and most popular original creation. It's even illustrated by Steve Yeowell, who also drew the first "Invisibles" arc. "Sebastian O" is often described as steampunk, but it's more like Jerry Cornelius meets G.K. Chesterton. Late Victorian ultra-violence starring a morally apathetic spy and Yeowell's dashing linework. Highly recommended for "Clockwork Orange" lovers, Oscar Wilde admirers, and people who prefer to be called The Knife.

6. More Peter Milligan: Rogan Gosh
"Rogan Gosh" with Brendan McCarthy is one of the greatest weird comics of all time. Post-modern punch-up psychedelia that practically trembles with strange energies. McCarthy's work is freakishly breathtaking, and every page seems to send one deeper into the id. Know those people who've done so many drugs they're practically vibrating at a different frequency? Yeah. "Rogan Gosh."

7. Even More Peter Milligan: Girl
This black comedy sees frequent collaborators Peter Milligan and Duncan Fegredo at their most down-to-earth, closer to reality than in "Enigma" or "Face." Of course, that just makes the mayhem they throw at you even more shocking. "Girl" is seriously funny and wonderfully weird, and with the main character living in working-class Bollockstown, it would have to be. But "Girl" evokes a serious emotional resonance; true damage is done, and the reader must react to it. In a way, it's probably the duo's most mature work, and the two are clearly operating at the top of their craft. Fegredo's sweaty pencils convey the slop and grime of Bollockstown so effectively you actually feel sorry for anyone who lives there. Milligan's freakish ear for dialogue drags you even deeper into the pit, and the voice he employs with fifteen-year-old protagonist Simone Cundy is one of his most memorable.

More Dammit!
And oh my word there are so many more we could ask for. The list is endless. Well not really, because there are only so many comics in the Vertigo catalog, but lots more! "Brother Power: The Geek," drawn by Mike Allred, "Prez" by Ed Brubaker and Eric Shanower, Dean Motter and Michael Lark's retro sci-fi "Terminal City." We will make the reprints rain like the blood of our enemies! Rise in the spirit of resurrection and take what is rightfully yours! Complete creative control! Exclaim!