War Rocket Ajax #109: Brian Clevinger Talks 'Real' Science and Pitching to DC

This week on War Rocket Ajax, Atomic Robo co-creator Brian Clevinger returns to the podcast! He sits down with Chris Sims and Matt Wilson to talk about Atomic Robo: Real Science Adventures, his work for Marvel and his ill-fated talks with DC, plus Matt addresses a very special hater -- and you can listen right here at ComicsAlliance!War Rocket Ajax #109: Boo-Hoo, Pay Me with Brian Clevinger

(WARNING: Contains NSFW language)
We are back in the iTunes Store! Click here to find ComicsAlliance Presents War Rocket Ajax in iTunes, where you can subscribe and leave us a review if you enjoy the show! Thanks for bearing with us while we sorted everything out!
You can also stream the show using the player above, or download it in MP3 format from WarRocketAjax.com.

In this week's show, Chris is recovering from an illness and admits to doing the single dumbest comics-related thing he has ever done, while Matt's love of pestering cosplayers creates a (very very tiny) moral crossroads. Plus, in the return of one of our most popular segments, Matt gives Big Ups to our first ever Celebrity Hater!
When Brian joins us, he tells us a lot about Atomic Robo, but he also fills us in on doing work for Marvel on Captain America: The Fighting Avenger:
The idea was that it would be a companion book to Thor: The Mighty Avenger, which was canceled like two months before our book came out, so that canceled us before we had a single issue.

Nate Cosby, who at the time was an editor at Marvel and principally concerned with their all-ages material, came to me saying "hey, we need this companion book for Thor, it's gonna be Captain America, '40s, an origin story. Let's do the origin story that you never see: It's his training, he's got the abilities but he doesn't know how to use them, and the military's not sure how to use him or if he's going to be able to do anything." So we cooked up all these plots. I had material for about two or three years to run with, and we were going to do it much like Robo in two to four-issue chunks so that if we got canceled at any time, you know, bam. We're just done, we had our fun.

Of course, that did not account for getting canceled before it came out.

He also tells us about trying to get work at DC:
About a year ago, they called me up and said "Hey Brian, we would like you to work on a relaunch in September of 2011 for Firestorm. Here's a bunch of notes, because we need to spin it out of Blackest Night, he had a big role there, there's kind of a resurgence of his popularity and we want to give him another ongoing series to capitalize on that and take off. We know you're a guy who's big into sci-fi, big into action, big into humor, that's what we want to bring to the book. Give us a pitch. You're the only guy on the list. If you say no, we're kinda screwed. We guarantee you six issues. No matter what happens, you'll get these six issues, and then if we do more, that's great, if not, we'll find more work for you."

So I thought okay, great. Now, previous to this, it has to be said, I have heard nothing but nightmarish stories about working for DC, primarily from writers, but you know, those first few phone calls seemed very positive. I thought "maybe it has changed, that was years ago."

Needless to say, I was kicked from the book before it came out, my guaranteed six issues became zero, here it is a year later and I don't think we've seen my name on a single DC book.

Basically they've said that for contractual reasons, they had to give Firestorm to somebody else, one of their exclusive people, because they ran out of books. Mind you, this was before they announced the 52, so I was like "okay, I guess that's what happens," but clearly, when you introduce fifty-two all-new books, you're not really running out of material. It's not like they had to get rid of me to give it to somebody else.

The editors that I was speaking to had never read Atomic Robo. I don't know how my name got added to the hat, I don't know why I was the only guy on the list, but obviously I wasn't, because then I heard from Gail Simone, who was the person that ended up picking up writing duties. They had told her that somebody else was pitching, they didn't say who it was, but they also told her absolutely that the other person (i.e., myself) knew for a fact that multiple people were pitching. I was told specifically that I was the only person they were even talking to. And so, ever since then, I've been in some kind of contact with people who were the editors behind Firestorm and some other people have called since, offering "hey, you want to do this story." And I'm like "hey, I'll give it a shot, I don't want one bad experience," because it was all in the run-up to the New 52, I understand mistakes happen. I'm an easy guy to work with. But follow-up phone calls never happen, follow-up emails never happen, it's been six or eight months and jobs that were offered never come through.

I can only follow this carrot so far. I have no investment in these characters or IPs, I have no specific love or nostalgia for these stories. If you're just not going to hire me, I'm just not going to pick up the phone.

Show Notes:

Follow Brian Clevinger on twitter, and check out Atomic-Robo.com for more about one of our favorite indie books.
If you're in or around North Carolina, you can see Brian (and Chris!) at Ultimate Comics on Free Comic Book Day, Saturday, May 5th!
Matt's C2E2 costume photos are here, featuring double the Blade!
Matt's review of Shia LeBeouf's comics. Experience Matt's brutal hate for yourself.

Chris's Rec: The Achewood Honor Club.

Matt's Rec: The Super Villain Handbook.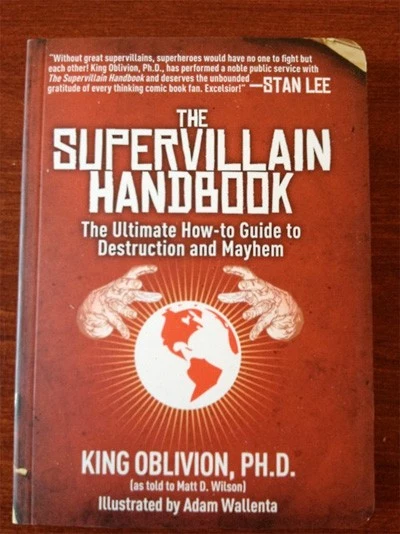 Comics Reviewed:
Justice League #8: "We got a six-issue arc to kick off Justice League that was terribly slow-moving, and this issue bounces around between scenarios that are entirely out of context, as though every reader should be completely familiar with what's happening and completely familiar with these characters that, if the New 52 worked like DC wanted it to work, we have never seen before." "I don't mind drawing on continuity, that's fine, but this continuity isn't supposed to exist."
The Sixth Gun #21: "I like reading this book in big chunks, but I'd read so much about this silent issue and how good it is that I wanted to check it out, and it's worth it. I followed everything that was going on pretty easily, and I loved the body language that Brian Hurtt drew in this issue. It is hitting every note just right." "Even if you've never read The Sixth Gun, I feel like you could pick up this issue and be fine."
Amazing Spider-Man #684: "Matt, don't spoil this for me, but... is Doctor Octopus up to no good?"