What If… The George W. Bush Bio Comic Was Written by Whedon, Millar, Ellis & Moore?
Last Wednesday, Bluewater Comics released the latest in its Political Power line of comics. So far the company has published biographies of such figures as Barack Obama, Ronald Reagan and Joe Biden. So you'd expect that the newest edition on George W. Bush would attempt to do the same. It's a difficult subject to take on.
Whether or not you liked him, the following facts about Bush aren't really arguable: He was one of the most contentious national figures in recent history; he initiated two wars that were not as successful as he hoped they would have been; his administration saw world opinion of the U.S. go from extremely high to extremely low over its eight years, and he exited office during an economic downturn with low popularity numbers.
So what was Bluewater's solution to handling such delicate material? They chose the most cowardly route imaginable and decided not to tell Bush's story at all. "Political Power: George W. Bush" is a twenty-two page comic that merely reprints excerpts of the text from Bush's January 15, 2009 farewell speech and then accompanies them with illustrations to remind readers of moments from the Bush presidency. Many of these are nothing more than close ups of Bush himself sitting down or speaking at a podium.
No history of Bush's life or his presidency is given, aside from his own words, so any chance this book might have had of being objective or even educational is instantly gone. The writer is listed as Joshua LaBello, but in this case he's a glorified editor, merely picking out sections of the speech to use. Real credit should go to Bush, or more accurately to his speechwriters, but it's not as if that'll do them much good as Bluewater has made a habit of not paying its creative staff anyway.
So then the only remaining question is, what about someone who actually wanted to read a biographical comic about the life of George W. Bush? For what I assume to be those half dozen or so disappointed souls out there, I've chosen to provide the public service of helping you to imagine what that comic might have looked like. Below are hypothetical excerpts of what a Bush biographical comic could have been if it were written by some of the better known scribes of the comics industry. Perhaps this is something like what Bluewater would have achieved if they had the time. Or the money. Or the standards. Or the self respect.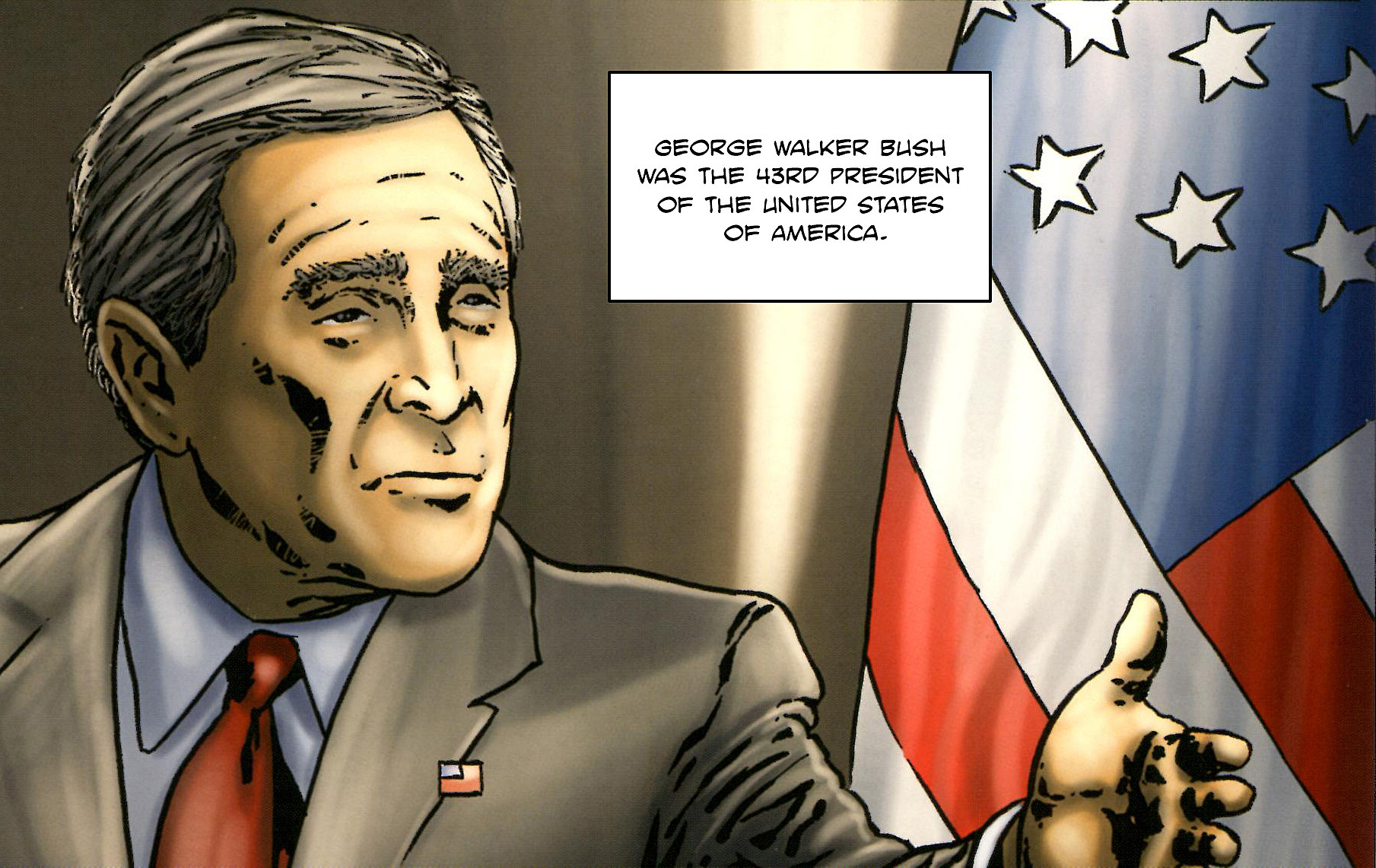 (Moore's work may appear straightforward, but only until you see the accompanying script for this panel)
PAGE 1:
PANEL 1:
OKAY, THIS IS OUR OPENING PAGE OF THE COMIC. WE NEED TO ESTABLISH RIGHT FROM THE START THAT BUSH'S PRESIDENCY WAS A COMPLEX EVENT STRETCHING FAR BEYOND THE MAN, THE GOVERNMENT, EVEN THE COUNTRY. WE BEGIN WITH AN IMAGE OF THE PRESIDENT HIMSELF. BUSH IS THREE MEN AT ONCE. THERE IS THE PERSONA OF THE BUFFOON, THE FOOL MEANT TO DECEIVE THE PUBLIC INTO DOUBTING THE TRUE ASPECT KNOWN ONLY TO HIS INNER CIRCLE. THERE IS THE PERSONA OF THE MANIPULATOR, THE CHESSMASTER CONTROLLING ALL EVENTS BEHIND THIS VEIL, AND THERE IS THE THIRD DEEPER ENIGMA PERSONA, THE SELF BUSH HIDES EVEN FROM HIS OWN MIND. CAST LIGHT ON BUSH'S FACE FROM CHIN TO FOREHEAD, CHEEKBONE TO CHEEKBONE, BUT LEAVE THE REST OF HIS CHEEK AND HIS NECK IN SHADOW, CREATING THE IMPRESSION OF A MAN WEARING A MASK. HIS LEFT HAND IS OUTSTRETCHED TOWARDS US. I STRESS THAT IT IS LEFT, AS THE SYMBOLISM SHOULD BE OBVIOUS. THE RIGHT HAND REMAINS OUT OF PANEL, A COUNTER TO THE LEFT HAND'S OFFER, INSTEAD CONTROLLING THE REAL MATTERS OF SIGNIFICANCE SOMEWHERE UNSEEN. BE CERTAIN THE MASONIC COMPASSES APPEAR AS FOLDS IN BUSH'S SLEEVE. IN BACKGROUND ONLY SEVEN STARS SHOULD BE VISIBLE ON THE U.S. FLAG, SIX ENTIRE STARS TO SYMBOLIZE THE PACTS WITH THE MASTERS OF THE ROSICRUCIAN HERMETIC BROTHERHOODS BUSH MADE TO ENSURE HIS RISE TO POWER, AND A SEVENTH HALF STAR TO SYMBOLIZE THE BROKEN PACT. THE FLAG SHOULD BE SHOWN WITH THE RED AND WHITE STRIPES AT A DOWNWARD ANGLE TO CONNECT WITH THE BUSH DYNASTY'S DESCENT FROM KING GLYWYS OF MORGANNWG AND ITS INTENSE DESIRE TO REGAIN THE POWER IT ONCE LOST. LAST, BUT MOST IMPORTANT, A SINGLE VERTICAL SHAFT OF BRIGHT LIGHT SHOULD CUT ACROSS THE BACK WALL, CONNECTING WITH BUSH'S LEFT SHOULDER. THIS IS THE EARTHLY REPRESENTATION OF THE ETHEREAL FORCE BENDING FATE IN FAVOR OF BUSH'S AIMS, WHICH SOME OF HIS ADVISERS CLAIM TO BE GOD EVEN THOUGH BUSH SUSPECTS IT MAY BE AN ALTOGETHER DIFFERENT OMNISCIENT INTELLECT MASQUERADING IN THE ROLE.
ONCE THIS GROUNDWORK HAS BEEN LAID WE ARE ABLE TO PROCEED WITH THE STORY.