'Wolverine & The X-Men' Artist Nick Bradshaw on Jason Aaron and Art [Exclusive Images + Spoilers]
On sale now from Marvel Comics is Wolverine & The X-Men #4, which, among other delightful things, contains the series' first pages by Nick Bradshaw. Part of the hit new series' artistic swing team, Bradshaw has the unenviable task of following the always excellent work of Chris Bachalo and Tim Townsend. But if you've read Wolverine & The X-Men #4, you know that Bradshaw hit this issue out of the park, coming very cose to upstaging his auspicious co-artist on this crucial Marvel title, easily one of the most beautiful superhero books on the stands.
To learn more about this seemingly out-of-nowhere talent, ComicsAlliance spoke with Nick Bradshaw and his editor Nick Lowe about the art of the new X-Men book, with exclusive looks into Bradshaw's sketchbook and an peek at Wolverine & The X-Men #5.
SPOILER WARNING of course.The first Nick Bradshaw work I can remember seeing was in the pages of Danger Girl. Several years ago, creator J. Scott Campbell reportedly hand-picked Bradshaw to bring his Art Adams-esque dynamic to Campbell's hyper-stylized universe, and the synthesis of those two looks has served Bradshaw well in the years hence. He'd go on to draw numerous covers for Marvel, including a special edition of New Avengers for the Hero Initiative. It was that illustration that started Bradshaw down the path to Wolverine & The X-Men.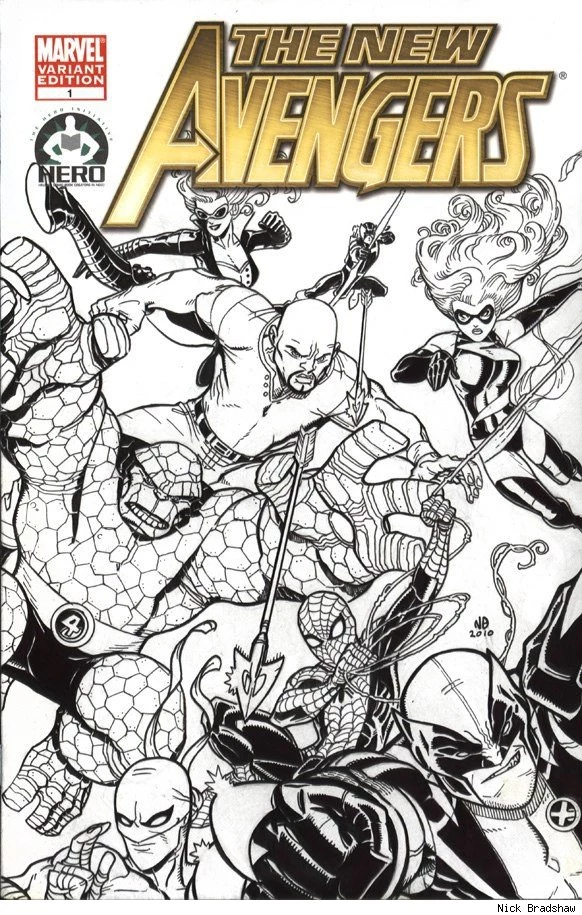 "I first saw Nick's work online in one of those Hero Initiative cover thingees and was blown away," Lowe told CA. " 'WHO IS THIS GUY AND WHY AREN'T WE BEST FRIENDS/CO-WORKERS!' Nick pours so much thought and love into his work. Some of it is evident in the amazing amount of detail that he does, but to me it comes alive in the world-building he does. He truly designs every room he draws and doesn't cheat on that stuff at all. You can really see it in the classroom scene of Wolverine & The X-Men #4. There are kids in the background doing crazy stuff and they are always consistent when he moves the camera and not everyone does that sort of thing."

"He's also a really generous storyteller and really thinks of the most dramatic ways to stage things possible and I love that," Lowe continued. "There was a scene in one of his Astonishing X-Men issues where the incredible and embarrassingly handsome Daniel Way wrote something to the effect of 'Mentallo leaves the cave.' Nick put the mouth of the cave far above what was happening in the scene and had Mentallo walk on top of the monsters he was controlling and demeaning. It just added so much!
"Nick draws great kids and crazy monsters and aliens and such, so he was absolutely perfect to share artist duties with Chris Bachalo on Wolverine and the X-Men. And the two are really challenging each other with the love they're putting into the work."

We asked Bradshaw about the style he's employing on Wolverine & The X-Men, and what steps he taks to create these visually dense but still incredibly expressive images and characters.
"Well I have been approaching each script like I would when storyboarding an animated film production," Bradshaw explained. "I have been looking to find the big action set pieces first and foremost in his draft and make those portions of the script as big in scope as Jason intended. Then the slower beats I have been focusing more on the character acting, fix my faces and acting with every issue to showcase the dialogue as best I can. I study a lot of film and animation and love finding that one facial expression/camera angle that really sells a moment, not just the main character speaking in the panel at the time but also how the reactions of every person or environment shifts to push the scene. There's a lot of great fun beats in this book and I like to find ways to set it up without coming off too cheesy or campy."
Naturally, the script by Jason Aaron drives Bradshaw's striking imagery, and he's very glad to share credit with the writer. "I love that Jason has chosen to bring back adventure and fantasy to this portion of the X-men universe," Bradshaw said. "You have these new kids seeing some amazing stuff for the first time. I think some of the books over the years have focused on the more political, adult views and aspects of these characters -- what they are, their place in the world, how it affects them and everyone else -- and I think for the times that's where the characters needed to be. It's like when you hear someone say you don't really appreciate Christmas morning or cartoons like you used to until you relive it through the eyes of your child... well now you have these seasoned heroes reliving adventure through the eyes of these kids (even a jaded arse like Quire has moments where he's in awe at what he's seeing for the first time... fleeting moments). It's interesting."


"I enjoy the fact that in issue #4 you have this 'slow downed' issue where you kinda get a mini breather to meet everyone," Bradshaw continued. "Get a glimpse of where we might be going, then in issue #5 we hit the road running and dive in on this huge epic sci-fi quest."


"I don't have a particular favourite really when it comes to the characters, they're all equally interesting," Bradshaw said. "I love drawing Beast and his mannerisms, how he sort of lives and interacts in people's reality but his brain is 10 minutes ahead of everyone else. I love how Kitty and Wolverine are trying to hold this new generation of mutants to a standard of a superhero concept that they are familiar with, but it is just outdated to this new crew. I think for Iceman this is what's going to make him shine and respected a little more with this new generation as he's closer to age and thinking with this new crop -- he's still evolving. I could really see him impact on these kids... makes for an interesting dynamic. I love the new villain of the week in these books too! Be it the students trying to assert independence, teachers squabbling over theory, the Hellfire Club dismantling the school or the Brood invasion, I love that I get to draw every character in every one of these situations."
Superhero team books are said to be among the most challenging gigs for artists, so we asked Bradshaw what specifically keeps him up night on the technical level.
"Well, I have had a few interesting challenges myself, personally, in trying to settle in with my art again," he said. "The last four years, I have been learning new skills that dealt with me working in front of a computer screen and making presentations, as opposed to sitting and drawing at the drafting table (which is not to say I didn't draw, just not as much as you do on a comic book). I got rusty. Every issue, you move ahead at this pace to get everything done and worth people's money you know? I have respect for that."
"Sometimes you don't get the chance to look back over a page and make sure you dotted all the I's and crossed all the T's as much as you'd have liked until you get the print copy in the mail," Bradshaw continued. "Then when you slow down, you can appreciate your strengths and your weaknesses and learn from those. For me it was my faces and acting, so hopefully the more I get to draw, people will notice I have been working on it and improving every issue.
"Marvel kind of threw me in deep waters to start. It's intimidating (especially piggy-backing issues with Chris Bachalo), but I enjoy waking up and telling myself to take the challenge every day because not many people get the chance to do this and I was lucky enough to have an editor who had faith in me to play in the pool. Hopefully when you pick up an issue today and compare it to what I'll be drawing month to month, you'll notice I'm working hard to bring a leaner, cleaner aesthetic to my pages and give you guys appealing art to a great book."