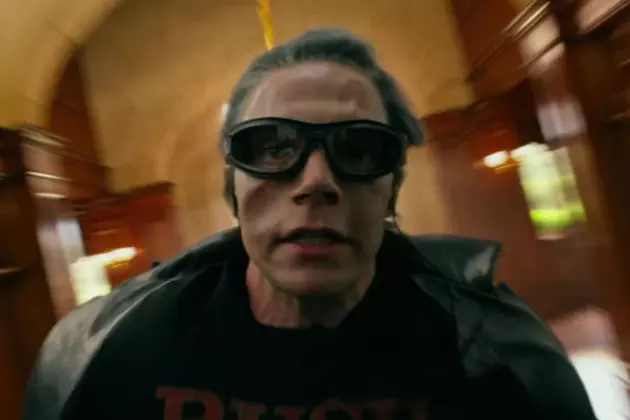 'X-Men: Apocalypse' Star Evan Peters Confirms Identity of Quicksilver's Dad, Teases Big Scene
20th Century Fox
If you are unfamiliar with the X-Men comics and Quicksilver's origins, then you'll probably consider this bit of news a pretty big spoiler — so you may want to turn back now. And if you are familiar with the comics, then you'll be happy to know that Evan Peters has confirmed the identity of Quicksilver's father and promises that his big X-Men: Apocalypse sequence will be a worth follow-up to the scene in Days of Future Past.
X-Men: Days of Future Past offered some hints to the identity of Quicksilver's dad, but Peters flat-out confirmed it to JoBlo. Yup, it's Michael Fassbender's Magneto:
I have learned that he's my father at this point and I am trying to … I don't know what I can say. Yeah. It's like an adoptive child or any kind of child who has a strange father trying to … He knows who he is now so he is trying to find him. He's been searching for him. It's been 10 years and he hasn't found him and then something happens.
Magneto joins up with Oscar Isaac's Apocalypse as one of the big bad's four horsemen, and with Quicksilver on the side of Professor X, that should add some additional drama and depth to the battle between good mutants and bad.
Although fans scoffed when Peters' Quicksilver was first revealed in promotional materials for Days of Future Past, the speedy character went on to become a huge scene-stealer, with his kitchen sequence serving as the best part of the film. Peters will have another scene showcasing his talents, and while he's not sure if they were able to top it, he hints at something equally special:
Yeah, I think that's been the hardest thing. Can we top it? They did such a f—-ing awesome job. The special effects team is amazing. Bryan Schmears over at Second Unit, everybody just made that whole sequence awesome, I thought. I was just a minion. They just told me what to do so I didn't really have much to do with it but I was curious to see how they were going to top it and if they could and I think they have. I'm very excited to see it myself. I'm excited for everybody to see it because we've been working hard on it.
X-Men: Apocalypse hits theaters on May 27.