Abby Boeh Illustrates Murder Mysteries, Baltimore Superheroes and More [Art]
What separates illustration from other types of graphic arts is the narrative quality of the work, how a single piece can suggest a setting, characters and emotions. Even without words, you can gather hints about the story and wonder what is coming next. Abby Boeh's illustrations do just that, especially her murder mystery illustrations, each based on a single line from a non-existent tale of murder and mayhem. Even when there's no blood to be seen, you can tell that something is amiss from the position of a hand or a sideways glance. Boeh also has more than a few character design tricks up her sleeve, drawing up the superheroes and supervillains of the rat-plagued city of Baltimore as well as the Hogwarts house Quidditch teams.

You can see more of Boeh's artwork at her
portfolio site
and on
her blog
, although she has more recent illustrations up on her
Tumblr
. She received her BFA from the Maryland Institute College of Art in 2011, and many of these illustrations come from her studies there. I'm especially fond of her Murder Mystery series, which she did under the tutelage of
Daniel Krall
. For Boeh's second semester senior thesis, Krall provided her with lines from an imaginary murder mystery novel, and Boeh based each illustration on a line. For example, the drunken panty shot below emerged from this line:
She spent the early part of the evening telling everyone who would listen that she hardly ever touched the stuff. She spent the rest of the evening touching it.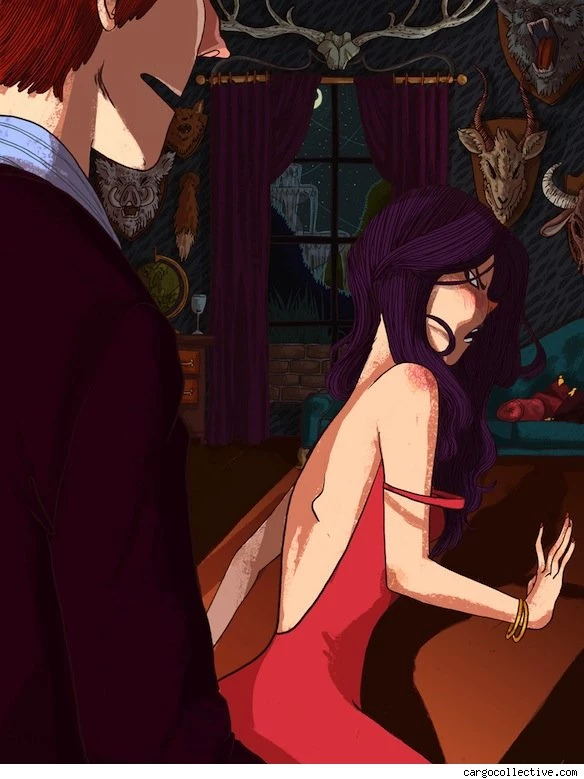 She also does her share of fan art, especially Harry Potter fan art. I love that, in her Quidditch team picture illustrations, she really makes the house teams look like hockey teams, while contrasting the characteristics of each house:
Boeh created this "Superheroes and Villains of Baltimore" series for the Baltimore Sun's supplementary paper,
b
. Football fans will recognize Captain Raven as linebacker Ray Lewis, and fans of
The Wire
will recognize the Hitman as Omar Little. Other characters might be familiar if you follow Baltimore politics: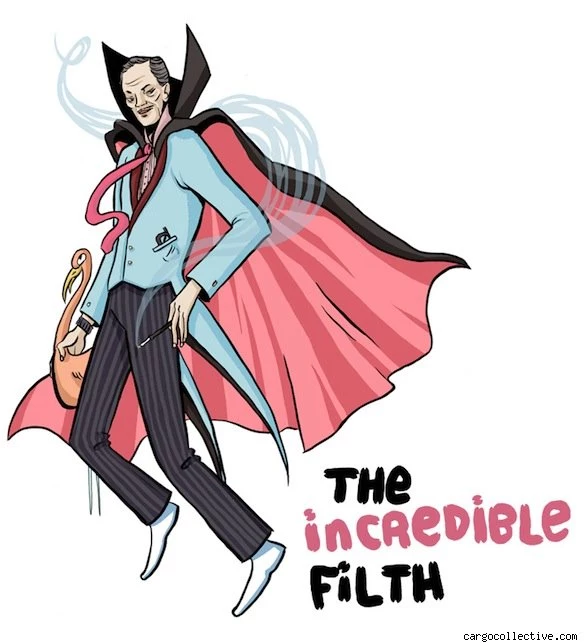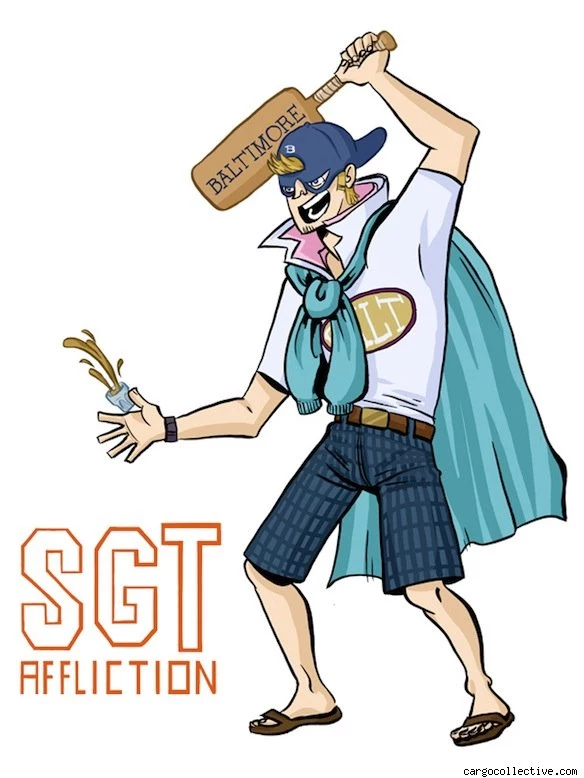 And here are a few of Boeh's other fanarts. For the record, Red Sonja down there is wearing a Max Azria bikini with Christian Louboutin shoes, obviously the perfect complement to a pile of punctured skulls.