Genius, Illustrated: The Life and Art of Alex Toth Vol. 2 [Review]

Now available from IDW Publishing and The Library of American Comics is Genius, Illustrated - the middle entry in a three volume project that examines the life and career of the undeniably great and simultaneously vastly unappreciated artist Alex Toth. Written and compiled by Dean Mullaney and Bruce Canwell, Genius, Illustrated gathers original comics pages, storyboards, animation model sheets, advertising art, correspondence, and sketchbook pages, and combines them with a detailed and touching biography to form the only truly definitive work on one of the most talented and quixotic men in comics history.The first volume of this series - the Harvey Award-winning Genius, Isolated - covers Alex Toth's career from his debut in 1945 to the early 1960s, a span that saw his light-speed progression from talented newcomer to masterful innovator, his conscription during the Korean War and rollicking Jon Fury comics while serving in Japan, his triumph-slash-debacle on Dell Comics' Zorro, and the work he did for DC, where he excelled at war comics, romance, horror, crime, westerns, and pissing people off.

A strict perfectionist who refused to compromise, Toth eschewed superheroes, tore up his own work if he found it lacking, and frequently re-wrote or ignored scripts if he felt his visuals could tell the story better - and it's hard to believe that they couldn't. His enormous talent made him the envy of many who touched pencil to bristol, while his irascible nature made him very difficult to work with. Genius, Illustrated picks things up there -- with Toth frustrated with comics in general and DC in particular, eager to provide for a family he was recently separated from, desperate to do more work in other fields, and shortly before he made the best decision of his professional life.
As Genius, Illustrated recognizes, if Alex Toth had never gone to work for Hanna-Barbera, his legacy would almost assuredly still be in question. Though his work in comics up to that point was among the very best the medium had to offer, it had hardly cemented his place in popular consciousness. His work in animation did. Creating model sheets, designing, and story-boarding for Hanna-Barbera in stints spread across the decades, Toth defined the look of Space Ghost, Birdman and the Galaxy Trio, The Herculoids, The Fantastic Four, Super Friends, Sealab 2020, and others. While pushing himself to refine his style, eliminate the unnecessary, and break visuals down into the simplest forms possible, he also created the imagery that helped characterize the youths of entire generations (including the one that's grown up with Adult Swim, who based most of their early programming on shows that Toth designed).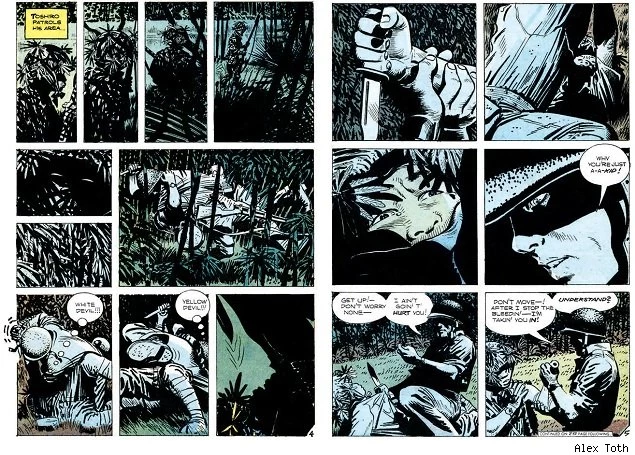 In between his stints with Hanna-Barbera and story-boarding for films, Toth returned to comics with a line that was even tighter and more controlled, and storytelling instincts that had been honed diamond-sharp. As the book clearly illustrates, Toth continued to evolve his style even though he had already been in the funnybook business for three decades, and it's arguable that his greatest work came in the period after he began his fruitful relationship with Hanna-Barbera. His sense of lighting and use of blacks, camera angles, character work, page design and line consistency reached new peaks in the late sixties and continued throughout the eighties. In case one needed proof, several of Toth's signature stories are reprinted in full: the Archie Goodwin-written "Burma Sky," the definitive Hot Wheels story "The Case of the Curious Classic," "White Devil...Yellow Devil!" with Robert Kanigher, and many more.
Really, the amount of material collected in Genius, Illustrated is bordering on the ridiculous. Being an Alex Toth aficionado has been extremely difficult over the years - the majority of his work in comics is out of print, or was never even collected. There have been some good anthologies through the years, but none that gathered as impressive an amount of material from as long a time-span, or from as many publishers. All of those anthologies are out of print now, anyway. But between the first and second volumes of The Life and Art of Alex Toth is the definitive collection of his art.

Apart from the complete stories mentioned above - and even more, like "Surfside Saga," or the freewheeling "Taps" - are pages and scenes from dozens of other comics, including some that had previously never been published. There are also several pages of animation design (though most of that material is being saved for the forthcoming third book in the Toth project, Genius, Animated), sketchbook drawings, film storyboards, even doodles he peppered throughout his frequent correspondences (note: he writes with a lot of exclamation marks and disregard for emotions and his career). Much of it is printed from the original artwork, and presented in high-quality black and white with gray tones, a fantastic decision by the authors. It's rare that color adds anything to an Alex Toth story - most of the time, it just muddies up the lines and distracts you from the amazing blacks.
As an anthology, Genius, Illustrated is a soaring success. Add to that a nuanced, heavily-researched, and even-handed biography, and you've got one of the most fascinating books about comics in recent memory. All aspects of Toth's personality -- the good and the bad -- are explored: his fervent perfectionism, his at-times difficult relationship with his family, and erratic behaviors (including sometimes bringing a gun to the Hanna-Barbera office) are neither ignored nor glorified. His misanthropy is examined and presented honestly, and countered with aspects of his story which many are completely unaware of: his compassion, how he met and lost the love of his life, his renewed relationship with his children and his return from a legendary seclusion. With interviews with Toth's family, followers, and fellow legends, the biography that Genius, Illustrated gives us is honest, intimate, and heartfelt, and shines new light on a man who seemed well acquainted with darkness.
A beautiful, compelling, and comprehensive grimoire, Genius, Illustrated illuminates him and us.