 Edgar Wright TwitPics His Way to a New 'Ant-Man' Movie Tease
It's been talked about for years now, but as The Avengers decimates box office records around the world, is Edgar Wright offering another hint that we should expect the cinematic debut of Marvel's Smallest Hero of all before too long?With The Avengers having such a strong opening weekend in US theaters, Wright - perhaps best known for Shawn of the Dead and Hot Fuzz, the movies he co-wrote and directed with Simon Pegg, but someone who'll always have a special place in my heart for his amazing adaptation of Bryan Lee O'Malley's Scott Pilgrim a couple of years ago -- offered the following to his Twitter followers on Saturday morning: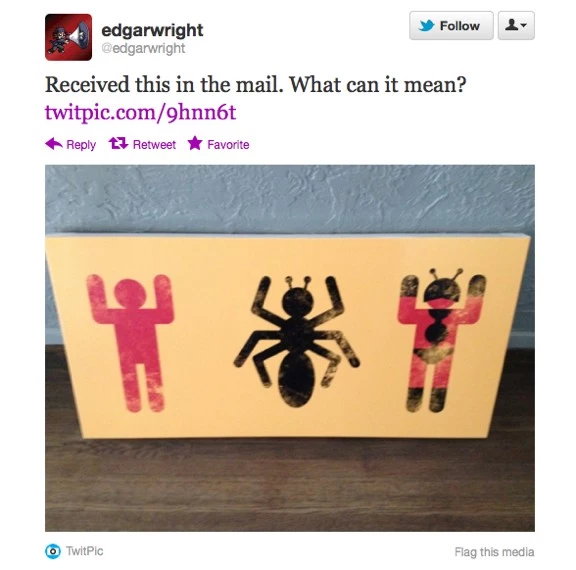 Sure, it looks like an IKEA manual version of Spider-Man's origin, but any Marvel fan worth their salt would recognize the Ant-Man costume on the figure on the right. But, as Wright asked, what can it mean?
Wright's involvement with a potential Ant-Man movie stretches all the way back to 2006, when the director promised a script co-written with Attack The Block director Joe Cornish (The two have worked together on multiple projects, including a script draft for Steven Spielberg's Tintin movie last year) that would include both Henry Pym and his successor in the Ant-Man role, Scott Lang and be more of a "full-on action adventure sci-fi film" about nanotechnology than a comedy.
The non-existence of the movie to date has been put down to the busyness of Wright and Marvel Studios' disinterest in rushing a project that isn't a tentpole movie, but in March Marvel Studios' president Kevin Feige said that the project was "closer than it's even been in its long maybe eight year history," adding that he hoped it "will come together shortly." So, Wright's twittered tease another sign that we're close to an official announcement, or just the latest in a very long line of promises for a project that might, one day, actually happen? Time, it seems, will tell...