BATFXXX: Batman Porn Comes for 'The Dark Knight'
Back in June, I wrote what I'm pretty sure has a good shot at being the Internet's most comprehensive review of Axel Braun's Batman XXX, and shortly after that, I was contacted by someone at the British adult film studio Bluebird Films who wanted to know if I was interested in their pornographic take on the Caped Crusader, the aptly titled BATFXXX.

I'm honestly not sure how I got to the point where it's my actual job to watch porn movies about Batman and talk about them on the Internet, but if you notice any deja vu or missing time over the next couple days, don't worry; it's just my fifteen year-old self trying to high-five me through the time barrier.It goes without saying that BATFXXX is a pretty weird movie, but even so, it's probably a little stranger than you might expect. Unlike Batman XXX, which was a riff on the 1966 Adam West Batman TV show, BATFXXX bills itself as a parody of The Dark Knight movie, and really, that might be aiming just a little high. In reality, though, while Braun's production was pretty dedicated to accuracy -- even going so far as to cast Kimberly Kane as a character who appeared in less than three minutes in the original -- BATFXXX is all over the map. As much as it draws from The Dark Knight, it draws pretty heavily from the Batman '66 as well as the Burton and Schumacher films. Except, as the back of the DVD box proudly boasted, with six orgy scenes.

Also, it is maybe the best thing in the world that the credits to this movie include "Jeff." Just Jeff. That's fantastic.
Batman himself, alternately known as "The Bat" and "Batf---"as the case may be, is played by Nick Manning:

Interestingly enough -- at least to me -- Manning can be seen in the Special Features of Batman XXX as one of the actors who read for the part of Batman before Dale DaBone was cast in the role. And now that I think of it, out of all the DVDs I own, Batman XXX is the only one where I've ever actually watched any of the Special Features. Sorry, Quentin Tarantino, but if you wanted me to pay attention to the making of Inglourious Basterds, you should've cast Tori Black as Catwoman in it.
Anyway, Manning is -- and I say this without any overstatement whatsoever -- quite possibly the worst actor in the world. It's so bad that he's actually pretty charming, especially when he's given lines like ""Tell your boss... no more drugs! Gothard City's protected tonight, tomorrow night, and every night... as long as Batf--- draws breath!" and ""The Bat-Signal's in the sky." (Turn. Point.) "Which means the night belongs to me." (Point at self).
When he grunts out "Dropping... bat-loads!" while ejaculating, however... there ain't no kinda charm in that. And much like in Dark Knight, the movie's real star is the Joker -- or "Jo-kerr," -- as played by Paul Chaplin:

The first time I saw that he was in this, I was pretty surprised, because for a minute I thought it was the Paul Chaplin who used to be a writer and performer on Mystery Science Theater 3000, but I'm pretty sure now that it's actually a different guy.
Chaplin is, of course, doing a cover version of Dark Knight's Joker, and honestly, he's not bad. In fact, thanks to the fact that he's doing a pretty dead-on impression of Heath Ledger's Joker and never once breaks character, he actually manages to be even more creepy than the original. Seriously, imagine how creepy and disturbing the Joker is in that movie. Now put him in a child-sized clown mask and have him menace a bunch of scantily clad women on a schoolbus.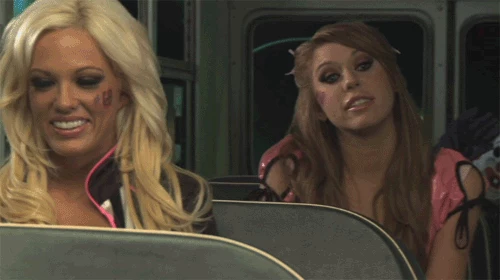 Now imagine that you know beyond a shadow of a doubt that you are definitely going to see that dude's junk.
This, I think, is the biggest problem with BATFXXX: that Chaplin, who also wrote and produced the film, scripted and played the Joker as pretty much the actual Joker. There's even a shot of him standing in front of a table of knives, carefully selecting the best one to use for his murdering. It's actually a pretty cool shot, but I'm not sure that's quite the eroticism that they were going for.

Unless you're into knives, of course, in which case, have I got the flick for you. But the point stands: Everyone else is sort of a goofy, horny version of their major film counterparts, but the Jo-Kerr? He straight up strangles a gangster to death in one scene and makes his henchmen have a karate knife-fight in order to see who gets to join the gang.
Of course, this also means that this movie has a karate knife-fight, which is awesome. So, you know. Win some, lose some.
As for the plot, it's actually a little difficult to follow, which might have something to do with the fact that this movie's spread out over two discs and lasts for a good four hours, of which around 20 minutes are plot-related. I did my best to keep up, though.
As the movie opens, Gothard City -- which is a pretty nice bit of punnery, except that they pronounce it "Goth-ard" instead of "Got-hard" -- is in the grip of a crime wave. This, I suspect, has something to do with the fact that this is the police force:

Of course, considering that this is the organized crime element...
Into this chaos steps the Joker, who kidnaps a bunch of girls for reasons I'm not quite clear on, but hey, he's the Joker and that's kind of his thing, so it's all good. Incidentally, he kidnaps them by hijacking a schoolbus that they're all riding on in what I think is meant to be a reference to the opening scene of Dark Knight, except that the only thing the two scenes have in common is that there is in fact a school bus involved.
More importantly, the Joker has invented an aerosol chemical that makes people super-horny, which he plans to unleash on the citizens of Gothard, which doesn't really sound all that bad, considering.
Opposing him is, of course, the Bat. Who is completely bulletproof.

The Bat gets involved by beating the stuffing out of a bunch of drug dealers and rescuing what I can assure you are two extremely grateful stewardesses from a box. Why they're in a box is another one of the script's mysteries. I'm actually hoping, and this 100% true, that every one of Bluebird's films features them as recurring characters, the two hapless flight attendants who are always getting crated up and shipped off to new adventures.
The Criminal Element considers this is the last straw in their war against the Bat, so they turn to the Joker, who has recently perfected his sex chemicals by testing them on Spider-Girl, in the first Marvel/DC crossover in six years:

The Joker offers to take out the Bat by making him super-horny (?) in return for half of their profits, and when they balk at paying such an exorbitant sum, he makes them super-horny instead, and, well, that seems to work out pretty well for everyone.
Also involved at this point is Cat-- er, Katwoman (Madelyn Marie), who gets the full-on special effects treatment:
Katwoman also has a lair right out of the '66 show, complete with both giant scratching posts and humongous balls of yarn:

Around this time, we're also introduced to The Bats sidekick, Robina (Krissy Lynn):

With her constant "Holy this-and-thats," it's pretty clear that she's inspired by the '66 version of Robin, making this the first time that Heath Ledger's Joker and Burt Ward's Robin -- or a busty facsimile thereof, at least -- have coexisted in anything close to an actual narrative structure.
Also, Two-Face shows up for a minute to have a three-way with girls based on the "Sugar and Spice" characters from Batman Forever. This might've seemed like a good idea at the time, what with the fact that the Batman franchise was handing you all the setup you needed, complete with costumes, but I think we can all agree that the last thing anyone needs to be reminded of is Tommy Lee Jones in a tiger-striped purple suit grinding up on Debi Mazar. For real.
By the time Disc 2 rolls around, things have gotten even more complex as the cast is joined by Poison Ivy (Tory Lane), who gets the best entrance of any character in the entire film:

This, I think, is where the narrative goes completely off the rails. Despite her great entrance and the fact that she refers to her henchwenches as "Venus flytraps" (which is pretty hilarious), we're never actually told what Ivy's doing in this movie or what she wants.
Well, that's a lie. We're both told and shown exactly what she wants pretty constantly over the next 40 minutes or so. What I mean is that it's never made clear what she wants in the context of the story. But that might be asking a little much, and really, once you have a super-villain lair with a sweet-ass slide in it, what else can you want?
After that, we get another new player, Batchick (Isis Love):

Now, I ain't Syd Field or nothin', but I have to say that introducing a major new character three hours into a four-hour movie is just not the best way to go about building your narrative. Just sayin'.
Anyway, she appears in a laboratory where scientists have developed a cure for the Joker's sexy chemicals that make people super-horny, which, unless I missed something, has the side effect of also making people super-horny. This would seem like a pretty big flaw in the plan.
It all comes together at the climax (har har) of the movie, in which pretty much everybody gets together and gets dosed with sex gas, with about the result that you'd expect. Fortunately, just as the Joker's about to unleash it onto the city, the Bat powers through and conks him on the head with what I can only call a f---arang:

And then the Joker plunges to his death.
Yeah, that's right: This is a porn movie that ends with a super-villain plunging to his death. That's the finale.
In the end, BATFXXX lacks a lot of the fun of Batman XXX, but considering that the latter film had Evan Stone in full-on frolic as the Riddler, there was pretty much no way they were going to top that anyway. With BATFXXX, though, there's just enough of a plot that it manages to trip itself up by going in too many directions at once. I'm not saying it needed to match its source material's complexities, but maybe -- maybe -- having an orgy scene bookended with the Joker strangling a guy was not the sexiest idea they could've put on film.
Even so, I do kinda like this one, if only for what it says about Batman. Because Chaplin understands that you can't stop Batman, even if you make him super-horny.
Because Batman is already super-horny.