'Batman XXX' or: The Dark Knight Comes Again [NSFW]
According to a blurb on the box, Axel Braun's "Batman XXX" is "the most anticipated XXX parody of the year," and while I'm not sure that title's all that difficult to come by, it's certainly true here at ComicsAlliance.
To be fair, Braun is going up against "This Ain't Star Trek XXX 2" (which he also directed), and if this were last year, he'd have to contend with "This Ain't Saved By The Bell XXX" (which he also directed and which I hope with every fiber of my being included a sexy version of Jessie's caffeine pill addiction), but for me, there's just no contest. I've been looking forward to this one since it was announced -- Vivid's official press release actually quotes my reaction to the trailer as the Internet's Foremost Batmanologist -- and today, I finally got to sit down and watch the whole darn thing.
The short version: It's everything the trailer promised... and more.
The long version... that's a pun that not even I'm going to make.
One of the things that I noted about the trailer when it first hit was that Braun's script seemed to be full of references to the original "Batman" TV show, and that's something that's borne out in the film itself with a pretty keen eye for detail. It's not just a matter of Ron Jeremy showing up as himself in a nod to the show's famous "window" scenes or Dale Dabone doing his best riff on Adam West's arrhythmic dialogue (although both of those things happen), but an attention to detail that really bespeaks a love of the original.
I've mentioned the opening before, a direct homage to Bruce Wayne and Dick Grayson's four-at-a-time chess game from the episode that introduced Catwoman...
...and they got the costumes right not just for the main players, but all the way down to Catwoman's henchmen...
...but there's a whole lot more to it than that. Randy Spears, who plays the Joker, even has a moustache that's been painted over in clown white in the style of Cesar Romero, and considering that he's clean-shaven in the audition footage that's included as a bonus feature (where the prospective Batmen, Riddlers and Jokers read transcripts of the actual TV show episodes), I can only assume that he grew it
just for
authenticity
.
Even the tertiary characters are accurate: Alexis Texas plays Molly, the Riddler's henchwench from the pilot episode who was played by Bond Girl Jill St. John, and Lisa Carson (played here by Kimberly Kane), who I had originally assumed was thrown in so that they could have a female part that wasn't Batgirl, Catwoman, or the Joker's two henchwomen, is lifted from the show:
And should you doubt that this indicates a high level of attention to detail, consider this: Lisa only appears in
two episodes
(a King Tut story, for those of you keeping score at home), although to be fair, it
is
the only episode I'm aware of that ends with Bruce Wayne totally getting laid. They refer to it in the show as going into her apartment for... milk and cookies.
It all adds up to a production where the sex itself is almost -- and I do mean almost, let's not go crazy here -- secondary to the parody elements. The DVD actually includes a cut of the film without the sex, dropping 90 minutes of hardcore and ending up with a full half-hour of the highly entertaining plot. I don't know if that's a common practice in Braun's parodies, but it definitely speaks to a very important aspect of the film: Of course the emphasis is going to largely rest on the Batman stuff; because that's what's new.
I mean, let's be honest: As attractive as Lexi Belle and James Deen are, it's not like there's a shortage of movies where they have sex (224 for her and a grand total of 982 for him, according to the Internet Adult Film Database), so short of inventing a new position or getting a truly fantastic scene, the only thing that's really on offer at this point isn't what's done, but how. In that respect, it has a lot in common with super-hero comics: We all know what the end result's going to be; it's the execution itself that matters.
That's not the only similarity either: There's a behind-the-scenes featurette on the DVD that I find endlessly fascinating, and not just because it has Tori Black sitting around wearing only gloves and Catwoman ears talking about how great Batman '66 is, which is pretty much everything I've wanted to see since I was 13. In it, Braun talks about the porn parody and how it's been revitalized in the era of the Internet. Just like how anyone with a scanner, PhotoShop and ten bucks for a domain name can make their own comics, anybody with a webcam and an internet connection can make porn, and the impact has led to a changing landscape for both industries.
And the solution both industries have arrived at is to take their cues from the past. Thus, the revival of both Barry Allen and the porn parody, spiritual brothers who both died out around the dawn of home video, only to be reborn in an effort to attract new customers.
Another thing that comes through in the behind-the-scenes feature (and the screen tests, and most of the movie itself) is that everyone seems like they had a pretty good time making it. Admittedly, "making it look fun even if it isn't" is probably pretty high on the list of talents required for a porn star (right under "don't block the camera" and well above "don't pull a crazy face when you orgasm"), but seriously, they look like they're having fun. And why shouldn't they? I mean, Dale DaBone gets to be Batman and a porn star at the same time.
That dude is straight up living the dream.
I don't think I've ever seen anyone in my entire life, however, that looks like they're having as much fun as Evan Stone, and I've seen videos of David Lee Roth circa 1985.
Stone is a huge (rimshot) highlight of the film, not just for his dead-on impression of Frank Gorshin, but also in that he was also the movie's fight choreographer, which makes him responsible for nailing (rimshot) the authenticity. There's footage of him setting the big fight scene up with the actors right before it's filmed, saying stuff like "Okay, then Batgirl comes over here, you swing, she ducks and then comes up with the kapow," and I can't imagine that it's any different from how the actual show's fights were choreographed.
He and Kimberly Kane are also the only actors who manage to stay in character while actually having sex.
Because dammit, they are
professionals
.
Which brings me to the actual sex. I'd say it's a little weird, but considering that it's a bunch of people dressed as Batman, the Riddler, Catwoman, Robin and Batgirl having sex with each other, you've probably already figured that out. I will say that it was the one part of the movie that didn't live up to my expectations, but that's largely because I've had a pornographic version of Batman '66 playing in my head for the past fifteen years.
There were a couple of things about the shtupping that I thouht were interesting, though. For one, with the exception of Catwoman, everyone leaves their mask on during sex, which I assume is in deference to Frank Miller: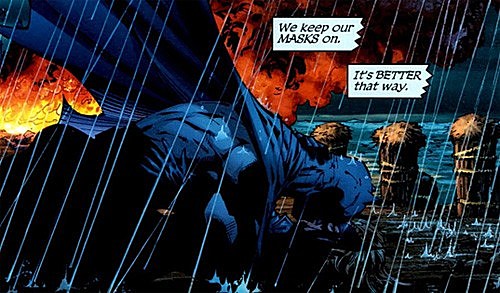 And secondly, the sex scene involving Joker is almost unwatchably creepy.
Nothing against Randy Spears, you understand, but unless you've got a very specific fetish, when you've got a dude in caked-on clown makeup delivering dirty talk on a set that's already meant to echo '60s psychedelia, you're going to be fighting an uphill battle from the start to get to "erotic" from "horrifying."
Even if you throw in a toy phaser.
I've got to say, though: I kinda like that about this movie. I mean, despite Lexi Belle's cheerful assertions to the contrary, watching the Joker have a three-way would be really creepy.
Beyond the creepiness of the Joker, there were a couple of surprises in the movie. For starters, while they do appear during the fight scene, I was really expecting to see the show's signature "sound effects" accompany the money shots. Presumably they didn't want to detract from the eroticism by putting a giant "SPOOGE!" balloon on the screen, but I would've laughed, and really: When both parties are screwing in capes, I think we're past the point of keeping the plot threads separate.
Also, out of the two predictions I made when the trailer hit, only one of them came true. Dale DaBone does in fact quote Adam West's delivery of the line "that single statement indicates to me the first oncoming thrusts of manhood, old chum," but -- and this is shocking -- there's no reference to the infamous Siamese Human Knot:
I would've put money on that showing up, but I suppose Braun's saving something for the sequel.
If that's the case, then allow me to remind Braun of a three-part episode from 1968 called "The Londinium Larcenies," where Batman and Robin go to England and battle -- and this is true -- an evil finishing school for criminal young ladies who tie Batgirl up in their basement dungeon and then sequester Robin in their dorm room after menacing him with a killer bee.
Call me Axel. We can make this happen.