 Bernie Wrightson Returns to 'Frankenstein' with Steve Niles in 'Alive, Alive!' [Preview]
On sale this week from IDW Publishing is Frankenstein Alive, Alive! #1, which sees Bernie Wrightson return to the subject of one of his most enduring works, the illustrated edition of Mary Shlley's Frankenstein which was originally released all the way back in 1983. While that project was a presentation of Shelley's legendary prose alongside Wrightson's gorgeous artwork, this miniseries sees the Swamp Thing co-creator team with writer Steve Niles (30 Days of Night) to produce an actual comic book sequel that imagines what became of the monster after he was last seen in the classic gothic tale.
Needless to say, Wrightson's skills are as pronounced today as they were in the early 1980s, and you can preview some of his excellent images below (which were scanned in color from the artist's pages, showcasing Wrightson's unmatched brushwork).


Frankenstein Alive, Alive! imagines what might have become of the doomed monster after he was last seen in the pages of Shelley's original novel. In keeping with the style of the source material, Niles sets the monster on an existential quest across creation, providing Wrightson with opportunities to illustrate the character in beautifully dark locales like carnival freak shows, icy waters and desolate, volcanic wastelands. Niles does a good job of emulating the grim tone of Shelley's prose with the creature's tortured monologues, and creates an adversary for the monster in the form of Frankenstein himself, who haunts his horrible creation from beyond the grave.
However, the book is not without some humor, as you can see in the preview images below.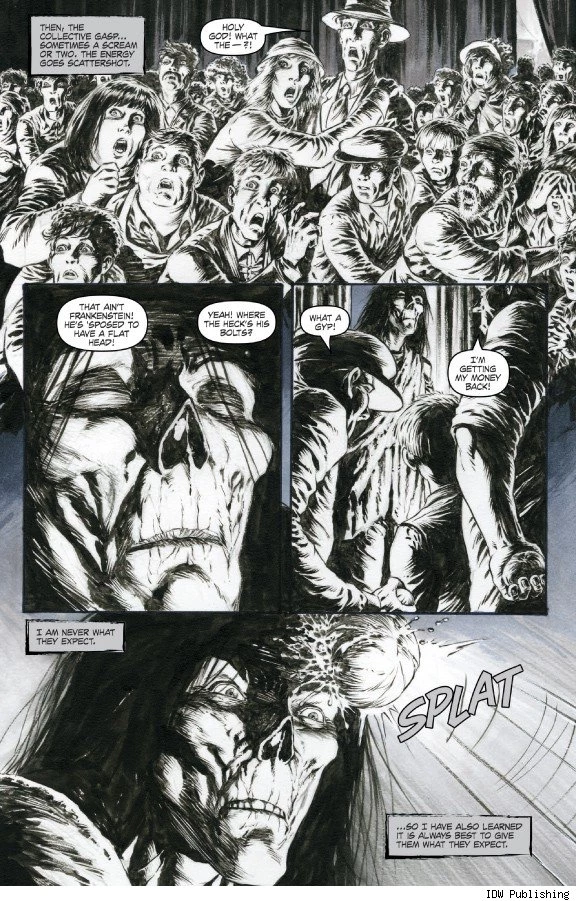 Frankenstein Alive, Alive! #1 goes on sale this week in finer comics stores and digitally from comiXology. Wrightson's original work, the illustrated edition of Mary Shelley's Frankenstein, is available in hardcover from Dark Horse.