Best Art Ever (This Week) – Holiday Edition 2012
We make a regular practice at ComicsAlliance of spotlighting particular artists or specific bodies of work, but because cartoonists, illustrators and their fans share countless numbers of great images on sites like Flickr, Tumblr, DeviantArt and seemingly infinite art blogs that we've created Best Art Ever (This Week), a weekly depository for just some of the pieces of especially compelling artwork that we come across in our regular travels across the Web. Some of it's new, some of it's old, some of it's created by working professionals, some of it's created by future stars, some of it's created by talented fans, and some of it's endearingly silly. All of it's awesome.WANT TO CONTRIBUTE?
We're very much interested to see what you've dug up and think should be featured here in Best Art Ever (This Week). Please submit any great art links to andykhouri-at-comicsalliance.com. Artists, feel free to send in your own work or to request that your work be removed.


Special shout-out to Zack Smith for sending in some awesome Xmas-themed pieces.
Please visit these artists' websites to see more of their work, buy their products or commission an original piece.

Dark Horse holiday card by Jill Thompson


Marvel holiday card by Marvel Creative Services


BOOM! Studios holiday card by Jerry Gaylord and Gabriel Cassata


Scott Pilgrim holiday card by Bryan Lee O'Malley



Holiday self-portrait by Paul Coker from the collection of Rob Stolzer


Lobo vs. Santa Claus by Simon Bisley from the collection of Simon Reed


Santa Claus by Bill Sienkiewicz


MODOK Santa Claus by Mitch Breitweiser from the collection of Kasra Ghanbari


Hellboy vs. The Krampus by Jeremy Bastian from the collection of Nick Warmack


Captain Marvel Xmas by C.C. Beck


"The Penny Walk" by Lowell Hess


Liberty Meadows by Frank Cho


The Joker by Dave Bullock


Harley Quinn by kit-kit-kit


Home Alone 2 by Amancay Nahuelpan for Ashcan Allstars


Christmas card by J. Bone


Madman/Wizard holiday card by Michael Allred and Laura Allred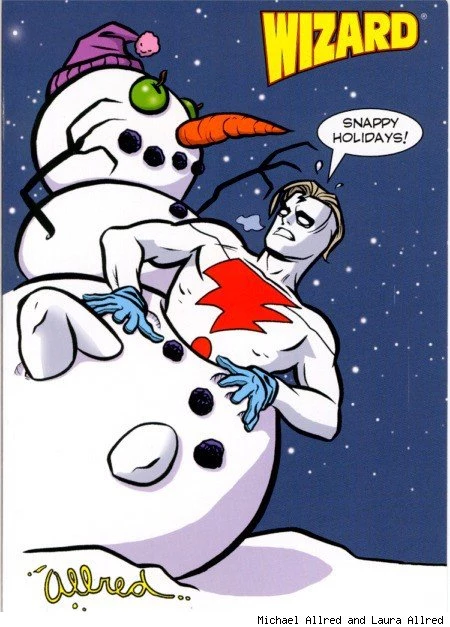 The (Christmas) Spirit by Will Eisner


Bill Pressing's Christmas card for his girlfriend


Papá Noel by Fábio Moon


Batman and Hawkman Christmas by Andrew Robinson


Hellboy vs. Krampus by James Harren


Santa Claus and Lara Croft by Adam Hughes and Jason Martin


Holiday card by Terry and Rachel Dodson


Santa Claus by Brent McKee


Santa Claus from Jingle Belle by Mike Wieringo


Christmas card by Kathryn Hudson




Holiday art by Jeffrey "CHAMBA" Cruz


"White Christmas" by Genevieve-FT


"A Jazzy Christmas" by Francesco Francavilla


Li'l Gotham Christmas by Dustin Nguyen



Island of Misfit DC Comics Characters by Philip Bond


Tintin Nightmare Before Christmas mashup by Dan Hipp


Spider-Man vs. the Grinch who Stole Christmas by Michael Delmundo


The Bumble by Christine Larsen for Planet Pulp



Galactus Santa by Steve Bowman


Tony Stark's Holiday Party by Phil Noto


DC Universe Holiday Special by Frank Quitely


Teen Titans by Bill Walko


Wonder Woman by Sean Galloway


Wonder Woman Holiday by Nigel Halsey


DC Comics Holiday Card by Sean Galloway


The Punisher by C.P. Smith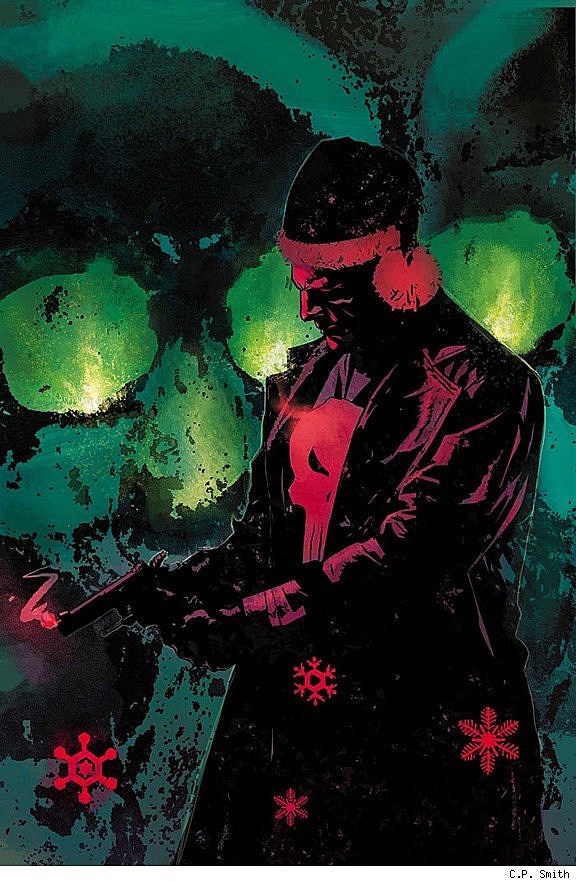 Iron Man by Marco D'Alfonso


A Christmas Story by Joshua Budich


Santa and Mrs. Claus by Ilias Kyriazis


Hellboy by Mike Mignola


Christmas, Kwanza, Hanukkah or Anti-Life by Michael Cho


Batman Adventures Holiday Special by Bruce Timm


Marvel Holiday Special by Arthur Adams


DC holiday images by Alex Ross


Marvel and Image holiday cards by Chris Giarrusso


The Thing by Jack Kirby