 'Black Dynamite' Ass-Kicking His Way to Adult Swim The fury of Black Dynamite is legendary and will not be confined to just one or even two feeble mediums! Following recent news that the blaxploitation parody would make the jump from film to comics (courtesy of Ape Entertainment), it was revealed Thursday that a new Black Dynamite animated series is in the works for Cartoon Network's Adult Swim.The story of an ex-CIA agent with vengeance in his heart and uncommonly good luck with women, "Black Dynamite" premiered in limited release in 2009, became an instant success with critics, and has since become a beloved cult home video. Based on the Michael Jai White film, the animated "Black Dynamite" will be Executive Produced by "The Boondocks'" Carl Jones and star much of the live-action film cast in voice-over roles, including White, Tommy Davidson, Kym Whitley, Byron Minns, Clifton Powell and JB Smoove.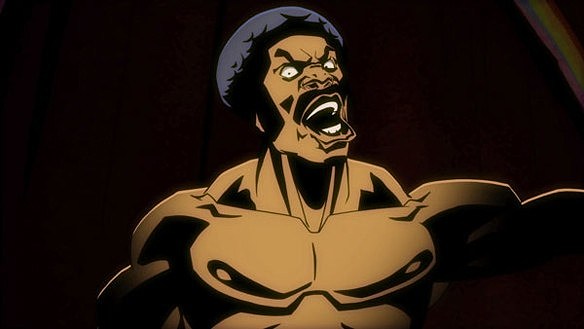 Meanwhile, Ape Entertainment is hard at work at "Black Dynamite: Slave Island," a 48-page one-shot written by Brian Ash from a story by creators White, Minns and Scott Sanders and illustrated by Jun Lofamia. That's expected to hit comics stores in early 2011.

No release date for the animated series has been announced, but you can be sure Adult Swim will let us know via a nunchuck to the skull when the time is right.