If Boom's Disney Comics Are Coming To An End, What's Next?

When Disney acquired Marvel in 2009, the implications of getting Marvel's characters and properties into the Disney-dominated arenas of television and film were obvious. What wasn't addressed quite as much, however, was that it worked the other way around: After 70 years of licensing out their characters to comic book companies like Dell, Gold Key and Gemstone, Disney had acquired a company of their own with a massive presence in the comics market.
It seemed like it would only be a matter of time until Disney removed those licenses from their current publisher Boom! Studios, and brought them a little closer to home. And with this month's solicitations announcing the end of Boom!'s Darkwing Duck, it looks like that time has come.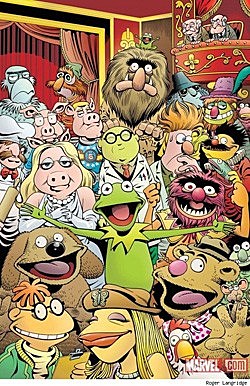 As reported by Newsarama, the end of Darkwing Duck in October at #18 will follow a string of announcements of Disney properties moving over to Marvel, including the Pixar titles and the critically acclaimed Muppet Show comic. The latter even created a mess of confusion when writer-artist Roger Langridge revealed that he'd been doing work commissioned for the title by Boom that was left in legal limbo when the title went to Marvel. It was later announced that his work on the Muppet comics would be collected along with the unpublished work, but that news reportedly came as quite a surprise to Langridge.
Since the Muppet Show reprints have already started at Marvel, there's clearly a desire to continue some of the comics that started at Boom, but it raises the questions of which ones. With Boom's "Disney Afternoon" revivals coming to and end and long-running titles like Walt Disney's Comics and Stories absent from any publisher's schedule for months, it's unclear whether things are just taking a break as they settle in with a new publisher, or if there's an entirely new plan in place that doesn't include the creators and themes Boom was working with.
But despite being the most prominent, Boom! isn't the only company that could potentially be affected by Disney consolidating their licenses. While newer comics fell under Boom's purview while they held the license, Fantagraphics has recently been collecting Floyd Gottfriedson's Mickey Mouse strips, with a collection of Carl Barks' Donald Duck and Uncle Scrooge comics slated to follow this fall.
From a business standpoint, it might make sense to shift things over to being done in-house (or at least as close to in-house as Marvel is to the rest of the far-reaching Disney empire, anyway), but as someone who's been loving what Fantagraphics has been doing with their Disney comics, I definitely hope they let things play out the way they are now.