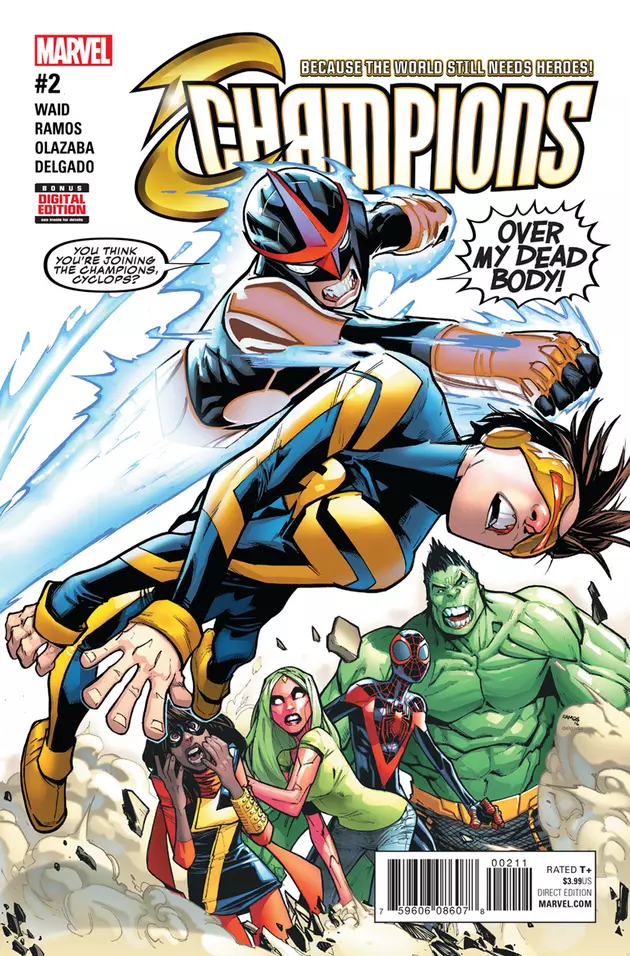 Cyclops Joins The Team In 'Champions' #2 [Preview]
Cover by Humberto Ramos
Champions #2, by Mark Waid and Humberto Ramos, features Cyclops joining a team that doesn't start with "X" for the first time ever. To be clear, this is the young Cyclops who came to the present in All-New X-Men, not the older Cyclops who as far as we know is dead. But either way, Scott Summers is a character inseparable from the X-Men, and now he's going to be a Champion instead.
If you read Champions #1, you already know why he would seek the team out. In fact, they kind of made it seem like a lot of young superheroes would, although Cyclops is the only one in the promo art who has yet to join. He doesn't show up in the two preview pages at all, and in fact it's kind of hard to understand what's going on in them, but the Hulk's campfire cooking plan is still pretty fun.
Here's the official word from Marvel:
It's the series that's been called "a breath of fresh air" (Newsarama), "a revolution" (ComicBook.com) and "a diverse and empowering team for a new generation of readers" (ComicsVerse) – and they're about to get a new member! Today, Marvel is pleased to present your first look inside CHAMPIONS #2 – the thrilling next issue from Eisner Award-winning writer Mark Waid and Eisner Award-nominated artist Humberto Ramos! The Champions' mission to "change the world" has reached the ears of a prospective new member – Cyclops! Looking to escape the shadow of what he may become, Scott Summers seeks to become a full-fledged member of the Champions. Only not all of his would-be teammates feel the same way! Welcome to the Champions, Cyclops – hope you survive the experience! Don't miss CHAMPIONS #2 – coming November 2nd!