Chris Roberson Teases 'MonkeyBrain Comics'
After walking away from DC and Marvel Comics, Chris Roberson's comic work has been confined to the pages of his creator-owned Memorial series from IDW. It appears that's about to change, if a new series of teaser images for MonkeyBrain Comics is anything to go by.For the last week, Roberson has been releasing a series of images online via Tumblr and Twitter, teasing the debut of MonkeyBrain Comics next month and showcasing art from the likes or Dennis Culver, Matthew Dow Smith, Nick Brokenshire, Tim Doyle and Grace Allison. The MonkeyBrain Comics site teases "more monkey on the way" in just over 12 days' time, which coincides with the July 2 press conference Roberson announced yesterday.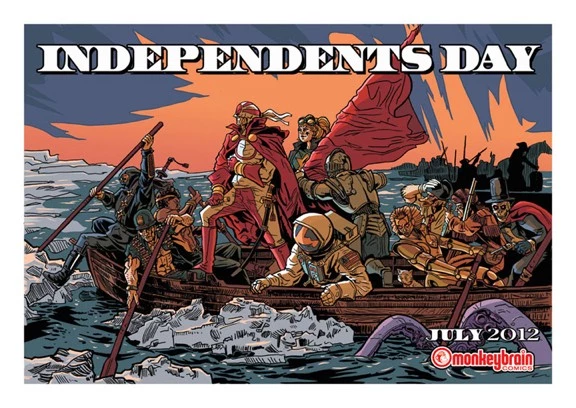 While MonkeyBrain Comics may be a new name, it's worth pointing out that Roberson and spouse Allison Baker have been operating MonkeyBrain Books for almost a decade, putting out prose fiction and non-fiction by the likes of Paul Cornell, Kim Newman and Jess Nevins, so they're definitely experienced when it comes to the ins and outs of publishing (Not to mention, producing the goods: That's a nice list of authors right there).
Whatever MonkeyBrain Comics will end up being remains somewhat of a mystery, at least currently. Is it an anthology title? An imprint? A publisher? Something altogether different? After all, it's not as if any of these images have any common thread other than (a) monkeys and (b) something called "Independents Day," at least on first look. I guess we have twelve days to keep guessing...