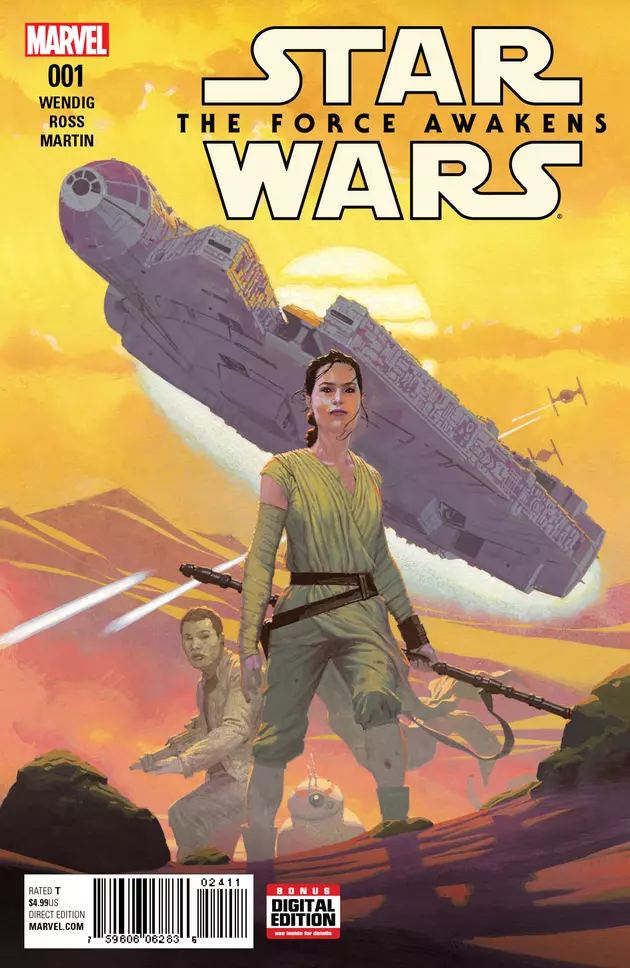 Chuck Wendig And Luke Ross Use The Force In 'Star Wars: The Force Awakens' #1 [Preview]
Esad Ribic
Marvel Comics has a great history with comic book adaptations of Star Wars films, stretching back to the very first Star Wars comic which --- according to former editor in chief Jim Shooter --- saved Marvel Comics in the late '70s.
The tradition of adapting Star Wars films is now carried on, beginning next month with the launch of a brand new miniseries Star Wars: The Force Awakens Adaptation by Chuck Wendig and Luke Ross, which brings all the excitement and joy of the film to comics.
Star Wars fans may know Chuck Wendig from his work on the new expanded universe novels, notably Star Wars: Aftermath, which was set almost immediately after the events of Star Wars: Return of the Jedi. Luke Ross brings a veteran's skill to the book and is a deft hand at rendering everything from the most epic of space battles to the most intimate of character moments.
Check out the full unlettered preview and variant covers below:
Here's the solicitation details:
STAR WARS: THE FORCE AWAKENS ADAPTATION #1 (APR161041)
Written by CHUCK WENDIG
Art by LUKE ROSS
Cover by ESAD RIBIC
Sketch Variant by ESAD RIBIC (APR161043)
Variant covers by JOE QUESADA (APR161047),
PHIL NOTO (APR161042), and JOHN CASSADAY (APR161045)
Movie Variant Also Available (APR161049)
Cassaday Sketch (APR161045) & Quesada Sketch (APR161048) Also Available

It's true—all of it! The biggest movie of the year jumps from the big screen to the comic book page! It's been three decades since the Rebel Alliance destroyed the Death Star and toppled the Galactic Empire...but now, on the remote planet of Jakku...there is a stirring in the Force. A young scavenger named Rey...a deserting stormtrooper named Finn...an ace pilot name Poe...and a dark apprentice named Kylo Ren...Their lives are about to collide as the awakening begins. Written by Chuck Wendig (STAR WARS: AFTERMATH) and drawn by Luke Ross (HERCULES), take us on our first steps back into the Saga of a lifetime!

FOC – 05/30/16, On Sale - 06/22/16