Comics & Art Community Shows Support for Japan [Updating] While the international news media debates itself over whether the terrible situation in Japan, which suffered tremendous earthquakes and tsunami last week, is actually even more or perhaps slightly less terrible than we think it is, what remains undisputedly true is that the people of Japan need help. Numerous charities and aid organizations have mobilized to raise funds for those whose homes and livelihoods have been obliterated by the devastation of the last several days, and the comics and illustration community is doing its part, too.
Obviously, the comics community in Japan is incredibly strong and has inspired the world with its artistry. Below you will find a breakdown of comics-related efforts to give back to the people of Japan in the form of disaster relief, whether art-based fundraising events or just earnest demonstrations of support. This feature will be updated as additional creators announce their contributions to help the people of Japan, so please give us a hand in keeping up with it all by alerting us via Twitter, Facebook or email when you see new artwork, auctions or other signs of support.Flavorpill has compiled a similar post of illustrations and designs being sold to benefit the victims of the earthquakes and tsunami. Here are some of them.
Poster by Zac Neulieb, on sale for $23 at this link. All proceeds go to the American Red Cross.
Poster by Linda Yuki Nakanishi, on sale for $20. All profits go to the Canadian Red Cross. On sale at this link.
Poster by Rob Dobi. On sale for $22 at this link, with all profits going to relief efforts in Japan.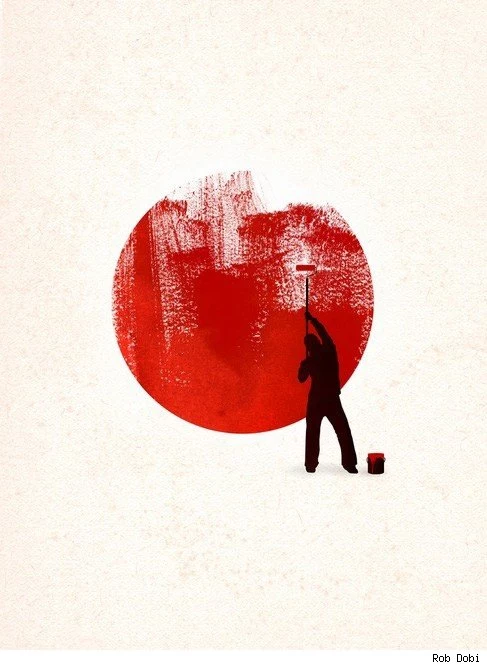 Canadian graphic designer François Hoang has also been keeping track of these kinds of posters.
Design by Hydro74. On sale at this link for $20 with all proceeds going to the Salvation Army's relief efforts for Japan.

Design by Aoiro Studio. On sale at this link for $15 with all proceeds going to the Canadian Red Cross.
The proprietor of Portland, Oregon's Monkey Minion Press, Dane Ault is auctioning off this excellent illustration of Swamp Thing. 100% of the proceeds will go to the Red Cross' efforts to help the victims of the Sendai Earthquake. [eBay]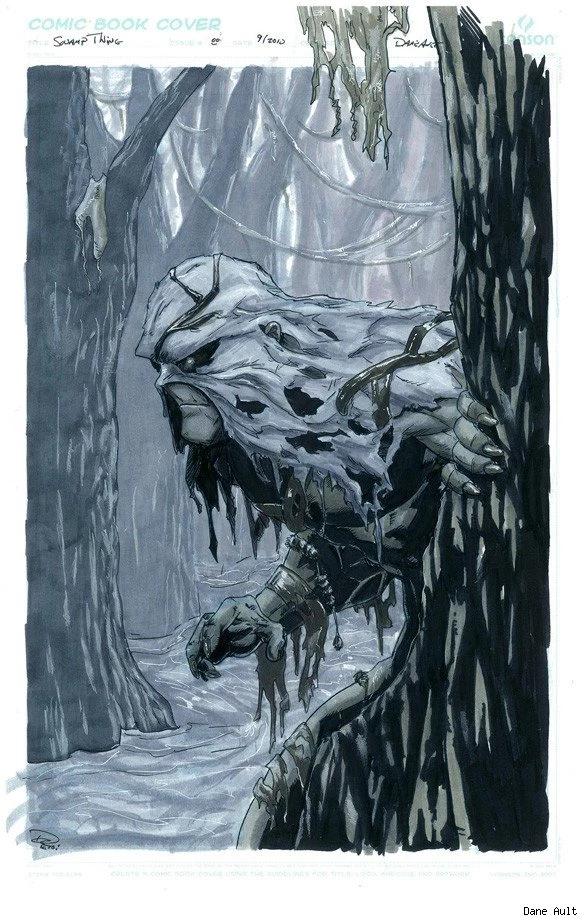 Occasional
Atomic Robo
contributor
Zack Finfrock
, also known for
Backyard FX
, will participate in a 24-hour draw-a-thon to raise money for Japan's disaster relief. The event will be take place beginning Tuesday, March 15 at 12pm PST and broadcast over the Web at
this link
.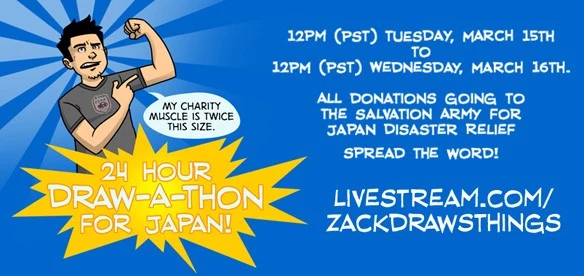 Popular magazine and commercial art illustrator
Meg Hunt
is organizing a campaign called
Art for Japan
, whereby fellow cartoonists, artists, designers and other craftsmen donate material to be auctioned in support of relief efforts through AmeriCares. You can find more information on how to contribute at Hunt's
website
.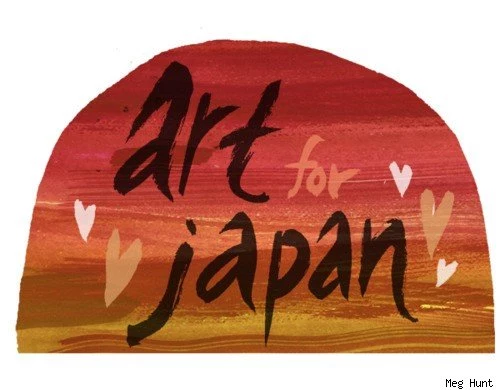 UK-based illustrator
Stanley Chow
is selling this handsome print
on his website
, with all proceeds going to the British Red Cross' Japan Tsunami Appeal. The piece costs £30.00 and is available internationally.
T-shirt designer and illustrator Anthony Brian Villafuerte RN -- also known as
zerobriant
-- is selling this new shirt with proceeds going to the Red Cross. You can buy it at
this link
.
London-based designer and illustrator
Aled Lewis
has created this image in support of the people of Japan and the ShelterBox initiative. Lewis has also submitted this design to
Threadless' "Sunrise" competition
, which raises money for the American Red Cross' relief efforts. You can vote for it
at this link
.
We Heart Japan
is an art auction and anime event taking place this Thursday, March 17, at
Meltdown Comics
in Hollywood, California. Organized by artist and photographer
Pinguino Kolb
(Comic Book Resources, Anime News Network) and prolific anime and video game voice actress
Stephanie Sheh
(
Naruto, FLCL, Bleach
) all funds raised at the event will go to the Japan NGO Earthquake Relief and Recovery Fund, who is working with Japan's own Give One initiative to insure that the money goes to local charities directly involved with relief efforts. The event will auction off donated works from a number of Los Angeles-based artists as well as anime producers Bandai and Geneon, and attendees can also meet anime voice actors and cosplayers for autographs and photos. More information at the
We Heart Japan website
.
As a way to boost morale and show support for this fellow Japanese,
Vagabond
creator
Takehiko Inoue
has been releasing
via Twitter
a series of optimistic drawings of smiling Japanese people. He's posted more than 70 already, each with the hash tag #prayforjapan. Thanks to
Robot 6
for catching this one.
Takehiko's work inspired Canadian creator
Nina Matsumoto
(
Yokaiden, The Last Airbender Prequel: Zuko's Story
) to accept commissions for original art, with all proceeds going to Japan Society's Earthquake Relief Fund. $25 gets you a headshot of any character you like, even yourself. Naturally, the characters will be smiling. More information at
Matusmoto's website
.
Contributors to Kodansha's Morning, Morning 2 and Evening manga magazines created a great set of images to show their support for victims of Japan's earthquakes. Those artists include Kanata Konami (Chi's Sweet Home), Shigeyuki Fukumitsu (Boku no Shōkibo na Seikatsu), Naoki Urasawa (Pluto, 20th Century Boys), Yoshihiro Taguchi (Dai-3 Kyōshitsu), TAGRO (Hen Zemi), Mineko Nōmachi (Hitori Gohan no Senaka), Nokiko Shibamoto (Neko Oyaji), Makoto Yukimura (Vinland Saga/Planetes), Shiho Suzuki (Ninpopo 123), Yuhki Kamatani (Shōnen Note), Natsume Ono (Tsuratsura Waraji, House of Five Leaves), Gonta King (ReMember) and Mieko Ohsaka. You can see the full collection at Anime News Network.



Legendary Dragon Ball creator Akira Toriyama has also created his own morale-boosting illustration to inspire people to stay positive despite the horrible devastation.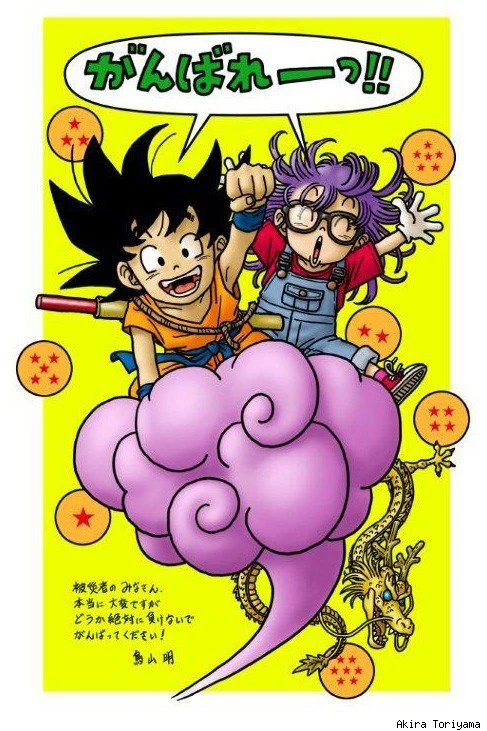 The illustrator of Melancholy of Haruhi Suzumiya, Itou Noizi has produced a new drawing of brigade leader Haruhi praying for Japan's revival.